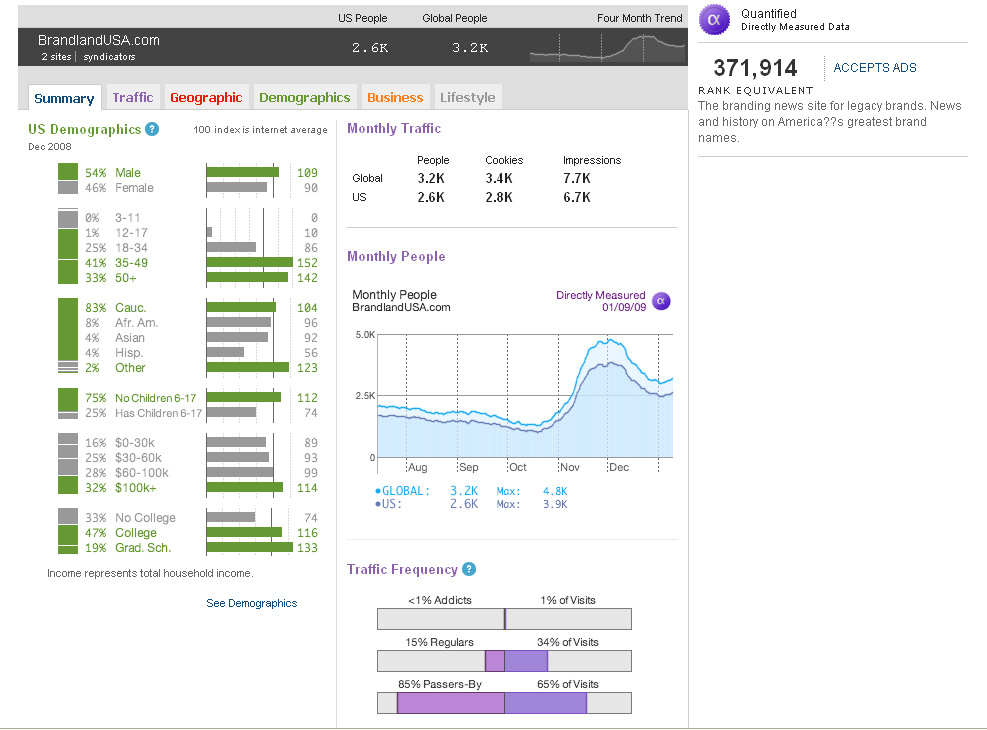 Got a brand you need to promote? Need some SEO benefits with a credible site?
BrandlandUSA is the place to reach the people who will define your brand. Our readers are a who's who of brand managers, brand students, intellectual property attorneys and academics, plus passionate consumers who really drive the engagement of your brand.
The common denominator?
All are looking for information on their favorite brand names. Click on the Quantcast graph here to see our demographics and readership information. We are growing each month. It's a very good trajectory.
Ad opportunities and rates:
Block ad with link: A 125X125 ad on the right hand rail. The price is $700 a year.
Text link: You can advertise with a two-line text link on the right hand rail of the site; the yearly rate is $250.
Content sponsorship: Talk to us about larger sponsorship packages, including writing, brand histories and content development.
Brand Search Sponsorship: Our search function is available for sponsorshop.
125X200 ad and Promotional Copy: A powerful combination of one 125X200 fixed advertisement and descriptive promotional copy below the ad, with a link to your site. This approach marries the power of a logo with the SEO benefits of a respectable authority link. We can maximize keyword descriptions for your logo, to further help SEO. Price: $1,000 a year.
Contact Publisher Garland Pollard for more information.