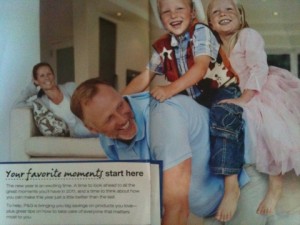 In a discussion about whether Episcopalians believe in purgatory, our parish priest asked us to consider our actions, what we practice. Regularly, we pray for the departed, and if we pray for them, and are serious about it, it means that we believe, by what we do, that we think that these folks have not yet arrived, but still need some intercession. Hence, we believe in a sort of purgatory, though most protestant church doctrine disagrees.
What does this have to do with Procter & Gamble? By their practices, we can see which brands are in favor. Looking at which brands seem to be a priority for them is a good indication of figuring out a first and second tier. This is of interest because in recent years, P&G has dumped a number of classic brands, and others, like Camay, seem to be in jeopardy. While decades ago P&G used to create its own brands and then market the heck out of them, P&G seems now to be more interested in buying other brands and merging them into its fold.
P&G does regular culling of its brand list. A 1950s list of products shows brands that include Drene, Lilt and Pin It. There are a large number of "classically" P&G brands that are no longer part of the fold. These include Sure, Gleem, Prell, Spic n Span, Oxydol, Comet, Biz, Wondra (hand lotion, not flour), Lava and Jif. In addition, there are brands like Right Guard that became part of P&G through purchases like Gillette. These also have been sold.
We looked at a recent coupon circular that arrived in the mail. It is a coupon-zine, with pictures of particularly handsome families enjoying P&G products. (See above for first page). One odd practice in the product lineup; the company seems to be combining two brands on one package, such as Cover Girl and Olay. It's a quite annoying practice (seen more and more) that dilutes the value of each brand as a separate idea, though we guess it provides for a quickie sales boost, which helps the bottom line immediately.
Brands mentioned in the supplement were, in order of appearance:
Cascade
Dawn
Downy
Tide
Bounce
Bounty
Mr. Clean
Febreze
Swiffer
Charmin
Pampers
Crest
Olay
Cover Girl
Clairol Nice 'n Easy
Pantene
Secret
Venus
Head & Shoulders
Tampax
Always
Gillette
Align
Pur
Prilosec OTC
Pepto Bismol
Pringles
Duracell
Of course, that leaves very many brands that weren't mentioned that have been traditionally associated with P&G on its soap operas and such. That doesn't necessarily mean that they are going to be dropped or de-accessioned by P&G, only that they are ones that are not getting top attention and coupon resources in this effort. Ones that weren't in the circular include:
Ivory: Sad not to see this one on its list, as it was P&G's first product, but it seems that in recent years, it has not been a priority, with virtually no national advertising.
Camay: This was once a great brand, but it has suffered with a lack of attention from P&G with all of their interest in Olay. It nevertheless has an old-school, classic aura.
Zest: This was once a product that people who lived in rural areas loved. Stylish, but practical as the soap film was not a problem where the water was soft. Interesting that the website does not show a bar of soap, only liquid body wash.
Scope: This one wasn't on the list of top brands? Hmmm.
Bold: A detergent. For the life of me I do not recall what was different about Bold.
Era, which I believe was a high-concentrate detergent that some folks with allergies liked.
Oral B: This was a Gillette toothbrush brand; apparently it was used by the astronauts on the moon. It has always been a no-nonsense brand supported by dentists.
Herbal Essence(s): This was part of P&G's purchase of Clairol. The Clairol name is no longer connected with it.
Iams, the high end dog food.
Joy: Another classic P&G brand.
Old Spice (hey P&G, the Shulton is missing from the bottles!)
Vicks (actually, P&G has done alot of work with this one so
surprised not to see it on the list). Glad they finally separated it from Chloraseptic.
Eukanuba
Puffs
Glide, the brand of floss once made by Gore-Tex.
Metamucil
Safeguard
Assorted perfume brands such as Lacoste. We wonder why P&G is in this business?

Then there are some brands that seem to be part of the P&G fold, but are made by others. These include Pert and Ivory Snow.
Would love some reader comments on this brand portfolio.