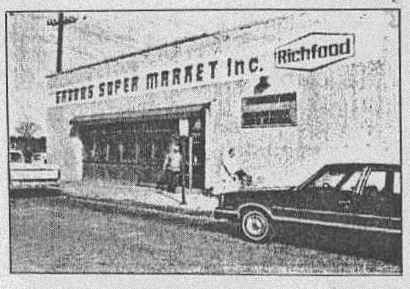 RICHMOND – The much beloved Richfood store brand is disappearing.
Richfood was, for most of the 20th century, the dominant grocery name in Virginia; its dairy complex along I-95 in Richmond promoted ubiquitous Richfood milk to anyone driving up and down the East Coast.
A friend in Richmond tells me that the brand will be replaced by another store brand called "My Essentials." If this is true, it is perhaps as lame, bland and generic a brand name as you could think up.
Richfood was and is a strong brand, and it has enormous goodwill. It works descriptively (food that rich people buy) but then it also has a geographic appeal in the mid-Atlantic, as Richmond was always the center of good retailing. The Richfood stores were a strong system; and always associated with healthy food and clean stores.
It's ironic that the Richfood brand is apparently being diminished when other regional food and grocery brands like Duke's Mayonnaise are suddenly fashionable and hip because of their Southern roots. But Supervalu seems incredibly poorly run; their stock is down around $5 a share from a high of $46 in 2007, so it is no surprise they don't get what they have with Richfood.
Richfood had its roots during the Depression in 1935 as Richmond Food Stores, a group of independent groceries that purchased cooperatively. Across Virginia (and later the mid-Atlantic) Richfood stores were known for their quality merchandise, reasonable prices and local spin. In the 1950s, they introduced the private label Richfood brand; in 1956 all sorts of products began appearing under the Richfood brands. In 1958, they filed for Richfood as a brand for food distribution.
There are over a dozen separate registrations for the Richfood brand across hundreds of product categories. The USPTO says some registrations of this brand have been cancelled as of February 2011, though other trademark registrations for the brand still show as being "live."
Ukrop's in Richmond grew out of Richfood, as did my father's favorite grocery store, the Tri-Star in Kilmarnock, Virginia. Richfood at one time was so well run that many great grocery companies (Giant, A&P, Safeway, Winn-Dixie) were pretty much run out of much of Virginia. I remember Jim Ukrop of the late Ukrop's saying that it was the buying power of Richfood that enabled his company to grow and compete with national retailers.
In 1999, Supervalu bought Richfood Holdings, the Richmond, Virginia-based grocery wholesaler. When Supervalu purchased Richfood, they bought one of the great Southern grocery names, and seemed to want to keep the brand. In these last dozen years, Supervalu has kept the Richfood name as a store brand, though the "Richfood" moniker no longer appears on stores.
Of course, Richfood wasn't the only wholesaler of note in Virginia; Camellia of Norfolk had its own network of grocery stores; they sold to grocers like Be-Lo. There were also I.G.A. Foodliners and I am sure some other wholesale groups.
Pictured here is one of the smaller Richfood markets, namely Grubbs Super Market. It was one of the first businesses I wrote about in November, 1995 as a 20-year-old writer in Richmond at Style Weekly. Grubbs was one of the many Richfood markets, and it had the familiar six-sided Richfood logo on the front. (Notice the logo is just above a K-car. How 1985!)
Grubbs was at 4801 Williamsburg Road in Fulton Bottom, a section of Richmond near the James River. While the store had survived, the neighborhood had not. It had been bulldozed by Richmond, Virginia's Stalinistic urban renewal programs. At the store, I interviewed Clayson Kenneth Grubbs and his elegant wife, Virginia. They ran a simple but well-run grocery; because the neighborhood around it had been bulldozed in the name of progress, they delivered across the city, and had found a niche.
The store had opened in 1935 as Eggleston & Grubbs, but when Eggleston died, it simply became Grubbs. Grubbs was hanging on, not so much because he needed to, but because he had a few employees, including Thomas J. Powell, Charles Hockaday, butcher Russell Breeden and deliveryman Robert Sweeney, and they needed work.
What I did not add in the story was what he told me privately. I should have printed it, but I think it would have upset Mr. & Mrs. Grubbs too much. When I interviewed them, they told me about how the neighborhood had been bulldozed by the housing authority, and how they were now forced to be tenants of the Richmond Redevelopment and Housing Authority, when their store was taken by eminent domain. I will never forget what they told me.
"You think you live in the United States. It's no different than the Soviet Union."
What was even worse was the neighborhood was never replaced in their lifetime; they were surrounded by empty fields. The store eventually closed. And now all memory of Richfood might just be gone, too.
Got memories of Richfood? Leave them below in the comments section.