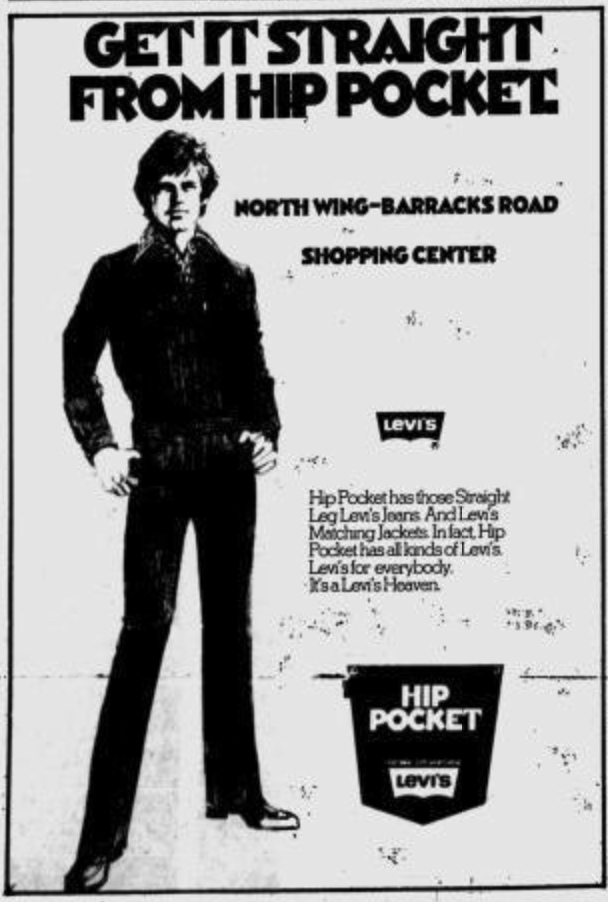 In the early 1970s, Levi's were the brand that everyone wanted, far above competitors like Lee and Wrangler. As Levi's were the original brand of jeans, any store that carried the line had guaranteed sales and cachet. At that time, the so called "designer" jean brands like Sasson, Calvin Klein and Gloria Vanderbilt had not broken through. And brands like Bugle Boy were suspect, as was Gap.
One of those regional Levi's stores was Virginia's Hip Pocket.
"They were in every mall… when malls were king," said Tom Cox, a Roanoke, Va. automobile collector who is known nationally as the host of the Discovery/Velocity Channel car collector show The Appraisers. "Hip Pocket was the place to go. They offered every iteration of Levi's line-up."
Cox, who is president of the Roanoke-based optical company National Optical, keeps an eye on popular brands through his eyewear company offerings. He said that Hip Pocket, and indeed the Levi's brand, was not just about the traditional jean.
"At the time corduroy and bell bottomed Levi's ruled. I think Levi's were a major social conformity," said Cox, who grew up in Virginia Beach, where Hip Pocket had stores in the 1970s at Pembroke Mall and Norfolk's Military Circle. He said that the brand was a "statement that you were 'one of the cool kids'. You dared not wear Toughskins, the Sears Roebuck competition, or you'd risk being 'square'."
In the 1970s, the top department stores carried Levi's, as did smaller regional department stores. In Tidewater, Virginia (the old name for Hampton Roads), for instance, Smith & Welton sold Levi's. Department stores like Sears and JCPenney were still carrying their own house brands in the 1970s. But the biggest seller of Levi's were the boutiques. In Virginia, there were a number of regional chains, all defunct, that sold Levi's. They included A&N, formerly Army & Navy stores, and Hip Pocket. As a writer said on Facebook:
Used to get a good pair of Levi's for 9 dollars at The Hip Pocket and A&N. Now they charge $45 they don't fit right they are irregular the pockets aren't deep the stitching isn't up to par and the material is flimsy. I miss the old Levis.
At top right, an early 1980s version of their co-op advertising from The Cavalier Daily; it advertises a store at Barracks Road in Charlottesville.
Below, a newspaper ad from the early 80s grand opening of a store called Hip Pocket in Boca Raton, Fla. I am not clear as to whether it was the same brand, as there were in the '70s and '80s some other stores apparently called The Hip Pocket around the U.S.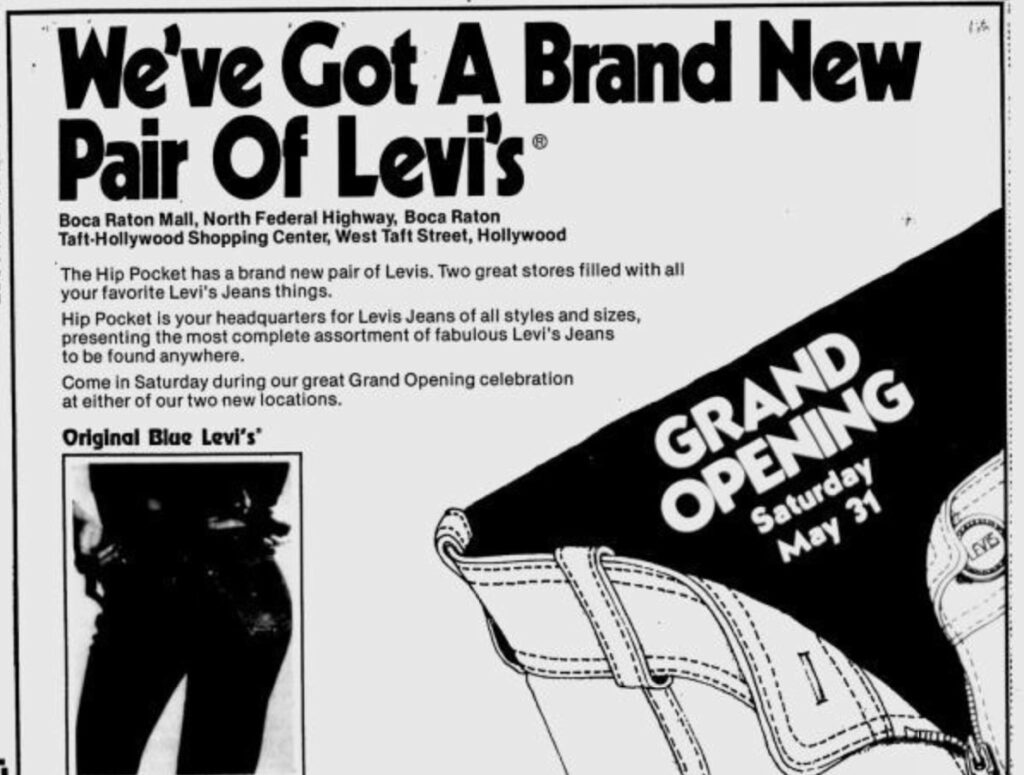 Before the Justice Department stopped enforcing anti-trust laws, there were all sorts of regional department and retail stores; not only did mid-sized towns have dozens of locally owned shops, but there were regional state-sized chains with from 10 to 30 stores that competed against national retailers. There were regional record stores (Trax, Peaches, Musicland), regional shoe stores (Hofheimer's, Butler's), regional jewelers (Schwarzchild) as well as regional women's stores (La Vogue, Montaldo's, Willners) and even a Virginia-based regional toy chain, K&K, which evolved into Dollar Tree.
These regional chains evolved from the ecosystem of the downtown. After World War II, and before the mall, downtown stores were filled with local retailers. A single downtown retail area for a mid-sized city would have a handful of each category of retailer. As new malls opened up, they naturally opened stores at the malls. What, then, started as a single store necessarily became a chain, particularly when regions opened up second and third malls.
The regional Levi's chains operated in that space, though they were a post-downtown retailer, as they were born in the mall. Hip Pocket was one of them; operating mostly in Virginia, and later Tennessee. In Richmond, Virginia, their hometown, they were not only in Regency Square and Cloverleaf Mall, but in Azalea Mall, a smaller neighborhood mall, along with K&K Toys. The non-enforcement of anti-trust and the advent of the big box came with it another challenge for the regional mall retailer, the national mall operator. As these operators like Taubman came in and purchased locally owned malls, they immediately jacked up rents in favor of national retailers. This changed the market in favor of the national retailer, which had been a part of the mall ecosystem, but did not own the malls.
The whole ecosystem of regional retailing was quite sophisticated from the 1960s to the 1980s, as these regional retailers were able to carve and shape their brands with local advertising agencies, and the voice talent and design talent at locally owned newspapers, radio stations and television stations. Hip Pocket, for instance, was incessantly on the radio with the jingle, "Hip Pocket is the Levi's store. Hey Hey." Cox recalls that later years they became provocative with ads featuring hawt women with tag lines for sales specials like "our jeans are half off."
For a regional sportswear chain, having the Levi's brand gave you instant credibility.
Betty Cornfeld and Owen Edwards named Levi's as one of the quintessential brands, in their book, Quintessence. They wrote of the 501:
Levi's, unlike most designer items, are known by the designer's first name. Levi Strauss, supplied with canvas for tents and coerced wagons, went west with the Gold Rush to open an outlet of his family's dry goods business. A born entrepreneur, he soon realized that sturdy pants were what the miners really needed. The canvas was soon replaced by serge de Nimes (aka denim), a tough cotton fabric he imported from Nimes, France. The last major design change came in 1873, when copper rivets were aded to reinforce the pockets.

Quintessence, Owen Edwards and Betty Cornfeld, Crown Publishers, 1983
The brand dates from 1973, according to U.S. Patent and Trademark Office filings. The brand was registered to S&K by T. Justin Moore III in 1983. S&K in the 1980s and 1990s was a Virginia based closeout retailers in the manner of Marshall's, Burlington Coat Factory and TJ Maxx. S&K, called S&K Famous Brands, transferred the registration of Hip Pocket to a company called CSVA of 8334E Arrowridge Blvd., Charlotte, N.C.
Radio DJ and marketing man Kevin Mason wrote about the retail brand on the sickmalls blog:
I dearly miss Virginia's own Hip Pocket stores. They were owned by S&K Famous Brands for most of the 70's and 80's until they were sold to CSVA, Inc. Back in the day, Hip Pockets was THE Levis store. They had numerous locations in Richmond and on both sides of Hampton Roads, plus also in Charlottesville and Lynchburg. They expanded into North Carolina and South Carolina in the mid 80's.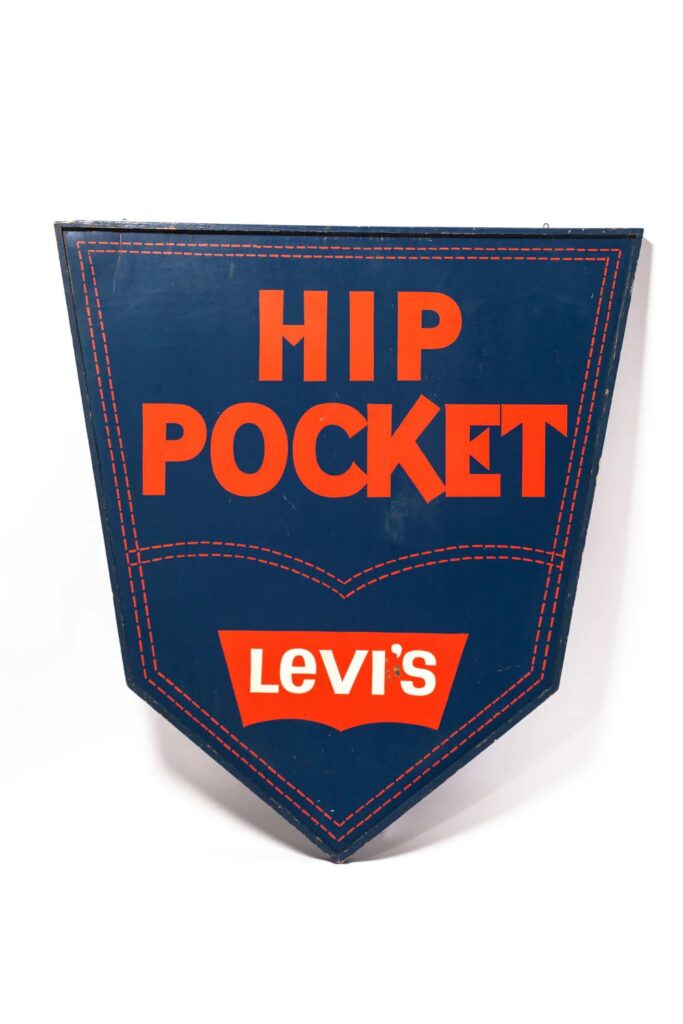 The company was sold by S&K in 1985. The Washington Post on Oct. 14, 1985 reported that at the time, they had 11 stores. They said that it "grew from being one of the original "Levi's only" stores 13 years ago to a profitable seller of sports fashion, the company spokesman said."
There is a 1978 court case called Hip Pocket Inc. vs. Levi Straus and Co. which gives a window into the 1970s and the jeans market. The case, which involves payments and shipments, had as evidence that The Hip Pocket was a "Levi's only" store and they had been shipped goods without a contract, and without being a franchise. It is unclear if that is the same retailer, as the case came out of Atlanta.
Today, the retail designer Anthony Baratta owns and is offering a vintage Hip Pocket Levi's sign on his website. It's a cool $1,600, marked down from $5,000. It does not say how big the sign is, or what it is made of but it is pictured above.
Below, a 1980s ad for the chain from WTVR 6, the Richmond CBS affiliate. By then, they had dropped the Levi's from their name association and slogan.