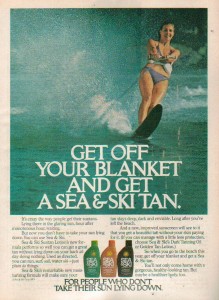 Sea & Ski has apparently lost its tan, and no one knows where to find it.
In the 1960s commercials for the suntan lotion; it was always the more youthful lotion compared to Coppertone, which had an "all-ages" family appeal.
I recall Sea & Ski from my summers in the 1970s in Virginia Beach; it was sold in the beach store at my grandfather's restaurant, Duck-In, and when he closed the store, we used Sea & Ski for a very long time afterward. It had iconic dollar green packaging with sans serif "Sea & Ski" logo.
A search for it online and in local stores shows it is available nowhere. That's unfortunate because it even appeared in a second season Mad Men episode; two reps from the company pitch the brand for As the World Turns.
It's a cautionary tale of what can happen to a great brand that is mismanaged and strays from its core. Within a few decades, something worth millions is suddenly worth little, and largely disappears from the shelves.
The trademark is still alive. Their United States registration was renewed this April 2009, registered by Sea and Ski Delaware, Inc., registered at 8900 S.W. 107th Avenue, Suite 301 Miami FL 33176. The last listed owner was Faulding Healthcare IP Holdings, Inc. of 1845 Elm Hill Pike, Nashville, TN, attorney Daniel Zendel.
A bit of history.
Sea & Ski has been owned by a succession of owners. It was apparently invented by Charles Rolley, who lived in Reno and had quite a colorful life, Time calling him a "kinetic promoter." Rolley sold it to Botany Industries in 1955. Time magazine said in 1961 that it was the "nation's biggest maker of suntan lotion (its dollar-green Sea and Ski grosses some $12 million a year)."
Even then, the dollar green packaging was well-known. It sold out in the late 1960s to Smith-Kline Pharmaceuticals. The brand was owned by Carter-Wallace (they of the condoms and Carter's Liver Pills) until 1988, when it was purchased by Faberge. It then was involved in a series of messy lawsuits, all so complex as to give this brand columnist a headache.
Faulding Consumer, part of Mayne Nickless Ltd, was an old Australian pharmaceutical company; they purchased Sea & Ski in 2000 to go along with their other brand, Banana Boat. In 2002, Faulding Consumer hired Chris Evert to re-introduce the brand to consumers and moms. Apparently, it didn't work as planned. In 2003, the brand was sold to Pathfinder Management Inc. It has been disappearing since.
If they bring it back, talk to us and we can tell them how to do it right. We even know of a graphic designer who can come up with the right feel. We are surprised that they don't even have a simple website to indicate the fate of the brand; that would take someone just a few hours and would help keep the trademark viable.
Whatever they do, whoever does it, they need to start with that green packaging.

Tomorrow: The BrandlandUSA list of the TOP 7 Suntan Brands