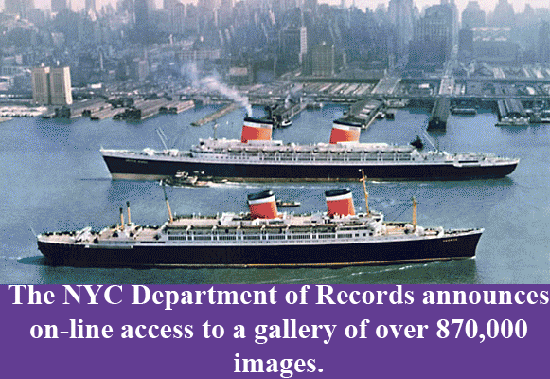 NEW YORK – The recent release of 870,000 images to the public at the New York City Department of Records has caused excitement for history and photography buffs around the world. The digitization project includes routine street-scape photos taken by the city for tax purposes, as well as other pictures.
Featured on the main page of the New York City Department of Records is an undated photo of the S.S. United States and S.S. America, both liners of the now defunct United States Lines. The photo has to be before 1964, as S.S. America (in front) was sold by United States Lines in 1964.
While these Mad Men era vessels longer sail, they are still attractions, though not by design. The S.S. America, which had a slew of owners after she was sold by United States Lines in 1964, wrecked and broke off of Fuereventura, in the Canary Islands. Unlike the Costa wreck in Italy, there was no push to have it moved, and it became a stop on the tourist map there. Now is apparently (and according to Wikipedia) only barely visible.
The S.S. United States is still, amazingly, in Philadelphia, and it is some sort of major miracle that she has not been scrapped. While she has been gutted, she still looks graceful, and even to this day, is an attraction for the city, though sadly there is no way to go aboard her. (I was lucky enough to get a tour back in 1998/99, when she was first moved to Philadelphia after being gutted in Turkey.)
I grew up in Virginia Beach, and for almost two decades, the S. S. United States was docked first at Norfolk International Terminals and then at a C&O dock in Newport News. In each case, the vessel was the star attraction of all waterfront tourist cruises, and every single time anyone went out for an evening pleasure boat cruise, a close up view of the S. S. United States was irresistible. You were just drawn to the thing, anyone at the tiller or helm would just have to go a bit closer, just to see it. My parents and great aunt and uncle were blessed to have been, unwittingly, on the last cruise in 1969.
The vessel is one of those great American achievements of engineering and design that fate continues to smile upon. At the same time as it was featured on the home page of the city, boosters of the ship the S. S. United States Conservancy were holding a press event to announce that she would be the site of the filming of the movie Dead Man Down. While the fate is not 100 percent secure, there is at least talk of redeveloping her as an attraction in Philadelphia. If the project is successful, it will count as a major irony that other cities with more historic connections to the ship (Norfolk, Newport News and New York) passed on buying her for an attraction.