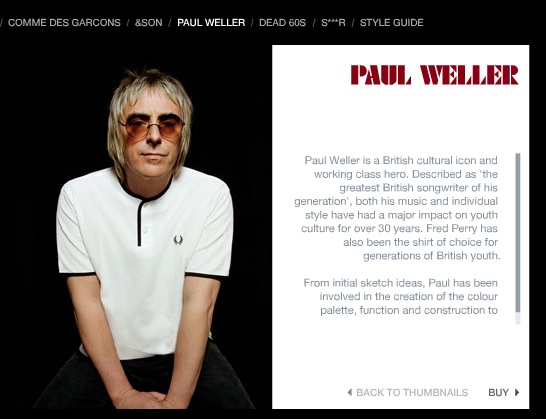 Tennis great Fred Perry might have died in 1995, but his legacy lives on with the Fred Perry tennis line.
BrandlandUSA judges it the Top Tennis Brand of All. Why? Because we say so.
Launched in 1952, Fred Perry sportswear is known for its Wimbledon-like laurel seen on the front of its knit polo shirts. It has been the British rival to Lacoste, which has also had a rebirth in recent years. But Lacoste has gotten so fashion that it is no longer associated with a tennis court. Comparing the two brands, Fred Perry vs. Lacoste, we would have to say that Fred Perry wins. (Take a look at their spiffy good website by the agency De Facto.)
Fred Perry has done a great job of reinvigorating the brand. No less than Paul Weller (of The Style Council and The Jam) has signed on as a spokesman. The sponsorship seems to work, giving the Paul Weller brand and the Fred Perry a few more interesting and ever changing moods. (Log onto Paul Weller's website to hear some of his new stuff from a new concept album called 22 Dreams. The tracks "Invisible" and "Where'er Ye Go" are very good.)
Fred Perry brand is also worn by John McSwain, an assistant editor for Vice magazine's VBS.tv. He prefers the tennis shorts, according to the July 7 New York Observer.
Fred Perry the brand has a great story. Perry started the company with football great Tibby Wegner. The brand grew. Perry hung out with stars in Hollywood and Florida; he gave out shirts to stars with two of their initials on them so they wouldn't give them away. The company website tells the story of Fred Perry seeing John F. Kennedy wearing one of his shirts in Florida. Perry gave him one with JFK's three initials.
The brand was purchased by the Charles Mackintosh company, and even owned by Figgie International of Richmond, Virginia.
While we are at it, lets hit on our fave top tennis brands and sub-brands:
Fred Perry. Enough said. Even Etonics are great.
Converse Jack Purcell's. Don't ever change them.
Boast. The logo looks like a pot plant but isn't.
Dunlop Sport. British is always best for tennis. And the tyre connection makes it cooler. In all manner of sports gear, Dunlop.
Slazenger. Nothing else to say; great for many things, if nothing else it is great because it is a 19th century brand that still survives.
Wilson Jack Kramer. Once the racquet for all good country club players. It was used by all the greats. We love the Jack Kramer. Where is our Jack Kramer?
Jimmy Connor. He once had a brand, I think it was made by clothier Robert Bruce.
Yonex Racquets. The Japanese company signed Billie Jean King and Martina in 1980.
Donnay Borg Pro. If you were serious in the late 70s, you had one of these. You can still buy one at Retroracquets.com.
John Newcombe. Had a great logo on those shirts. Love the logo with the 'stache, which is from his John Newcombe Tennis Ranch. You can stay at the Texas ranch; we hope you can still pick up a shirt.
Special mention? Bancroft, America's oldest tennis brand. And if you want the greatest web page of old tennis brands ever, check out wood racquet history at woodtennisrackets.com.