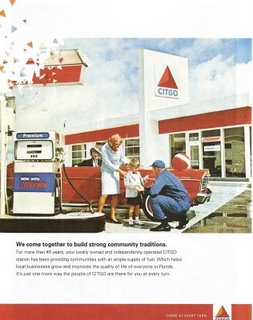 HOUSTON – Citgo is one of the great American gasoline brands. We get a hefty bit of nostalgia every time we see these any of the old brands. Here, a Citgo ad that ran in a recent national magazine here in Florida.Citgo, as everyone knows, was purchased by the state of Venezuela, and has had an enormous amount of baggage because of this ownership, for obvious reasons.
However, there are many independent dealers who sell Citgo gas, especially here in Florida. In addition, the company employs Americans, and still has major operations here. To help burnish their image, Citgo is re-running nostalgic ads in target markets like Florida. While we don't like the politics of the company's government ownership, Citgo is smart to emphasize its American legacy.
It pushes the nostalgia on us curmudgeonly Americans, who wish we still lived in a time when Jackie Kennedy-looking moms drove convertible red Galaxie 500s, and boys wore John-John suits, and gas was sold by clean cut, blue capped filling station attendants. Of course it is an idealized scene, but looking back on it it is strangely realistic, except that mom usually didn't drive the convertible. What is real is the scene; all the gas stations gave away LOTS of cool stuff, and everyone did dress up, and not just on Sunday.
We do not agree with the politics of the country that owns Citgo, but we applaud them for emphasizing the company's heritage here in the U.S.
Citgo. There at Every turn.