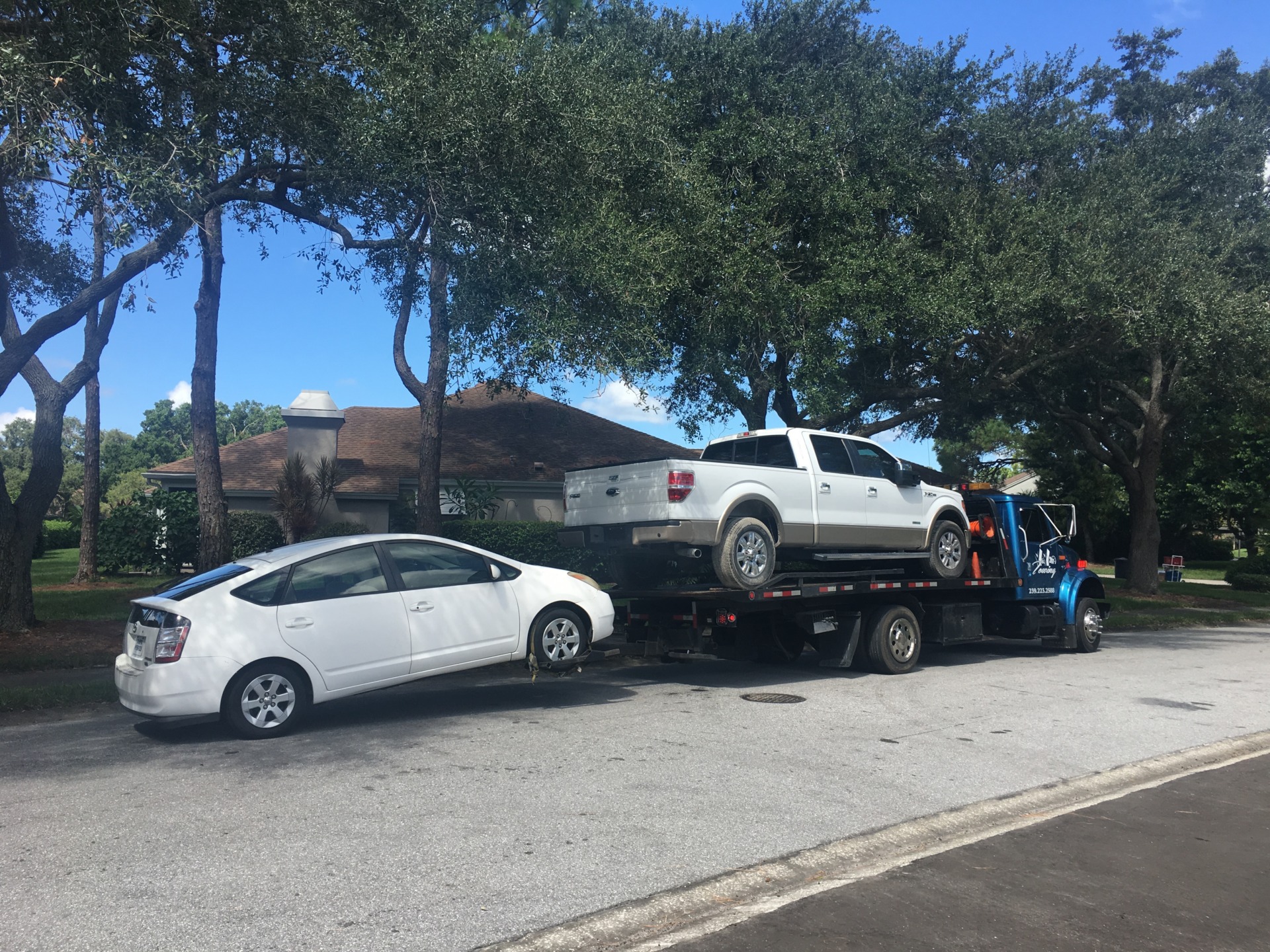 TAMPA – Repair businesses were once a backbone of a small-town economy. If Main Street was the front-facing retail and public end of the local business ecosystem, the side streets and corners, with cheaper rents, offered small businesses the space to fix things. The Norman Rockwell painting What Makes it Tick (The Watchmaker), which Christie's auctioned in 2017 for $7,287,500 tells the small town repair story perfectly, no words necessary.
Today, larger cities are the places where repair businesses survive. The watchmaker is now a high-end jeweler who can fix and repair the broken IWC and Rolex, and sell you some pins and wristbands for your cheaper Seiko or Timex. There might also be a clock shop, and a piano and music store that contracts with a piano tuner.
As cities grow, their economies and businesses become more diverse, providing an array of repair services not seen in smaller cities. In Tampa, there is a place for many of these businesses, namely Route 41, Tamiami Trail. We have nicknamed the place the Tampa Rebuild Corridor. On US 41 Business, north from Lutz and down to Ybor City, are hundreds of businesses that thrive on repairing and rebuilding. While many cities have versions of this economy, the one in Tampa is particularly unique, and deserves attention.
The corridor, at top around Lutz, has one of the most interesting repair and replace businesses around, namely Tampa Hybrids. The company purchases, repairs and rebuilds hybrid and battery cars. A Toyota Prius can last sometimes 400,000 miles, if you take care of it. The design of the car has only changed minimally over the last 15 years. This means that parts between cars are interchangeable, and you can build a new car with an old car's parts. It is, in a pure sense, a manufacturer of sorts. While it does not create new cars with VIN numbers, it takes current cars and makes them whole. (Owner Todd Thompson loves the cars, as do his customers, me included. Thank you Fr. Ed Henley for introducing me to the shop!)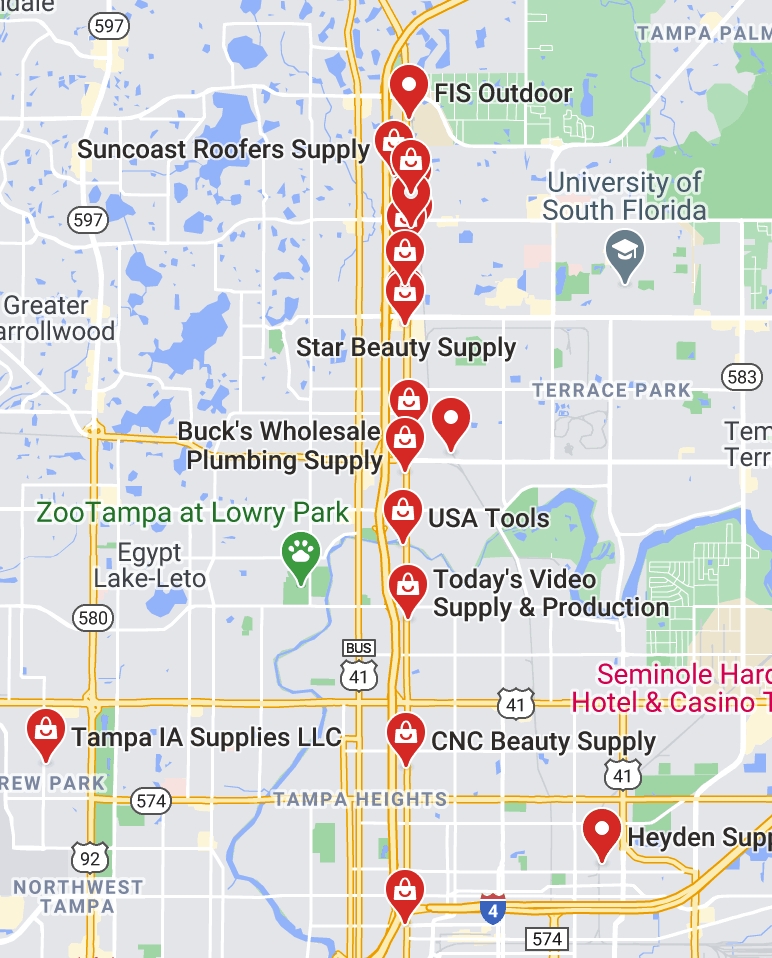 As you drive down the highway south into the city, you can see other repair businesses that thrive in any economy, including appliance repair, vacuum repair, sewing machine repair and computer repair. In less affluent areas where the road becomes Nebraska Avenue, there are other repair businesses that only thrive where there are people of modest means. This includes tire re-tread companies, and used appliance stores. As the repair businesses grow, there are other companies that service the repair economy. One of the more inspiring in its uniqueness is the Smith Sandpaper Shop, which specializes in automotive paints, sandpaper and equipment needed to repaint cars.
The Google map shows Bucks Wholesale Plumbing, CNC Beauty Supply, Star Beauty Supply, Suncoast Roofers Supply, USA Tools, and dozens of others. No Google map is needed if you need a part; just drive.
Stretches of Nebraska have an unsavory reputation for other sorts of "offerings." These stalwart small industrious parts companies provide an antidote to the evil of unwholesome trades. Stretches of Nebraska Avenue often have the feel of Pottersville, in It's a Wonderful Life. There is no reason Nebraska can't be more Bedford Falls, where everyday people perform everyday, wholesome, necessary jobs.
Just a few blocks off Nebraska is Three Sons Upholstery, which serves the affluent and their interior designers. In fact, the repair economy everywhere intersects at the affluent, who across the decades in the U.S. (though not so much now), purchase expensive goods that require service businesses every few decades. This is a complex economy, which can support leather workers, bookbinders and even China repair services. Jewelers, like the Norman Rockwell watchmaker, are part of this ecosystem, as the repair of expensive watches and jewelry is a given.
A Florida Haven for Small Operators
Tampa's population and economic growth make this repair economy happen. Tampa has a large inward migration of people with money, and many people with not much money. It also has a mix of people from vastly different backgrounds, and countries, which means consumers have different consumer habits, rather than habits that are purely American, and from one perspective. For instance, people from the northeast behave differently than people from Ohio, even if they are the same demographic. Wealthy Puerto Ricans and Colombians, for instance, might have more in common with an affluent Texan than an upper middle income Ohio resident. All, however, need appliances fixed, and replacement tires installed.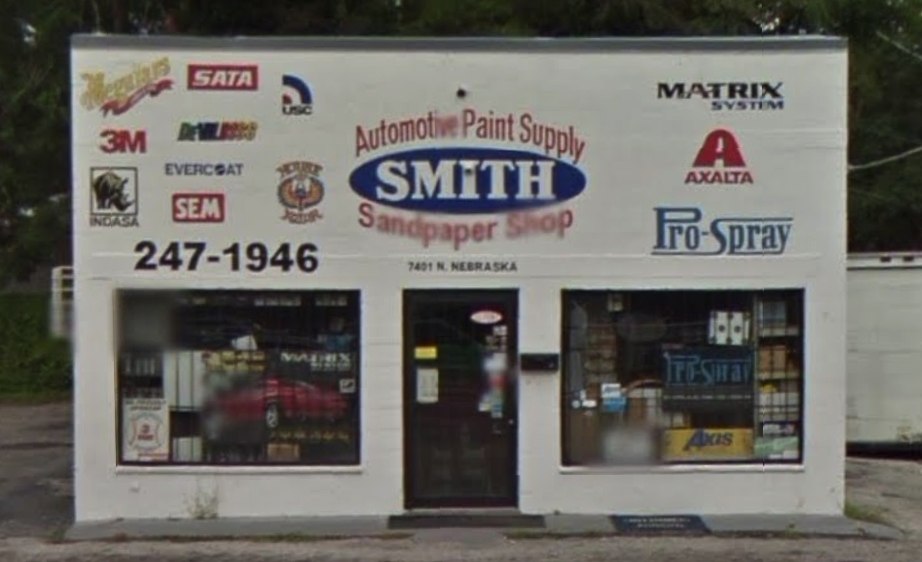 In early America, the plantation and colonial city had to have all of these functions inside it; think of the cooper, wheelwright and such of Colonial Williamsburg, who were both manufacturer and repairer. As the U.S. industrialized, these businesses flourished. Wilbur and Orville Wright turned a bike shop into the invention of the airplane. Peugeot started by making coffee mills and pepper grinders. As America industrialized, any large city had dozens of machine shops, turning out unique parts and pieces.
Through the decades, fixing was still part of many business segments, though less so today because of cheap imports. Small towns have lost many repair businesses. A town has to have a certain number of people to support a computer repair store, for instance. There are national chains that are an important part of a repair economy. Advance Auto, Pep Boys and O'Reilly are important to any repair corridor, including Tampa's. They provide a baseline of parts, available to all, at reasonable prices. These essential companies can also operate in smaller towns, where their efficiency and economies of scale can provide the sort of store that would not be possible on its own.
Opportunities in Repair
The incessant churn of cheap products vexes every consumer, and has decreased the universe of rebuild businesses. Sometimes, the consumer buys something cheap, and it lasts a long time, or buys something expensive, that does not last at all. These repair functions are a decent business, including the repair and servicing of shoes, upholstery, lamps, vacuums, appliances, bicycles and golf carts. However, these shops are typically located in either poorer parts of cities like Tampa, where small businesses can flourish with a market that needs cheaper products, or wealthy cities, where consumers have quality products that need regular improvements.
An upper middle class family will still take a table lamp for rewiring, a pair of shoes for a new sole, or a brass fireplace fender for lacquering. They might even invite a farrier to the farm for their horse. Good quality garden furniture also needs a welder. An example of this sort of business is Toombs Ltd., of Richmond, Va. It describes itself as an antique lighting and silversmith store, but it receives a steady stream of affluent customers who are willing to pay for specialized expertise in fixing a fave family item. But these are all now niche items. Lawn care, computers, plumbing, HVAC and cars seem to be the main segments where parts businesses thrive.
In all demographics, copiers and computers have a need for repair, though cheap printers are regrettably disposable. These repair shops change and evolve along with technology. The local typewriter guy is mostly gone, but one growing area of repair is the cellphone; the cost of an iPhone and Apple's focus on repairs in its company stores has created a universe of small independent and franchise repair shops, all about fixing. Some franchises include Dr. Phone Fix, Cellaris, Computer Troubleshooters, Cell Phone Repair, Dash, Device Pitstop, Digital Doc, Experimac, Fix Mobile, FixAppleNow, FriendlyComputers, iCareRepair, iDropped and UBreakiFix. And fix-it businesses even operate in top tier malls; in Sarasota's University Town Center there is a fix-it in a mall kiosk.
Cars, of course, provide a certain number of options for add on businesses. Shops focusing on transmissions, body work, tires, and windshields are in every city. Safelite, founded in 1947, is the giant of auto glass, and its ubiquitous "Safelite Repair, Safelite Replace" jingle explains what they do perfectly. Two junkyard entrepreneurs in Wichita, Bud Glassman and Art Lankin, founded the company as Service Auto Glass, later adding manufacturing.
Yet there is an enormous universe of products that are not able to be repaired, that were once repairable. This has been brought on mostly by predatory inferior imports from China. An accomplice is new plastics technology, integrated supply chains and monopolization in retail. For instance, a simple gas grill, which could be an item that lasted for decades, with regular replacement of parts like starters and coils, instead is mostly a disposable product. This is a waste in multiple ways; the Home Depot has to sell new grills all the time, at highly discounted prices, and use them as loss leaders. Parts are not interchangeable, and one throws away a decent grill because the starter is broken.
The Big Green Egg is the current exemplar of the company that is the antidote to the cheap Chinese grills sold at Home Depot, Lowe's and Walmart. Big Green Eggs, in medium size, sell for around $700, with umpteen add ons and pieces. Most are sold at independent dealers who value the privilege of selling them. Weber used to be known for quality, but that is a question now. This debate on the quality of Weber grills on Chowhound puts it well:
I have a Weber Genesis E-310 that is a little over two years old. It cost $700. There is now a considerable number of rust spots on the shelves on the side. Real stainless steel does not rust. I wish there was an American company that made a simple high quality truly rust proof gas grill at a reasonable price, in the USA.
The challenge is that the company that creates the product defines the ecosystem for its products. The product must be over engineered to encourage this sort of approach. Ford created an ecosystem of parts with its Model T; there were hundreds of parts and companies that sold ways to improve your Model T. (Even still, there are some.) Honda supports the after-market with its Civic; the website procivic.com sells the parts and expertise.
The solutions need to come from the top, when products are designed and marketed. Consumers can "hack" consumer products to improve them, but the best approach is when manufacturers, engineers and retailers ensure that their products are easily repairable by third parties.
Key in Economic Development
When people speak of creating a "tech corridor" or "innovation corridor," it means creating a hub of a certain type of company that is glamorous, electronic and orderly. Attracting those sorts of bigger companies is seen as a key to economic development. City governments and economic development officials often pay little attention to the health of these small businesses. City planners often shun them in their schemes, as they are seen as messy, and not appreciated (think of a large used car parts yard). OSHA, EPA, zoning and code officials sometimes harass them, as they aren't always well connected at city hall.
These businesses, however, are essential, and key to our future. They recycle goods and preserve landfill space, by providing quality items to those with modest incomes. They allow for good jobs and incomes for those without university degrees who work hard. In the coming economy, there will be a future for these businesses, as 3-D printing makes many more sorts of these local businesses viable.
The Tampa region, led by the Tampa Bay Economic Development Council, provides a home for these companies, and ought to be encouraging them more. On the Tampa Bay website, they include a 2015 press release about the acquisition of a 10th drydock for International Ship Repair & Marine Services. The purchase added hundreds of jobs. The conflict, however, is that the waterfront is also favored by property developers, and sports boosters. Economic development often favors the pretty over the practical. There is no reason, however, that we cant have both.