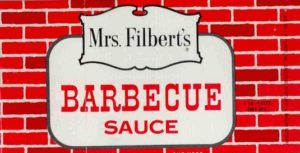 Editor's Note: Recently Instacart no longer shows the product as available
RICHMOND – C.F. Sauer, the spice and sauce company, owns one of the great forgotten mayonnaise brands, Mrs. Filbert's.
In the South, mayonnaise is important. Food snobs do not like it, but that is so wrong, because different degrees of vinegar make different mayo. For instance, many believe Kraft mayo is way too sweet. And others find that low fat mayo has an aftertaste.
The key to good food, especially in the summer is mayo. In Virginia and North Carolina, it is mostly all about Duke's Mayonnaise, which is a North Carolina born brand but owned by Richmond-based Sauer. However, just poking around their website, we noticed that they also now sell Mrs. Filbert's. In some ways, the brand was bigger than Duke's. Mrs. Filbert's was also a Southern brand, with offices in Atlanta, but first sold and made in Baltimore during the Depression.
Mrs. Filbert's dates from 1935, and was originally sold by J. H. Filbert, Inc., 3701 Southwestern Blvd. Baltimore, and later Conopco. In 1984, Unilever's Lipton Investments renewed the trademark.
Sauer bought Mrs. Filbert's in 1999. Sauer now owns Sauer's Mayonnaise, Duke's Mayonnaise and Mrs. Filbert's. If Unilever ever sold them Hellman's, we'd have to put the old Justice Department anti-trust on 'em.
There was actually a Mrs. Filbert, a Mrs. M.V. Filbert, who would give you your money back if you didn't like the mayo.