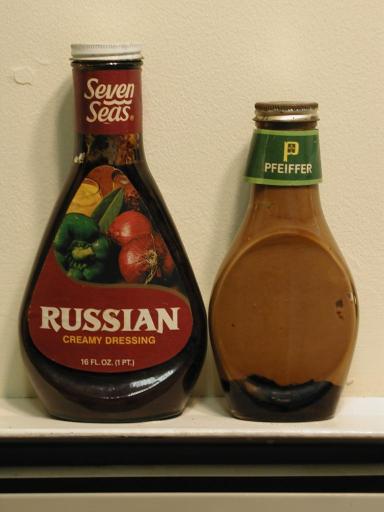 While there are several major salad dressing brands and many small labels, the majors have pretty much consolidated under three corporate banners:
Kraft, Unilever, and the Marzetti division of Lancaster Colony. Time has not been kind to heritage brands or flavors in this day of the "world brand".
Kraft (NYSE: KFT) has long been known for its fine salad dressings and other condiments and still maintains a sizable line under their namesake banner. Several longtime flavors, Casino French and Salad Secret, have disappeared and a number are pretty obscure. A recent change in bottles has lent the line a generic, cheap look, though the great taste remains. Such line variations as Italian, House Italian, and Zesty Italian still coexist with the Seven Seas Viva Italian, also a Kraft label but for how long?
Kraft obtained the Seven Seas brand (see the photo of a 1976 bottle from the website www.winslam.com) through its acquisition of Anderson Clayton Foods. AC was in businesses similar to Kraft: salad dressings, oils, and margarine. Alas, Kraft has scrapped all but the dressings. As time has gone on, Kraft has de-emphasized the Seven Seas branding, though the bottles do feature a fairly bold Viva tagline and Seven Seas does appear as a large trademark on front and back labels and neck label. The variety in the line has been gutted, and the bottles are the generic Kraft issue. The most frequent sightings are Green Goddess, Red Wine Vinaigrette, and Viva Italian. Under Anderson Clayton, it included Seven Seas' own versions of such standards as Creamy Italian and Thousand Island.
The Good Seasons brand came to Kraft with the General Foods merger. Much has been said on this site about the unfortunate fallout of that marriage and the subsequent de-emphasis of the General Foods identity. Good Seasons had always been a packet mix sold with trademark glass cruets. Around 12 varieties of dressing packets remain, and the cruets are still sold…but, surprise, hard to locate. Under the Kraft regime, a line of upscale dressings was introduced using the Good Seasons brand. They have all been relabeled Kraft on the front and back labels with the Good Seasons trademark appearing only as a tiny feature on the neck label. One doesn't think of Good Seasons as a pre-prepared dressing…more Kraft confusion.
Kraft has dallied with many brand extensions over the years. Its Breakstone Sour Cream line and Philadelphia Cream Cheese line have both been used as salad dressing brands featuring the namesake product as an ingredient. Neither remain in the line today, though some of the dressings feature mix-ins of Kraft brands…most notably the Ranch with Oscar Mayer bacon.
For their part, Unilever (NYSE: UL) keeps its dressings under the Wish-Bone trademark, using it for spray extensions and for the Bountifuls upscale line. Under Hellmann's previous owner, CPC/Best Foods, there were at least two previous Hellmann's salad dressing lines. One came out in the 1990's, another in the late 1950's-early 1960's. Neither survived, though the later incarnation popped up from time to time until the Unilever acquisition of Best Foods. The world brand strategy leaves Hellmann's to mayonnaise and uses only Wish-Bone for dressings.
The Marzetti division of Lancaster Colony makes the namesake Marzettti dressings (originally from Marzetti's Restaurant in Columbus, Ohio), Pfeiffer's dressings, Cardini's dressings including their famous Caesar, and Girard's. The latter remain specialty/upscale lines; Marzetti and Pfeiffer are basically mass market discount brands these days. In its day, Marzetti was more like Ken's Steak House dressings are today. Ken's remains independent and was also restaurant-based (Massachusetts).
Mayonnaises and salad dressings like Miracle Whip are also frequently used for salads. They remain a curious niche market even in today's more homogenized world. While the big brands like Kraft and Hellmann's dominate, Sauer still markets Duke, Sauer's, Bama, and JFG…all with loyal Southern markets. Nalley's (part of Birds Eye Foods) also markets mayonnaise (as well as salad dressings) in the Western states. Reily Foods of New Orleans continues national distribution of Blue Plate Mayonnaise.
Editor's Note: Below, an old Seven Seas commercial from the early television era.