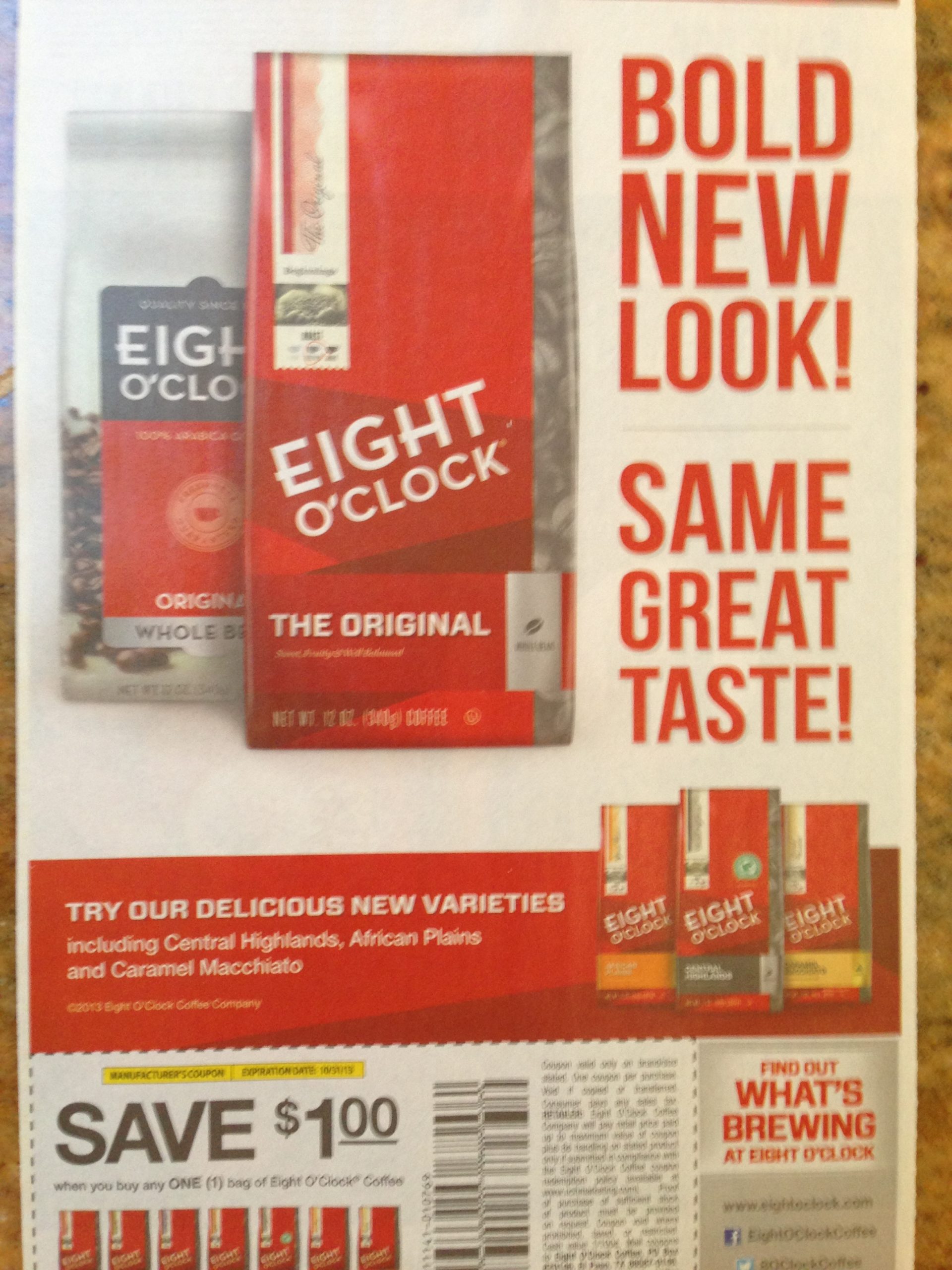 MONTVALE, N.J. – Eight O' Clock, the nation's greatest coffee brand, has modified its logo with a second redesign that appeared in coupon mailers this week. The design is an update of a failed 2010 design, an improvement but not that much. The packaging debuted in August. In a press release, the company said:
"We have been expertly crafting high-quality coffee for our consumers for more than 150 years," said Alisa Jacoby, Director Marketing, Eight O'Clock Coffee. "The Eight O'Clock Coffee brand 'redress' is a celebration of our beginnings and a look into the future as we continue to stay relevant in the coffee aisle. All of these new brand choices – both inside and out of the bag – were inspired by our consumers who continue to be the most important influence behind our ever-evolving brand."
The coffee dates from 1859, when the Great Atlantic & Pacific Tea Company was established. For over 100 years, it was only sold at A&P. But when that chain declined, the result of changing and diminishing their classic supermarket brand, the coffee survived. In 2006, it was purchased by the Tata empire of India, and one had hopes that it would continue the classic look. After all, Indian companies, with their British roots, traditionally have a good respect for legacy brands.
However in the fall of 2010, the Tata completely redesigned the packaging, replacing the red package with a smaller red area and pictures of beans. Our writer Dooney Tickner detailed the awful changes in a prescient Sept. 4, 2010 BrandlandUSA post. Wrote Tickner:
"Shame on whoever thinks so little of this classic brand to remake it as a lookalike to trendy private labels."
The changes did not last, and the company had to redesign after only three years.
This 2013 version is an improvement on the 2010 version; it at least is red, and puts "THE ORIGINAL" on the front. But it is still a far cry from the classic, and the original was a classic.