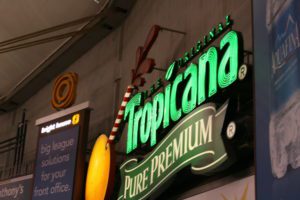 BRADENTON – The news that PepsiCo, Inc. (NASDAQ: PEP) would sell Tropicana to the European private equity group PAI Partners for $3.3 billion should be a wake up call for Florida orange juice. PepsiCo said that the company would sell Tropicana, Naked and other select juice brands in North America to PAI. Pepsi will then have a 39% non-controlling interest in the newly formed joint venture.
"This joint venture with PAI enables us to realize significant upfront value, whilst providing the focus and resources necessary to drive additional long-term growth for these beloved brands," said PepsiCo Chairman and CEO Ramon Laguarta, in a press release. "In addition, it will free us to concentrate on our current portfolio of diverse offerings, including growing our portfolio of healthier snacks, zero-calorie beverages, and products like SodaStream which are focused on being better for people and the planet."
Read that carefully. In the release, Laguarta referred to the things Pepsi sold, other than orange juice, as "healthier snacks." And then he implied, in reference to other products sold by Pepsi, that remaining products were "better for the people and the planet" including "zero calorie beverages and SodaStream." That from the Doritos and Pepsi man.
Laguarta, who worked at the lollipop maker Chupa Chups before arriving at PepsiCo, just gave away the reason why Pepsi has not succeeded with Tropicana, in a time when more and more people are vegan, and simpler ingredients are of value. Several steps that PepsiCo took hurt Tropicana after they purchased the company in 1998:
In 2005, Tropicana moved its North American headquarters from Bradenton to Chicago. Hundred of executives left the area, and were no longer physically close to the production of the orange juice that they were charged with selling. There began the disconnect with actual citrus fruit, and production. In 2003, the company had employed about three thousand, with around 360 in Fort Pierce, 230 in Jersey City and California, and 2,400 in Bradenton.
In 2009, the company instituted a "new Coke" style 2009 redesign that resulted in an immediate 20 percent drop in sales. The disaster was reversed, but it has become the marketing textbook case study for what not to do in a package redesign. One cannot help to thing that its move from practical Bradenton, to Chicago, helped foster a business climate that allowed such a disconnect.
In 2010, the corporate mantra from then CEO Indra K. Nooyi at Davos was healthy foods, and not diversity and environment, as it is today. Spurred by Michelle Obama's "Let's Move" campaign, the company followed the then-government fad, and tested selling actual Tropicana-branded tangerines in retailers.
Positive Signs in Challenging Time
The sale comes at a time when many orange groves are in the process of being plowed under, due to persistent citrus greening. Florida is also losing citrus groves because of suburban development, which continues to encroach. Keto diets have discouraged fresh orange juice, equating it with sodas. Tropicana has not answered these damaging claims in a meaningful way, though the Florida Citrus Commission has been aggressive in promoting facts relating to the health benefits of citrus.
Florida continues to be supportive of the industry. The new Florida budget signed by Gov. Ron Desantis offers $27.7 million in support of Florida's citrus, including $17 million for marketing. Overall there is a 2% sales increase year over year, June over June. Overall, the citrus industry employs more than 33,000 people, and provides an annual economic impact of $6.762 billion to Florida.
The pandemic has helped overall orange juice sales. A new promotion for orange juice from the Florida Citrus Commission directed the the Florida Department of Citrus to build a digital program driving consumers to directly purchase Florida Orange Juice at retail. Launched before the pandemic, it branded Florida orange juice as "The Original Wellness Drink." It also focused on lapsed juice drinkers, targeting them during cold and flu season. The results included a sales report:
In the Nielsen Retail Sales report, average year-over-year total Orange Juice sales increased 13 percent with over 439 million equivalent gallons sold. The Southern Region of the US has shown the biggest increase in sales, growing 15% during the course of the season compared to the same period last year with over 178 million gallons sold. In the Midwest, Western and Northeast regions, sales were up by 11 percent for the season. And, when specifically looking at sales for the season of Not-From-Concentrate orange juice, where the majority of Florida Oranges are used, there was a 20 percent increase.

Florida Citrus Press Release Newsroom
It is understood that citrus products are essential, ever since Dr. James Lind published in 1753 the cure for scurvy in the British Royal Navy, which sparked the moniker limey, short for lime eaters. For generations, and since the time of the Linus Pauling craze in the 1970s, Americans have understood that Vitamin C was good for colds. Today, The Linus Pauling Institute does not make claims about intravenous use of Vitamin C, but it does say that routine use of vitamin C supplements, "may have a mild, beneficial effect on the duration of the common cold in certain individuals."
That PepsiCo has ignored this in the release is deeply unfortunate, as Laguarta is Co-Chair of the World Economic Forum's Board of Stewards for the Food Systems Initiative, which purports to "build a more sustainable food system—with a focus on becoming PepsiCo Positive" and "mitigate the impacts of climate change and the visionary Beyond the Bottle strategy."
Growth Prospects and Potential
Tropicana accounts for over 800 jobs in Bradenton, on a 285 acre campus, according to the Gulf Coast Business Observer. The plant processes an astonishing 200 to 300 trucks a day. PepsiCo, in a release, said that they will retain U.S. distribution rights in the category of chilled direct store delivery, for small-format and food service. PAI seems eager to take on the work of rebuilding Tropicana.
"We are delighted to bring these storied beverage brands into the PAI portfolio through another partnership with a leading global food and beverage company. We believe there is great growth potential to be realized through investments in product innovation, expansion into adjacent categories, and enhanced scale in branded juice drinks and other chilled categories," said Frédéric Stévenin, a managing partner at PAI, in the release. "We are also thrilled that PepsiCo will remain involved as our partner in the joint venture as we execute our plans to drive the future success of these brands."
Astute Grower Competition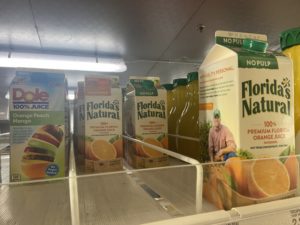 There is competition for Tropicana, and an astute one and clever one. Florida's Natural, a co-op brand of juices, saw a 12% increase in total sales revenue for their 2019-20 fiscal year.
The company has a strong campaign that not only emphasizes the health aspects of orange juice, but engages with customers directly in Lake Wales at their visitor center. Meanwhile, there is no consumer tour or attraction at any Tropicana property, in spite of the millions who visit Florida each year. Over 60,000 visit the BMW Zentrum plant each year in South Carolina, for instance.
Florida's Natural, created as a brand in 1987, also emphasizes its farmers, and the Florida origin of the drink, which is of considerable importance as Florida is the fastest growing state in the nation, population wise. Each package shows an individual farmer in Florida, further accentuating the wholesome aspects of the product.
Tropicana About $3 Billion in Revenue
Entrepreneur Anthony Talamo Rossi founded Tropicana in 1947 in Palmetto, just across the Manatee River from Bradenton. He had many production innovations with orange juice, including packaging it in cartons, and devising production methods that made it easier to get to consumers. Rossi, who was a serial entrepreneur and a native of Sicily, sold the company to Beatrice Foods in 1979 for $495 million. Seagram purchased the company in 1988 for $1.2 billion. PepsiCo purchased Tropicana in 1998 for $3.3 billion from Seagram, which used the proceeds to purchase Polygram Records. Rossi died in 2005, having donated much of his fortune to charities and missionaries.
Tropicana and Naked amounted to about $3 billion in net revenue in 2020 for Pepsi, the company said. PepsiCo also said that operating margins were below PepsiCo's overall operating margin, hence the sale. PepsiCo will use the proceeds to strengthen its balance sheet and to make "organic investments" in the business. The transaction is expected to close in late 2021, subject to usual approvals.
Centerview Partners LLC is financial advisor to PepsiCo. Gibson, Dunn & Crutcher LLP is acting as lead counsel to PepsiCo, and Davis Polk & Wardwell LLP is U.S. tax and antitrust counsel. J.P. Morgan Securities LLC is acting as financial advisor to PAI. Willkie Farr & Gallagher LLP is serving as legal counsel to PAI, and Latham & Watkins LLP is acting as financing counsel.
At bottom, the Tropicana Juice Train in 1997, an example of not only how critical this company is to the economy of Florida, but how interesting an operation it is. Below, images from Tropicana, and Florida orange juice, over the years.
A Tropicana truck in Bradenton, Florida. 20th century. State Archives of Florida, Florida Memory.

Tropicana's President Anthony T. Rossi. 1960 (circa). State Archives of Florida, Florida Memory. Accessed 3 Aug. 2021.

Tropic-Ana, as seen at the Florida Rail Museum. BRANDLANDUSA photo.

Screen shot of the splash page of Florida's Natural, promoting growers in Florida.

Image of an early Tropicana box.

Vending machines inside the Capitol in Tallahassee, Florida. 1959. Note the importance of Tropicana to the state with an equal placement for the juice. State Archives of Florida, Florida Memory.

An earlier plan to sell Tropicana branded fresh fruit failed.

USA origins of Florida's Natural emphasized.

Citrus growers featured as part of Florida's Natural packaging.

Clear images of healthy food and Florida.

A competitor; barriers to entry in orange juice are low.