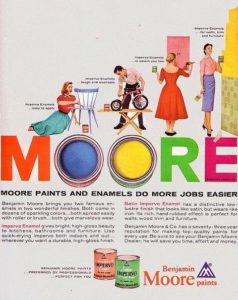 PORT CHARLOTTE, Florida – In spite of the ubiquity of the Chinese supply chain, it is possible in for some retailers to completely go Made in USA. Some types of businesses can do this more easily than others.
One such place where this idea is achievable is in a store of limited scope, such as building materials, and paint. Most paints are American, and brushes and painting accessory makers like Purdy and Wooster proudly herald American manufacturing.
The Gulf Coast Florida Benjamin Moore dealer A&E Paint Centers, in Port Charlotte, is holding such a promotion. The store is located in a fast growing area of Charlotte County, on the Gulf Coast of Florida that is south of Sarasota and north of Ft. Myers. The store is one of four, not only Port Charlotte, but in fast growing Bonita Springs and Cape Coral.
The store's idea? Simply put a banner across the front of the location that says Made in U.S.A., and sell only American items within.
Their main line of Benjamin Moore, since 2001 part of Berkshire Hathaway, is headquartered in Montvale, N.J. The dealer also offers a wide selection of other paints, including PPG Paints, Porter Paints, Pittsburgh Paints, Sikkens, Flood and Deft.
Florida Brands Promoted
The company goes further than just Made in USA in their locals only promotion. A&E Paint Centers promotes Florida products as well, including Corona Brushes, Tuf-Top (marine industrial) and Richard's Paints.
Corona Brush is a maker from Tampa. Founder Jude Waksman originally emigrated from Russia to Cuba, and later decamped to Tampa with his company Corona Brush (see brush list below).
Tuf Top, which specializes in marine and outdoor paints, is from St. Petersburg. Tuf Top was originally founded as Marine Industrial Paint Company in 1938, and later purchased the Tuf Top brand.
Richard's Paint dates from 1954, when Ed Richard Sr., then a painting contractor, built his first batch of paint. Orders for his special mixes came in quickly from other painters, and the business was born. The Rockledge, Florida company, just across the Indian River from Cape Canaveral, manufactures small batch paint, including specialty roof coatings, Master Paint Institute paints, and other high grade industrial coatings.
American Made for All Paint Retailers
For those in the building materials space, there are many options for American made brushes and painting products. The Purdy and Wooster brush brands are familiar to most consumers, though many have forgotten how much of the industry remains American made, and family owned.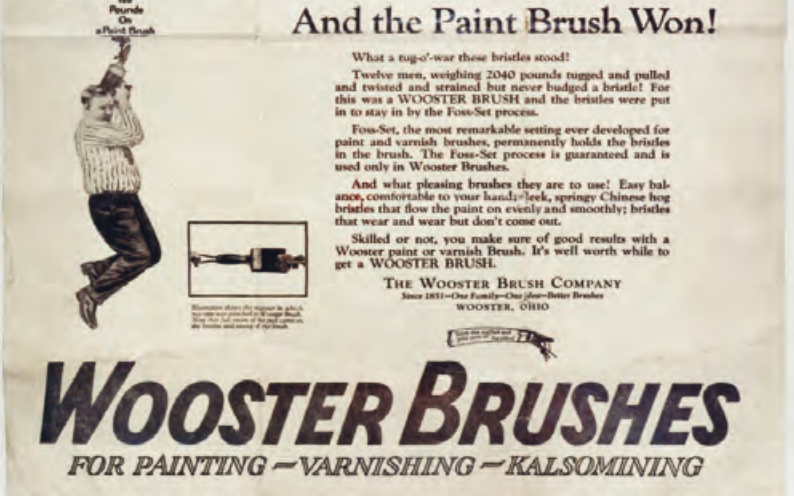 Here at 'the brush,' we don't outsource much of our material.

Marilyn Everette, Wooster roller production
Just some of the American made brush brands include:
The Wooster Brush Company of Ohio dates from 1851. They rightfully claim to be one of the oldest makers in the U.S. Company founder Adam Foss began producing handmade bristle paintbrushes in a small, two-story building in Wooster, Ohio, and sold the brushes door-to-door. The Wooster Brush Company acquired land on Madison Avenue in 1909 for a factory. The Madison Avenue site in Wooster, Ohio is still the location of company headquarters, though they employ over 600 at a nearby factory.
Corona Brush, of Tampa, was founded in Cuba by Jude Waksman, where he learned the trade of processing hog bristles for paintbrush manufacturing. Corona Brushes later moved to Tampa.
Premier Paint Roller, of Richmond, Staten Island, N.Y., offers a line of American brushes with model names like Brooklyn and Montauk. They released the line in 2018. The lines included Dupont filament. The Montauk brush is a Tynex and Orel firm filament blend. The Riverdale, Chinex extra firm filament blend is formulated for high-performance paints.
Purdy brushes, made in Oregon, also offer many American made painting accesory options. S. Desmond Purdy founded Purdy Good Brushes in 1925. He believed handcrafting was the only way to "build in" superior performance and to build a business. The company puts a Made in USA logo on each USA product. Items like their Marathon paint roller are U.S. made, as well. Each brush is signed by the person who made it.
Below, a video from Wooster Brush Company that tells their story, and includes videos of the brush making process, which is still labor intensive, and requires careful thought.
Premier