By Garland Pollard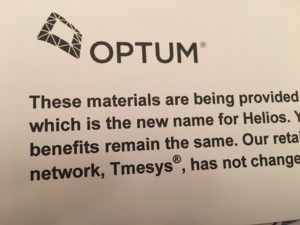 As a social service agency or company or government mandated service, the only brand you need is really your business name, and a decent level of service. Of course  you need something written on letterhead, and an address, but your "brand" is really about how you deal with people. And so it is that in areas where we trust little, like "healthcare" or "wellness" or "public/private partnerships" the brand names keep changing, and they keep inventing new ones. You don't even have to excel at it; no one expects that. Instead,  you just need to be nice and helpful.
Today, I saw a new crazy brand, the Optum brand of, get this, worker's compensation pharma benefits. In a mailing of a worker's comp pharmacy card, we saw, inserted in an envelope, that the materials were provided by Optum, which was the new name for Helios. I guess that's good news! But even better news was that the retail pharmacy brand Tmsys had not changed! Thank goodness because I would have gone to my non-existent Yellow pages to look for a Tmesys pharmacy …..
Tmsys has not changed! What a happy thing to hear! But so so sad for poor Helios that its brand would be dumped in favor of Optum. It is hardly fair to Helios that they were dumped in favor of Optum!
Was Helios sounding too much like a solar energy company, or a sex-drenched Mediterranean beach resort? We'll never know. Helios never saw it coming. [Read more →]