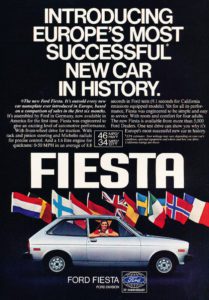 One of the zippiest little Fords of all time will return to the U.S. market.
It's the Fiesta.
The folks at Ford didn't bring it back to please America. If that were the case, Ford would be bringing back the Country Squire, Galaxie 500 and Model A.
No, the Fiesta is different altogether. Almost all Americans have forgotten the Fiesta. It has been decades since the car was sold here, and even when it was around, it wasn't well known. The only reason why the name will have some punch is because in the decades since the Fiesta disappeared, wave after wave of immigrants have come to the U.S. And the Ford they know is not the Ford we know. They have seen many Fiestas; indeed Ford is not so much an American brand as an international one that has a different identity in every market, even as the Ford brand has common characteristics.
U.S. Ford is all about Torino, Fairmont, Futura, Bronco, Maverick (good gosh what a weird car!), LTD and Taurus. The overseas Ford is all about Mondeo, Cortina and Fiesta. Yet some old American names survive overseas. For instance, the LTD, Falcon and Fairlane, three historic Ford models of the U.S., survive in Australia.
Ford's press release states that they have sold more than 12 million Fiestas since its introduction in 1976. According to Ford, the Fiesta project was a personal mission of Ford's then Chairman, Henry Ford II.
The original Fiesta was built in Almusafes, Valencia, Spain during the blossoming democracy of the newly crowned King of Spain, Juan Carlos. Now that's something to celebrate.
In Europe, the new Fiesta will be built at Ford's Valencia manufacturing facility in Spain beginning in early 2009 alongside the Cologne manufacturing plant, which starts production in fall 2008.
Note: 2008 is the 100th anniversary of the Model T in Great Britain. Over 400 of the historic cars survive in the U.K. Still. You can read about them at the site Model T Register of Great Britain.