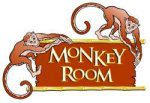 What makes a brand stand out? Doing something different. Go to The Monkey Room at The Colony Beach and Tennis Resort on Longboat Key in Sarasota, Florida. There you will find:
Monkeys painted on the walls doing funky things
A piano lounge singer, right out of another groovin' era
And tennis racquet shaped pasta for the kids!
Colony Beach and Tennis Resort=Greatness.
Author
J. Garland Pollard IV is editor/publisher of BrandlandUSA. Since 2006, the website BrandlandUSA.com has chronicled the history and business of America's great brands.