BRYAN, Ohio – Companies thinking they need a "factory tour" imagine frightening things, including expensive liability insurance, nightmarish staffing costs and other annoying things like fans who love your products. Yes, we do hate those people who love our products! How annoying!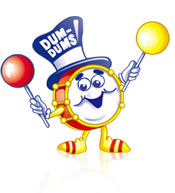 We take a different view. Product tours are part of knowing your customer. Here, a link to the Dum-Dum factory, actually the Spangler Candy Company of Bryan, Ohio. Spangler was founded in 1906, and is famous for their Dum-Dum Pops. Please look on their website for some interesting stuff.
A bit about the tour from their site:
The museum features historical information in a timeline fashion, along with samples of products and other artifacts from years past. A video history of the company runs continuously in the museum. Through the museum experience visitors will learn how our company grew from one man and some baking powder to the world-class hard candy company it is today.

The store offers Spangler products, gift baskets, and "Save Wraps for Stuff" items. Also featured are Dum Dum t-shirts, hats, candles, and other items with our brand logos.
If you think it might be a good idea to have a factory or warehouse tour, but are overwhelmed, don't be. Companies that are legacy companies, that are older, often have interesting histories that can be used to position your company. While new companies can set up factory tours and the like, older companies have the most potential as they have a history.
Execs are into being "efficient" and "businesslike" and find these sorts of ideas a nuisance, and scowl condescendingly at them. That is wrong.
Companies make the mistake of thinking of their "customer" in a narrow way; the people they sell to directly. When in fact your customers are the friends, family and co-workers of your customers. Word of mouth is powerful.
Here are some ideas:
Open up for an Open House where your entire staff is encouraged to bring friends to see where you work. Have food, and encourage staff to be ambassadors. Do this just once, to see how it goes. Send out a press release to the paper, an invitation to the community and suppliers. Be generous with food, and the community will love you for it. Set up a donation pot for a local charity that is near to your warehouse or office, and ask guests to contribute or at least take a brochure.
Have a small display in the lobby of your company's history and products. That's a start. It can be as simple as posting framed clippings and awards, and showing older versions of your products. At minimum, visitors to your offices will see what you are about. And if you can't always bring guests into the production area, at least there is something to see. You don't have to have a fancy video feed, just a friendly tour guide.
Talk to other companies that are in your Chamber of Commerce. Each city in the U.S. has particular types of industries that cluster. These loose associations of suppliers and companies give each region of the U.S. a theme. Perhaps there is a way you can do a "Celebrating Auto Parts in Anytown" day or a "We're the Widget Capital" theme. The chamber can help you with this. It's all about creating an identity for your company and region. And if you have the time, read the classic book by Harvard Business School professor Michael Porter entitled The Competitive Advantage of Nations. It is not a difficult read, and it outlines how regions have economic themes.
Team up with other companies in your city to have an Open House day when companies open themselves up to the public, similar to house tours in neighborhoods. The secret success of house tours is that houses do not have to be grand for people to want to see what is in them. People are curious about other people, and they just want to visit. Perhaps these Open House days could be sponsored by local economic development agencies. These days, there is not alot of new industry to recruit, so working to encourage current industry to take pride in itself might just be the ticket to local success. (See item number 3).
Imagine yourself a child. Try to imagine what an eight-year-old boy might want to see at a factory. As a child in Norfolk, my favorite tour was the Snark sailboat factory. Snark sold cheap $99 sailboats made out of styrofoam. They were hilarious, and you could buy one after the tour. I loved it, as did our class. lt does not have to be Willy Wonka to be interesting. For instance, a tour program could develop from visits from primary school children, and work up from there. Test your tour script with them; they are the hardest audience of all.
Keep it small. You do not have to be open every day. Your staff might get overwhelmed. But try it once, occasionally, and see how it goes. Do not spend lots of money on this effort. Instead, begin to think of the assets you already have, and build on those. For instance, there might be a custodian who has a gift with people; you might use him or her to take people around on your open house day.
Be dramatic. You don't need to take guests everywhere, but do show them something interesting. Make up a secret recipe and stick it in a vault! Something to add a bit of drama. We exaggerate about the recipe, but do think about something fun.
Talk to your local tourism official about ideas. They might have something compelling. For instance, if all you are is a warehouse and manufacturing is in China, perhaps you have a special seminar series for collectors of your product at the nearby hotel, and then a quick tour of the products coming in off the trucks.
Make a donation. If you have an anniversary, write a bunch of small, $100 checks to local charities in the name of the company's anniversary. Do not have a stupid ceremony where you ask the local paper to take a picture of your company giving out an oversized check, nor should you mention these donations in a press release. Good things will happen. Talk moves quickly. Do not send your money to community foundations or big bureaucracy charities like the United Way. Instead, just send out some checks to small charities get forgotten. Ask your staff if they know of causes or Good Samaritans. However, do ask a community foundation officer for suggestions about charities if you are stumped; they will often know of desperate cases that might not fit their guidelines.
Work with museums. Your local museum or library might have an archive or clipping file about your company, and might know about it. Very often, company histories are far more interesting than the current owners of the company imagine. There could be retired folk in town who used to work at the factory. They could be resources for an oral history program.
Set up a program to sell branded merchandise. This is important, and overlooked. You want to sell any merchandise you can with your company name on it. It's amazing how many companies forget this. This program should not be extravagant. It should also not be seen as a money maker. Instead, have a staff person oversee it. It's just a way to get the company's name out there. You will probably end up giving up alot of the stuff away at trade shows and school auctions, but no matter. It gets the word out.
Know your retirees. The people in your community are what makes the company, and city great. Think of a potential factory tour as a way to talk to them. You also might have descendants of the company's founders, and early employees, around town. Talk to them too.