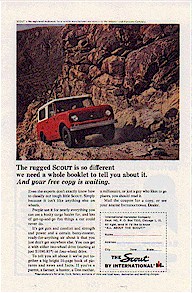 The news that General Motors is in talks with firms in China, Russia and India who might buy the Hummer brand is good news. There is no reason why the Hummer brand has to disappear, though it is obviously a niche brand. What it points out quite obviously is the need for upstart Asian and Eastern European motor companies to have American brand names. In press reports for Hummer, it was reported that India's Mahindra & Mahindra is interested in launching its own brand. Other Chinese auto companies need brands, as well. What brands are available? For the sport utility market, there is one forgotten brand name that is beloved. The brand is the International Harvester Scout.
Why is it a great name to revive?
It has a cult following, particularly with California surfers and folks who do conversions.
Chuck Connors drove one in the original Flipper movie on the Florida Keys.
It has no baggage with dealer contracts,
It has roots with International Harvester, which has a big brand following.
Other sub-brands of Harvester have been revived successfully, or lived on, including Farmall and Cub Cadet.