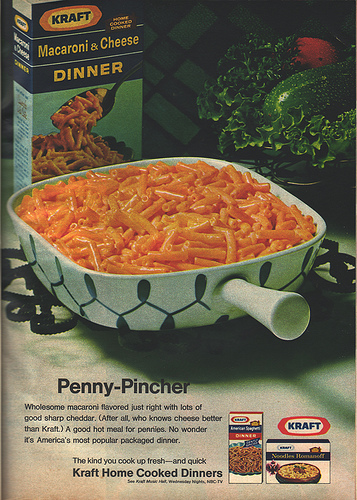 Times are tight. Companies like Kellogg's and Wal-Mart are doing well. These are companies that everyone, including the wealthy, flock to when every nickel is precious. Which got us thinking. What are the best brands in America that connote thrift, modesty and that all-American, Victory Garden spirit?
Brands we associate with rations and tight times:
Singer, Chevrolet, Ford, Southwest, RC, Wal-Mart (oh how we miss Woolworth), Dollar Tree, Burpee, Ball Mason Jars, Cut-Rite Wax Paper, Pepsodent, Velveeta, Hunt's Catsup, Bisquick, Calumet Baking Powder, Bush's Baked Bean's, Chicken of the Sea Tuna, Kretschmer Wheat Germ.
If you have a larder full of this stuff, you will never go hungry! And it's all pretty tasty. No more Bare Naked cereal. No more organics. No more Trix Yogurt. If it's yogurt, eat it plain. And if you want it fancy, serve it in Sterling Silver.
It's time to get back to basics. AMERICAN BASICS.
Here are BrandlandUSA's favorites:
1. Kraft Macaroni. It's called the Blue Box by Kraft. Check out the vintage ad above from Flickr poster Ash, who describes herself as "a sweet, silly, sock-loving Fun Dip fiend from Manitoba, Canada." She likes Kraft Macaroni & Cheese. Guilty pleasure: put some Worcestershire sauce on them and they take on a slightly gourmet flair. Guess it's the anchovy taste?
2. Kool-Aid. Get the original stuff; too bad you can't buy Funny Face brand drink mixes anymore. If you are lucky, you can get 5 for $1. The lemon flavor actually has citrus powder in it, so when you drink it you are less likely to think you are drinking "crayon" coloring, a term we think we learned from Ron Coleman's brilliant blog, Likelihoodofconfusion.com. Note: we always loved Wyler's lemonade. Guilty pleasure: throw in an actual half lemon with some vague pulp, and it can at least masquerade as Paul Newman's.
3. Shedd's Country Crock Spread (we love to call it oleomargarine). A big brown tub will last for weeks. It may not be as tasty as butter, and doesn't pour as well as pourable Parkay, but does well on toast. Guilty pleasure: melt it with Log Cabin syrup and dump on pancakes. www.countrycrock.com

4. Lance Nabs. Rye-Chee. Nip Chee. Toast Chee. All the great products of Lance crackers. Actually, we were on a Delta flight recently out of Atlanta, and they were giving out Lance crackers with Cokes. My how the great airlines have sunk. How quintessentially Southern. However, no one seems to call them Nabs anymore (they were once made by National Biscuit Company). Guilty pleasure: Eat them with a Coke. And call them a Nab.


5. Libby's Vienna Sausages. They are heaven. Best on Keebler Zesta Saltines. Now made by Con-Agra. Guilty pleasure: use the peel-off sharp top to cut the suckers in pieces before you put 'em on saltines. Or fry them in Country Crock for a little late night hangover prevention.
6. Jiffy Corn Muffin Mix. You used to be able to find four for a $1. If you find for 33 1/3 cents, you are golden. As they are. They are tasty, tasty. Much better with butter, but served hot with Country Crock spread and Welch's Grape Jam isn't too bad. Made by Chelsea Milling Company, of Chelsea Michigan. Guilty pleasure: Molasses. Or try Jiffy's fake Blueberry muffins.

7. Pillsbury biscuits. The little Dough Boy still has some good tricks up his sleeve; if you get the store brand of Pop 'n Fresh, dough, you can still turn them into cocktail snacks, cheese biscuits and cinnamon rolls. Have some for breakfast with marmalade. OOH! Guilty pleasure: Bake em with hot dogs inside the dough, just like so many decadent 1970s cocktail parties.

8. Kellogg's Corn Flakes. Never ending, always tasty. Whether you get Kellogg's, or not, the morning starts off well with these little floaty corn chips. Guilty pleasure: Try that Reddi-Whip on top!

9. Lipton's Tea. Iced tea is the ultimate Southern drink. Duh. But what's great about a box of a hundred or so tea bags is that it lasts forever. Store brand is fine, but you feel REALLY cheap when you have cheap versions of a brand like Lipton that is really cheap anyway. Guilty pleasure: Sweet tea is best. Lots of sugar. If you add mint from a garden and drink from silver cup, it becomes high-falutin.

10. Maggi Beef Bullion. We love this in the winter, and much better than drinking coffee all afternoon. Offices ought to give it out with tea and coffee. Guilty pleasure: Have one for breakfast. And spike it with vodka.