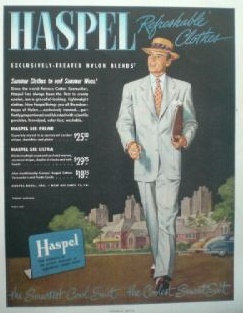 BATON ROUGE – Haspel is one of those great American brands, best known for inventing the seersucker suit. It was founded in 1909, which means that this year is the centennial.
Happy 100 years, you great looking suit! It is so true. So true. Southern men feel better in a Haspel seersucker suit.
The company was sold out of the family in 1977, but repurchased in 1994. And today, it is attempting to redefine itself, run by President Laurie Haspel Aronson, great-granddaughter of the founder. It is one of a few recent families taking over family brands, including Anderson-Little.
Local press reports have the company partnering with Neema Clothing Ltd. and Graj + Gustavsen, a New York branding firm.