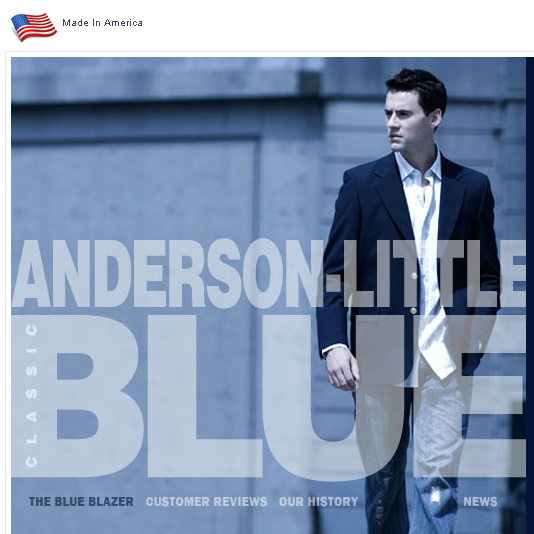 One of the many retail brands that was part of the old American F. W. Woolworth was Anderson-Little Co. But just as they did with Kinney and Woolworth's itself, the mismanagement at Woolworth (now Foot Locker, at NYSE: FL) ruined Anderson-Little, which was the original factory to you retailer. A quite pesky criticism of the company is at our former post on F.W. Woolworth's history. The good news? When many conglomerates buy family brands, they ruin and waste the brand equity, but in many cases, they can be brought back.
But good news. The company is back, and the original family has re-started the brand. We checked in with Scott Anderson, the president of the new version of Anderson-Little, to tell us about the venture.
BrandlandUSA: What was the moment you decided to do it?
Anderson: This is a great story. I had been wanting to re-launch the company for some time but knew that I had to have my Father as my partner in order to do it. I needed his experience to give the venture any kind of chance at success. He was very skeptical about the idea and I discussed it with him for several years to no avail. Then last year he came to visit me in Los Angeles for Thanksgiving and we were having breakfast at his hotel. Out waiter had a thick New England accent and when I asked said he was from Cranston, Rhode Island. I had repeatedly told my Father that we had nearly 100 percent positive recall among New England males over thirty. The waiter told me he was thirty, so I asked him if he had heard of Anderson-Little. "Of course I have, I had my high school graduation picture taken in an Anderson-Little suit." My Father turned to me and said, "I'm in!"
BrandlandUSA: How did you find out the trademark was available?
Anderson: Splendid question. This is the first place anyone who wants to re-launch needs to start. You've got to hire an attorney and determine the status of the trademark. In our case, the last corporate owner of the trademark had gone bankrupt and the principal of the company had died as well. Then you go through a legal process which takes about two years to re-establish your right to it. The blunt fact is that if a brand is essentially unclaimed and unused for a period of years, it is up for grabs by a bona fide user. Being family has nothing to do with it.
BrandlandUSA: Do you hope to make the brand into more of a web/mail order brand or retail? And is your Florida location going to be retail too?
Anderson: We'll be web only. NO RETAIL. My family invented the concept of "factory direct to you" when Anderson-Little opened the first ever factory outlet in the United States in Fall River, Mass. I'm enormously proud of this. (It's a documented fact by the way, don't take my word for it.) Consequently, the web allows us to go back to our roots perfectly. That's why we can offer such an exceptional price. The Florida address is just for business purposes.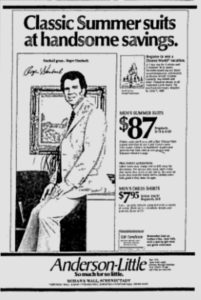 BrandlandUSA: What would be your advice for other families who wish to do this? Is there a way to do it in an environment when capital is hard to find?
Anderson: Hire a lawyer and get your trademark straightened out. Do research to make sure your brand still has residual recognition and that it is positive. Don't trust your fond memories or personal pride about the latent strength of the brand.  You've got to test. If it's strong as ours was, then proceed. Money is always hard to find. I wasn't interested in partners or financiers. Ironically, my family had enough money to do this from the wealth created from the original sale years ago while the buyers went bankrupt. Now we basically got our brand back for free and get to build it again. I'm laughing all the way to the bank.
BrandlandUSA: I can think of a few other families that have taken back brands, including the Florsheims
. Do you know of any?
Anderson: No, but I wish more would. This country would be a far better place. I really mourn the loss of regional retailing and strong family businesses. I have a very specific philosophy about why I am doing this, but that's another story. It's about manufacturing in America, creating jobs here at home and being accountable, accessible and responsible for the company I own and the way it's run.  For me, it's as much of a political and social statement as it is about selling sport coats.  But that's another story.
BrandlandUSA: Thanks so much and best wishes for a prosperous new year.
Anderson: My very best to you as well.
Check into Anderson-Little and get one of those snappy new, American-made blue blazers at www.andersonlittle.com or 800-905-5994.