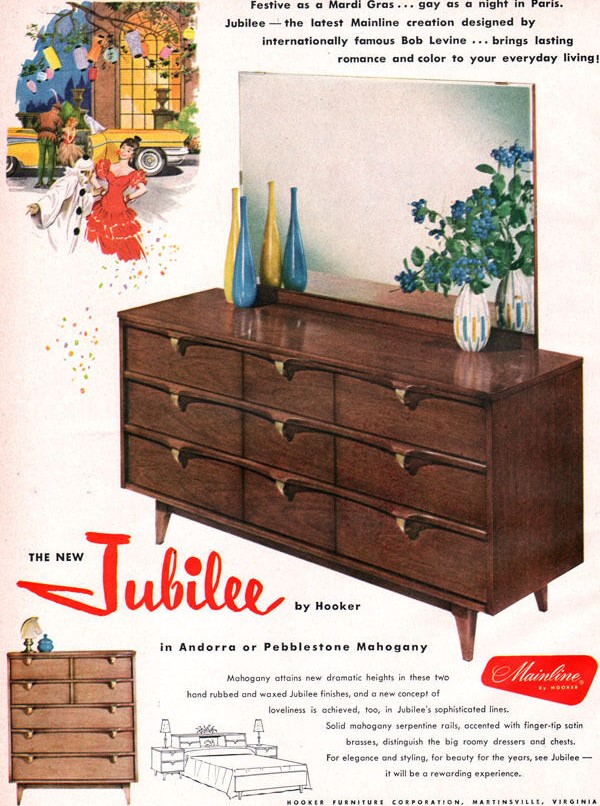 MARTINSVILLE – While it is High Point (and North Carolina) that is associated with the American furniture industry, it is the southern part of Virginia that is the hub for traditional American furniture. The region is home to a cluster of old-school, middle class brands including Stanley, Hooker, Pulaski, Rowe and Bassett.
While the industry has been in severe decline, and some firms have turned to importing, somehow (and quite miraculously) Virginia's furniture makers have survived. For instance Stanley has introduced a Young America collection, which grows along with kids.
While not specifically mentioned in Michael Porter's The Competitive Advantage of Nations, the Virginia (and North Carolina) furniture "cluster" most certainly follows Porter's model, namely where a group of similar firms do not merge but instead compete ferociously, but in the end depend upon one another for survival. It is a healthy rivalry; as these rivals fight for market share they literally expand their own collective market as they borrow ideas, share suppliers and recruit away top talent.
Most consumer goods production has moved out of the U.S. But this is one place where U.S. manufacturing did survive. Why? Raw materials are cheap, labor is talented, shipping times are long and furniture is bulky. In addition, many pieces of furniture are made after they are purchased. That is not to say that imports can't win. But U.S. furniture has natural advantages, and manufacturers need to exploit them.
Some of the surviving Virginia-based furniture makers are listed here. While the market downturn has hurt them all terribly, and there are no guarantees, it could have been far worse. These companies have made it thus far:
O.K., so we've got these companies, the economy is tanked, and no one is going to be buying houses for the foreseeable future. Disaster? What should they do? Companies are doing the desperate thing, including withholding dividends, cutting back on staff, postponing advertising and overall hunkering down to make it until another day. We can't help with those extreme moves, as every company in the U.S. is doing the same thing, just trying to figure a way to survive.
But what we can do is give some low-cost, high-impact branding ideas on what the companies should be doing at the same time they are hunkering down. They should continue to look forward, and do low-cost things that look to 2010, when the recession is fully over and people feel like buying houses again.
If they can just make it through next year, they can make it.
Immediate steps:
Develop design talent. This does not only mean students from interior design schools but graphic designers, product designers and curators at Virginia's many museums. Product design and ideas are critical to the future of the industry. Partner with new talent that needs exposure, not for big licensing deals, but small $5,000 one-off projects with artisans, graphic designers, curators and architects that have an audience of their own, but not in furniture.
Import and export. Furniture firms have been consumed by whether they should continue to build furniture in the U.S., or import. This is an old argument. They should continue the trend of importing smaller items in Virginia but making key furniture in Virginia. Think of it as fashion, where there is a "couture" line and a mass market line.
Create a sense of excitement about U.S. manufacturing. Some smaller repro makers have showrooms and shop tours. This is good. All should have this. Not only does the furniture get branded with a trademark, but its factory staff becomes a part of the experience. Factory floor staff sign each piece with a Sharpie. Think of it as a Volkswagen Wolfsburg factory tour. Certainly knowing that a sideboard was made by a particular American craftsman adds SOMETHING to the value.
Pillage the past for a Virginia look. Companies like Richmond's Biggs Furniture grew from a small

antiques

shop in Richmond into a major reproductions

manufacturer

that came close to rivaling Ethan Allen. Ditto with Colonial Williamsburg in the 1930s, where reproductions of the Williamsburg collection sold at CW's

Craft House. Furniture that is in a museum is an "ad" for new products, and products are "ads" for museums.

There is a definite Virginia sense to design; while hard to define, it is about plantations, British influences and a certain ease of life. Through the 20th century, Virginia styles seemed ruled by Queen Anne, Chippendale, Hepplewhite and Federal designs, with only a token nod to Arts and Crafts and Modernism. And why should it have, when Virginians like Nancy Lancaster were ruling London with her furniture and William Haines gave the traditional a Hollywood spin. Today, Virginians like Bunny Williams and Charlotte Moss define a certain traditional style in New York. If your furniture says Made In Virginia, you need to use that to your advantage and make it mean something.
Look to Apple. Apple has company stores, but sells at other locations too. It takes pride in its design, mostly in the U.S. It outsources production. While furniture making is low tech, the common brand and value building elements are the same. Logistics, packaging, presentation, design and overall thinking are things that Apple and furniture companies have in common. Packaging and shipping is part of the brand; read our story on the Boston branding agency Soldier Design, which talks about how to "brand" your shipping.
Stop licensing outside brands. The trend in furniture is to license brand names for product lines. While there is nothing wrong with it, it misses the point. The problem is that they only get the "brand" for a limited amount of time, and then must renew it. What the furniture companies need to do is to develop their own look and reinforce their own brands. Stanley, Hooker, Pulaski, Rowe and Bassett need to have their own design directors who establish and burnish those furniture lines, much as Gucci hired Tom Ford. Rowe furniture, right before the time of a Chaper 11 filing, hired Jonathan Adler to design a licensed furniture line. What would be better is if the companies hired talent to design under their own brands, and gave those designers authority within the company.
Embrace the start ups. Furniture has a low barrier to entry, and big established companies need to look invest in small start ups to gain ideas. In the 1970s, rustic pine "crate-style" furniture became the rage, when Richmond-based This End Up opened up on Richmond's

Strawberry Street

in 1975. This company swept the industry during the 1970s recession. Are there other This End Ups in the making?
Embrace the collectors. Each brand has dealers on Ebay that sell their furniture. Ensuring a thriving re-sale market of collectors of each of the brands will increase brand valuation. That means furniture company websites must include old catalogs, product photos and archives, so that potential buyers can see their potential purchases as part of a long narrative.
Repro as talent base. Virginia is a hub of American reproductions makers including The Workshop of Charles Neil; Jake Cress; Owen Suter's; Henkel Harris; Suter's of Virginia; Jaeger & Ernst; Randall Frey; Tom Seeley Furniture; E. A. Clore Sons, Inc. and Howerton Furniture. These independent makers could partner with larger companies, they smaller guys getting distribution and the big companies being able to offer more products to dealers.