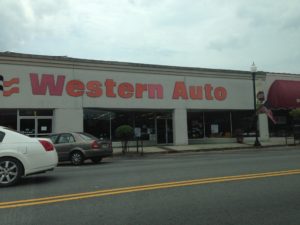 GRAFTON, Va. – On Route 17 in York County, Virginia remains one of the great remaining Western Auto stores. Don't you just love the flags on the front? Six of them!
The chain was a national giant in auto parts and appliances. The chain opened in 1909 in Kansas City, Missouri as a mail order company. It was founded by George Pepperdine, who founded Pepperdine University. The first store opened in 1921. It became a national icon; many of the stores not only sold auto parts, but appliances and the like.
Back not too many years ago, car parts dealers and car repair shops often sold small appliances. For Generation X and older, Western Auto was also know as the home of the Western Flyer, which was a great bike. Take a peek at the Youtube commercial, which advertises "The lightweights for today's young moderns."
In 1987, Sears bought Western Auto, but it was no match for the growing power of retailers like Advance Auto (NYSE: AAP), which purchased many of the stores. Many dealers turned into Sears stores, and the rest turned into Advance Stores. Except this one in Grafton, which has been a Western Auto for decades.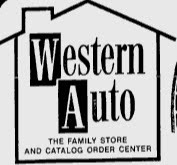 Sadly, Advance did not see the value in the brand, but many independent stores, luckily, stayed independent and began sourcing auto parts from elsewhere. The Wikipedia entry on Western Auto mentions other stores in Marianna, Florida, Lincolnville, Maine, Stevensville, Maryland, Starkville, Mississippi, Forest, Mississippi, Trinity, Texas, and Henderson, Texas.
Apparently, the Western Auto name is still used in Puerto Rico, where it is the largest such chain, even though the Western Auto name is being phased out store by store into Advance stores.
While Advance Auto is a fine Virginia company, it is regrettable that they did not see more value in the Western Auto legacy. Thankfully, some of the pieces of the brand have survived as living bits of American automotive (and educational) history. Some of the former dealers are still using the name; it still has some value, and if it were promoted as a general merchandise store that sold auto parts, it could have value as a different sort of Advance Auto. The name is still registered to Advance, but a company cannot keep a trademark that it does not use.