Bed Bath & Beyond is now beyond boring. The state of the company cannot be blamed on China shipments, post-covid retail shoppers, or fickle consumers. Bed Bath and Beyond, where the stock price has collapsed to less than $9 a share from over $44, is a disaster the company has made and created on their own. A visit to a recent store displayed the problems. First, let us look back at what made the company.
The company, at its best, was an encyclopedia of products, all categorized by part of the house. The chain grew because it offered a wide selection, and the idea that one might learn about some new things, or find some ways to improve the operation of your house, by just merely stopping in. It was not only an incubator and support of small brands and companies, but an ecosystem that supported the best of capitalism and ideas. An archive of past and future home creativity.
Lori Greiner of Shark Tank burnished this idea of Bed Bath and Beyond as the home of idiosyncrasy; many of her sponsored unique products found shelf space there. And on the show, she was forever talking about finding a place in the chain for new entrepreneurs. After all, acceptance by and shelf space in Bed Bath & Beyond meant success for any home goods maker.
Touring a Store
On a tour yesterday of a store (location hidden because it wasn't the manager's fault), the place was vacant, uninspired, and empty feeling. Those frustrated with the stock price need only walk into a store and they can see how it has been ruined.
Here are but some of the issues: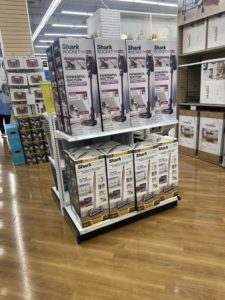 Large aisle displays are filled with similar items. In fact, each aisle section has just one product in it. There is no idea of selection. In the photo at top is a whole row of K-cups. These are items that you would find at grocery or discount stores. They do not differentiate.
There was no selection. What was interesting about the chain was that there were all sorts of things you would find. And you might find two or three different kinds of each product. In each nook, you would see vast surprise products that you could not find anywhere else. Today, your local Ace hardware has these products. There is no longer a national forum for them.
There is everything bland and uninspired. In the checkout at TJMaxx, you see a wide array of last minute things, many unrelated to core products. The point of purchase here was a giant row of pistachios. This reminded of Sears, when it was going out of business and had no merchandise to sell.
There are no surprises. What was compelling about the chain at their height was that around every corner (and there are hidden corners galore in the store) there were bottom shelves that had the oddball products consumers loved. The bottom shelves used to be fascinating.
The gadgets are gone. In their place are Walmart-type products.
Their corporate presentations offer a sad future, even as they are in "year one" of a "transformation." They say they are "disciplined management of inventory and receipts" but that also translates to limiting SKUs.
The first sign of trouble in a corporate report is that the company uses words like "headwinds" and "go-forward." These are corporate lingo for "I have no clue what storm I am in" and "just trying something." They report to have have redesigned over 400 stores, and turned them minimalist, as well as closing 200 others. This was the same failed strategy of JCPenney. Minimalist boutique style retail only works at Apple and other luxury retail brand destination stores where the product is sold at a premium.
Other issues:
Where is the Made in USA? For instance, when I put "Liberty Tabletop" into the store search, it showed me Oneida silverware. Liberty is the only remaining U.S. made maker of silverware, and it ought to be featured by Bed Bath Beyond, not ignored. The company would do well to get in touch with Sherrill Manufacturing, and feature some exclusive products.
Sales are down 22 percent. Enough said.
There is a peculiar obsession with being "omni-channel" and selling things online or to pick up, or using stores as a hub for mail. These are different businesses entirely. There is room for online, and there is room for retail. And there is room for both to talk to each other. But they are different businesses. Perhaps the online is a place where new manufacturers and suppliers can be invited into the fold. And once they get established on the site, they are then allowed to be in the stores. If it sells, it can be picked up for wholesale in-store stocking.
The fine china area used to be sort of interesting. It now has little of interest. And we are in a time where there are few fine china stores or department stores left, so there is opportunity with craft makers.
The baby focus of subsdiairy BuyBuy Baby is obviously a market, but it is well taken care of by Target and Walmart, among others. And it cannot easily compete with them in volume discounts. Better to have home items, that can be used by everyone, or have a strong baby section.
Coupons, which were a bad addiction for the company, have gone. While coupons as a strategy are not good ideal, you cannot get rid of them easily. When a company develops around coupons, getting rid of them quickly kills sales.
The company is now depending on newly launched store brands. While there is absolutely nothing wrong with store brands, it is not what the chain was about. The chain was about finding new, idiosyncratic items that solved particular problems. Having 30 percent of the product as house brand is horrible. There is no way a company that is executing as poorly as they are can pull that off. Store brands take decades to develop and hone, and need very specialized product teams inside the company to figure each product out.
Store brands work in commodity retail; grocery and such are perfect as the store products compete against well-established and high margin brands. You have a store brand of flour, to compete with Pillsbury. This is basic stuff they are missing. This year, they report introducing six "owned brands" and have a goal of eight, with 20 percent of the store as house brand. They expect up to 30 percent. Thirty percent of nothing is nothing. What does that mean if you are increasing the percentage of sales in an overall chain that has declining sales.
Directors Must Take Action
The board needs to ask questions, and fix this mess. An activist takeover of the company, which began three years ago, failed. The board today is Marjorie Bowen, Harriet Edelman, John Fleming, Sue E. Gove, Jeffrey Kirwan (former Gap CEO), Shelly Lombard, Ben Rosenzweig, Virginia P. Ruesterholz, Joshua Schechter, Minesh Shah, Andrea Weiss, Mary A. Winston and Ann Yerger.
One of the more unique voices among the directors is Andrea Weiss, who has a horse farm in ultra red-state Florida. She serves on red state boards including Cracker Barrel Old Country Store, Inc. and O'Reilly Automotive, Inc. They are both sensible retailers. She may have all the answers with what to do with the company, if she just asks a few neighbors in Eustis what they used to like about the company that is no longer. Or she asks the board down to the farm for a retreat, and takes them to a nearby store to figure out what the heck has happened.
Woke Priorities are Self Defined
If you want to see what the chain is all about, read their ESG report. Unlike their quarterly financials, it is almost 50 pages of meaningless statistics about the how the chain is doing everything unrelated to the actual mission of the company, which is finding cool products for the home from interesting manufacturers, and selling them for a profit reasonable enough to make money for the maker and the company.
There is everything right about some goals of ESG; sustainable fabrics and policies that reduce waste and energy. But the chain has taken it too far, and proved how off-track they are. This is an actual sentence in the report:
"We expanded our family forming benefits, allowing for coverage for egg and sperm cryopreservation for those rendered infertile due to a treatment or illness (including gender transition), including storage for up to 24 months."

Read the full 2021 Bed Bath and Beyond ESG Report
The only egg preservation the company needs to concern itself with is the eggs the consumer puts in her fridge. Or maybe if they were truly ESG, they would concern themselves with helping consumers put actual chickens in their backyards, and sell the consumers on the idea. I wonder how many employees have actual used the benefit, or even know or care about it.
All the ESG goals have been accomplished. There is no more to do. No one is buying the stock because of egg storage. And if you asked the average customer what ESG was, they would think it was something they didn't want in their Chinese takeout. Or they might even wonder if Bed Bath sold Accent, the original MSG product.
Success Still Possible
The way for the company to come back is not difficult. They need to hire new buyers, who go out and and actually find new products and brands. Pack the shelves with new startups, and sheets. Some opportunities:
Cause a Twitter and Instagram ruckus with a My Pillow display. Some headquarters staff might get queasy and quit, but if they are that thin skinned, it might not be a bad idea.
Linens are bland at most stores these days. Try some new startups.
Search out clever cleaning products, both old favorites and new. Chore Boy, ahoy. Cameo cleanser. Put a little Goddard furniture polish on it. Why are there no Brillo pads?
Pack the appliance section with any odd brand that can be found. This will help sell the mass products.
Make some stores incubators. Invite entrepreneurs to sell products in the store, as one time trials.
Commit to making the hot spot as you walk in the door a place for new products, and live product demonstrations.
Drop the focus on store brands, and instead invest in new manufacturers and suppliers. Buying a 10 percent share of a new startups, and committing to an initial purchase, could mean dozens of new exclusive partners for goods, without the overhead of trying to source within the company.
There is nothing here that you can't find at Target. And can we discuss the number of neck pillows, all of one color?

An empty aisle looks a bit like East Germany. Is that where we are going in U.S. retail?

Bags of pistachios at point of purchase in the checkout line do not inspire last minute purchases. Instead, it makes you want to hurry past. Tate's might be good cookies, but we got 'em at any old supermarket.

Stinky aromatic diffusers are very Walmart. There is no reason not to have them, but they are neither new, nor fresh.

Planograms left on the end aisle. Note the inventory gun. Did the planograms instruct the clerk to put only white Oxo water bottles on this corner? What a recipe for boring.