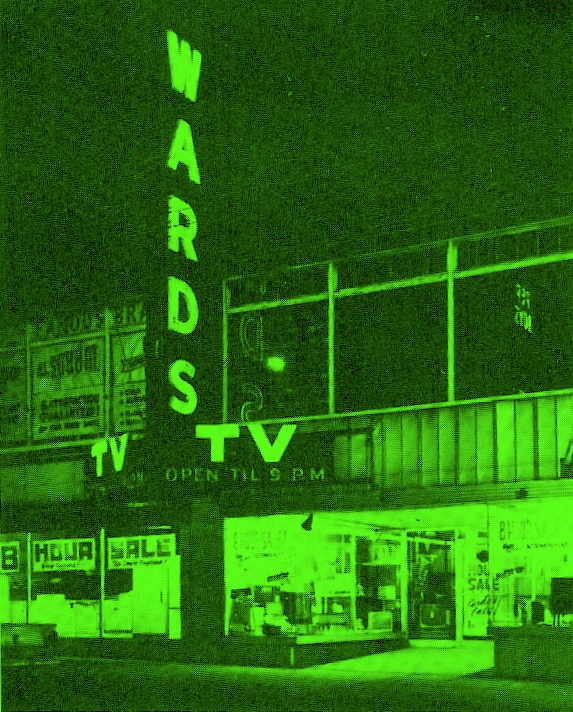 I was talking to a lower-level Circuit City exec in Richmond, Virginia, around 2001-02. He had just left the company. He shall remain nameless, mostly because I can't remember his name! Wait, back on subject.
So I am chatting with this fellow, and ask about the Alan McCullough era at the retailer (both are gone now). His words were "all the wrong people got promoted." This was an awful time at the electronics retailer. A staffer had committed suicide by jumping off a balcony, and the company was furious at our newspaper, Inside Business, for running the story. In addition, we were running story after story about problems with the company, and its stock price. (Then it was worth something.)
Growing up in Virginia, we all knew a different Circuit City. It was Ward's Loading Dock, and it sold electronics cheap. That was it. The stores were ugly as crap, and located in all the wrong places. Salespeople were commission. Sunday supplements didn't think about branding or service, only price. And the sale.
Management  around the year 2000 didn't get what was wrong. One day it was selling CDs and DVDs, the next it WASN'T selling appliances. Stores were redesigned. Signage was changed. The mention of the store in the Collins book Good to Great went to their heads, and what a fall it has been. There is new management at the company, but it is stumbling too. The reason? They have lost sight of what made them. Sales.
So what to do for the new James Marcum (he's the latest to try to turn it around)? A list of ten suggestions from a person who has observed the company for the last 30 years:
Push loss leaders. Emphasize a minimum number of loss leaders in every category, with hand-written signs. These prices would be dominant at the stores, so you could not miss them. Like IKEA, (it has "impossible" prices) the pricing strategy of Circuit City used to be all about one low priced item in every category. In the 1980s, there was an impossibly priced AM/FM receiver, a VERY cheap television, a very cheap refrigerator and the like in every product category. The idea was not revolutionary. The person goes in with the loss leader as the lure. They get there, and realize that spending $30 more for something TOTALLY better isn't a ripoff, and usually spend more.
Emphasize "crack" products. In the store's heyday, they sold products that would lead you to buy more. A stereo system could start with a receiver, and then you would add on pieces. While that model doesn't work with today's one-piece stereo systems, it does work with things like the iPod. So if you get them to buy an iPod, you show them the multiple things they need after they buy it. They sell some of this stuff, but it isn't laid out well.
Stop all branding and marketing. Ditch the Second Life and Sports fan channel on YouTube. Ditch any ad that is not a direct call to action and price driven. It was price that brought people in. Do you hear us. PRICE. Branding is for mature companies that are not in a fight for their lives. And stop mining customers for too much consumer data. If it sells, sell more. If it doesn't, move another product up to the front and put it on sale. Allow your store managers to organize merchandise. Is there still a Plan-a-gram department? If so, send them out to the stores to help managers do it themselves.
Stop the pushy sales folks. It creeps people out. We recall going to a store fairly recently, and the goofus who was trying to sell us something followed us around. It was desperate, and it came after the commissioned folks were sent bye-bye (though some might have returned). In the old days, the commission folks were a little eager, yes, but they weren't desperate. But if you are going to stick with the pushy geeks, please allow them to haggle over prices. It's no fun to have pushy salespeople unless they can really cut you a deal.
Middle market. Middle market. Middle market. Circuit City didn't always have snazzy brands. It was low to middle market, and was filled with receivers and such made by Superscope, Garrard, Technics and Sharp. Audiophiles were NOT amused. But it didn't matter. It turned the middle market into stereophiles.
Quit the CDs, DVDs and such, except a few by the door in displays. You will never compete with Borders and Barnes & Noble. And what the %$#%%$ are they doing selling any magazines, let alone Mad Magazine?If it doesn't plug, it doesn't go on the shelf.
Sell anything plugged in. Sell appliances, big ones. Sell small appliances and electronics. Sell toasters, and other things you plug in. As I recall, Circuit City was THE place to get a cheap microwave oven, as well as a cheap college fridge. Circuit City was about things that plugged in. If it's cheap and electric, it will drive foot traffic. These days, appliances are made so cheaply that you have to buy things over and over again.
Sell appliances again. No, don't sell the Sub-Zero (see #5). Sell entry level pricing for cheap ovens, refrigerators, etc. Certainly, the delivery system doesn't accomodate them very well, but deal with it. Setting up a bargain basement appliance department will allow for new types of foot traffic. Anytime someone moves, they need new appliances. These customers go into the store, see pretty HDTV's on the wall, and get diverted. Circuit City might lose on the stove, but the customer will spend on the TV.
Encourage sub-vendors inside the store. Are there other leased businesses that can operate inside Circuit City? Delivery? Appliance repair? (Microsoft just announced a VISTA store).
Take advantage of the new technology. The television switchover is a once-in-a-lifetime opportunity. Don't miss it. Ditto with HD radio. I would love one, but have never been enticed or sold on it. What would get me in? A low entry price point.