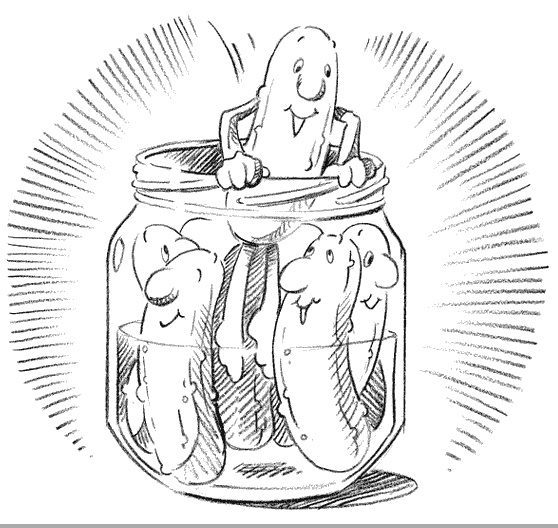 WASHINGTON, D.C. – Can you say Pickle Packers? If you need pickles, the group Pickle Packers International keeps track of all the pickle brands across the world.
At right, a children's coloring project from the site; it has lots of kids items they can print out to color or do it in an online application.
Many readers come to this site, searching for a Madelyn or Madeline-brand pickles. They were crunchy and crisp and sweet rather than most of today's recipes.
Everyone has their own preferences, but luckily there are dozens of brands around the world, all selling different versions of these vinegared cucumbers.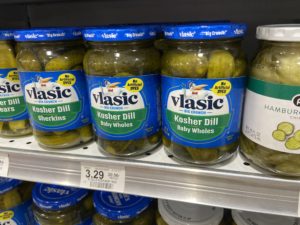 The list at I Love Pickles is more complete than below, and regularly updated. They keep a full list of pickle brands by name, including international brands and regional brands.
Here are a few brands from their list:
Acadian 337-394-7112 LA, USA
Aeschbach 024/468.50.00
Aigle, Switzerland
Agribaja 646.177.4026 CA, USA
Allen's Barrel Cured 516-676-0640 NY, USA
Aristocrat 61 029 417 1231
Arnold's (no number) WI, USA
Atkins (no number) WI, USA
Aunt Jane (no number) WI, USA
Aylmer (Canada) 450.435.1974
B & G 973.401.6500 NJ, USA
Ba-Tampte 718.251.2100 NY, USA
Bautz'ner 089/61 102 106 Unterhaching, Germany
Best Maid 817.335.5494, bestmaidproducts.com TX, USA
Bick's 905.940.9600 Ontario, Canada
Big Papa 920.478.2144, www.vanholtenpickles.com WI, USA
Big Value 989.754.4721, hausbecks@usol.com MI, USA,
Bond 920.834.4433 WI, USA
Bush's Best (Sauerkraut) 865.588.7685 TN, USA
Cajun Chef 337.394.7112 LA, USA
Capco (no number) WI, USA
Cates (no number)  WI, USA
Chenango-Delicut 800.255.7288, readpack@adelphia.net NY, USA
Claussen 815.338.7000 IL, USA
Cool Crisp 810.359.7680 MI, USA
Columbia (no number) WI, USA
Coronation 450.435.1974, ghenry@nabisco.ca Quebec, Canada
Cortland Valley Kraut 715.752.4105 WI, USA
Crown 856.969.7100 NJ, USA
Dailey (no number) WI, USA
Deans (no number) WI, USA
DeGraffenreid 417.862.9411 x24, degraff@jldpickle.com MO, USA
Del Dixi 817.335.5494, bestmaidproducts.com TX, USA
Del Monte 450.435.1974, Quebec, Canada
Develey 089/61 102 106, Unterhaching, Germany
Devil's Fire 952.448.2612 MN, USA
Don Hermann & Sons 330.527.2696 OH, USA
Durach 089/61 102 106, Unterhaching, Germany
Edible Pickle Works 718.251.2100 NY, USA
ESG (Ever So Good) 714.895.9661 CA, USA
Evangeline 337.394.7112 LA, USA
Everybody's 91 80 55 22 010, koeleman@bgl.vsnl.net.in Bangalore, India
Farman's (no number) WI, USA
Felix (Finland) +358 2 410 414, Turku, Finland
Felix (Sweden) +46 413 65 000 Eslov, Sweden
Flanagan Krrrisp Kraut 715.752.4105 WI, USA
Freestone 269.427.7702, freestonepickle@freestonepickles.com MI, USA
Frenzel's 089/61 102 106, Unterhaching, Germany
Garden State 856.964.1083 NJ, USA
Garlic Gus 920.478.2144, jploc@vanholtenpickles.com WI, USA
Gattuso 905.940.9600 Ontario, Canada
Gedney 952.448.2612 MN, USA
Giuliano 714.895.9661 CA, USA
Goldin 972.272.1111, Goldpickle@aol.com TX, USA
Green Boys 626.855.2717 CA, USA
Green Valley 920.834.4433, JP@KellyPickle.com WI, USA
Greenhouse 32 53 78 89 89, Belgium
Grey-Poupon 024/468.50.00, Direction@Reitzel.ch Aigle, Switzerland
Habitant 905.940.9600 Ontario, Canada
Hausbeck 989.754.4721, MI, USA
Heifetz (no number) WI, USA
Heinz 616.396.6557 MI, USA
Hengstenberg +49 711/39 29-3-15, Esslingen, Germany
Holiday, Holiday Royal, 269.427.7702, freestonepickles.com MI, USA
Homade 323.223.1141, a1pickle@earthlink.net CA, USA
Hot Mama 920.478.2144, WI, USA
Hugo Reitzel 024/468.50.00, Aigle, Switzerland
Jerry's Best 91 80 55 22 010
K & Z 856.964.1083 NJ, USA
Kelly 920.834.4433, JP@KellyPickle.com WI, USA
King David 920.748.7110, AZ, USA
Klein's 602.269.2072 AZ, USA
Koeleman 91 80 55 22 010, koeleman@bgl.vsnl.net.in Bangalore, India
Kosciuszkowy (no number) WI, USA
Kringles 516.676.0640 NY, USA
Kruger 510.782.2636 CA, USA
Kuehne 040 85305206, Hamburg, Germany
Little Pepe 920.478.2144, WI, USA
Lowensenf 089/61 102 106
Ma Brown (no number) MN, USA
Mancini, Zolfo Springs, FL
Mautner Markhof 089/61 102 106, Unterhaching, Germany
Maxs 413.665.7011 MA, USA
Max's 952.448.2612 MN, USA
McLarens 905.940.9600 Ontario, Canada
Milwaukee's Wiejske Wyroby 856.969.7100 NJ, USA
Mor Annas +46 413 65 000 Eslov, Sweden
Mrs. Neushiuns (no number) WI, USA
Mt. Olive 919.658.2535 NC, USA
Nalley (no number) WI, USA
Old Country 61 029 417 1231, N.S.W., Australia
Pantry Shelf 91 80 55 22 010, koeleman@bgl.vsnl.net.in Bangalore, India
Paramount (no number) WI, USA
Peppers 905.940.9600 Ontario, Canada
Peter Piper's (no number) WI, USA
Pick-Pack 973.401.6500 NJ, USA
Pickle Fair (no number)  WI, USA
Pickle King 61 029 417 1231
info@fawcett-bros.com.au N.S.W., Australia
Pickle O'Pete 920.748.7110 RPI@VBE.COM WI, USA
Pickle Pick-Ups 952.448.2612 MN, USA
Pickle Planks 952.448.2612 MN, USA
Pickle Time 269.427.7702, freestonepickle@freestonepickles.com MI, USA
Pickles 905.940.9600 Ontario, Canada
Picnic 905.940.9600 Ontario, Canada
Pilgrim Farms (no number) WI, USA
PIK-L-GIANT 972.272.1111
Po Polsku 920.748.7110 WI,USA
Polar Pak@ 516.676.0640 NY, USA
PRIMO 450.435.1974
Rainbo (no number) WI, USA
Regina 973.401.6500 NJ, USA
Reine de Dijon 089/61 102 106, Unterhaching, Germany
Roddenbery's (no number) WI, USA
Rose 905.940.9600 Ontario, Canada
S.V.Z. 31 76 5049314, hans.valkenburg@svz-nl.com Etten-Leur, Netherlands
S=O 81 3 3288 1181 Kagawa-Ken, Japan
San-Del 973.401.6500 NJ, USA
Schwartz (no number) WI, USA
Sechler's 260.337.5461, dsechler@sechlerspickles.com IN, USA
Shell Bei 330.527.2696 OH, USA
Silver Floss Kraut 715.752.4105 WI, USA
Silver Star 972.272.1111, Goldpickle@aol.com TX, USA
Snackers 952.448.2612 MN, USA
Specht 089/61 102 106, info@Develey.de Unterhaching, Germany
St. Joe Valley 260.337.5461, dsechler@sechlerspickles.com IN, USA
STAR 52 312 316 0700, gbrun@brunfoods.com Colima, Mexico
State Fair 952.448.2612 MN, USA
Steinfeld (no number) WI, USA
Strub's 519.751.1717, arnie@strubpickles.com Ontario, Canada
Stueber 516.676.0640 NY, USA
Sugarloaf 413.665.7011 MA, USA
Summer Kitchen, 920.834.4433, JP@KellyPickle.com WI, USA
Talk O'Texas 915.655.6077, tot@wcc.net TX, USA
Trappey 973.401.6500 NJ, USA
Van Holten's
Victor Kraut 715.752.4105 WI, USA
Vlasic 856.969.7100 MI, USA
Warsaw Falcon (no number) WI, USA
Whitfield (no number) WI, USA
Willies 800.255.7288 readpack@adelphia.net NY, USA
Willie's 519.751.1717, arnie@strubpickles.com Ontario, Canada
Willy's 905.836.6532, Willyspickleproducts@bellnet.ca Ontario, Canada
Windsor 952.448.2612 MN, USA
Wisconsin Pride 920.748.7110, RPI@VBE.COM WI, USA
Woodman's 905.940.9600 Ontario, Canada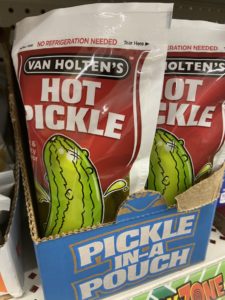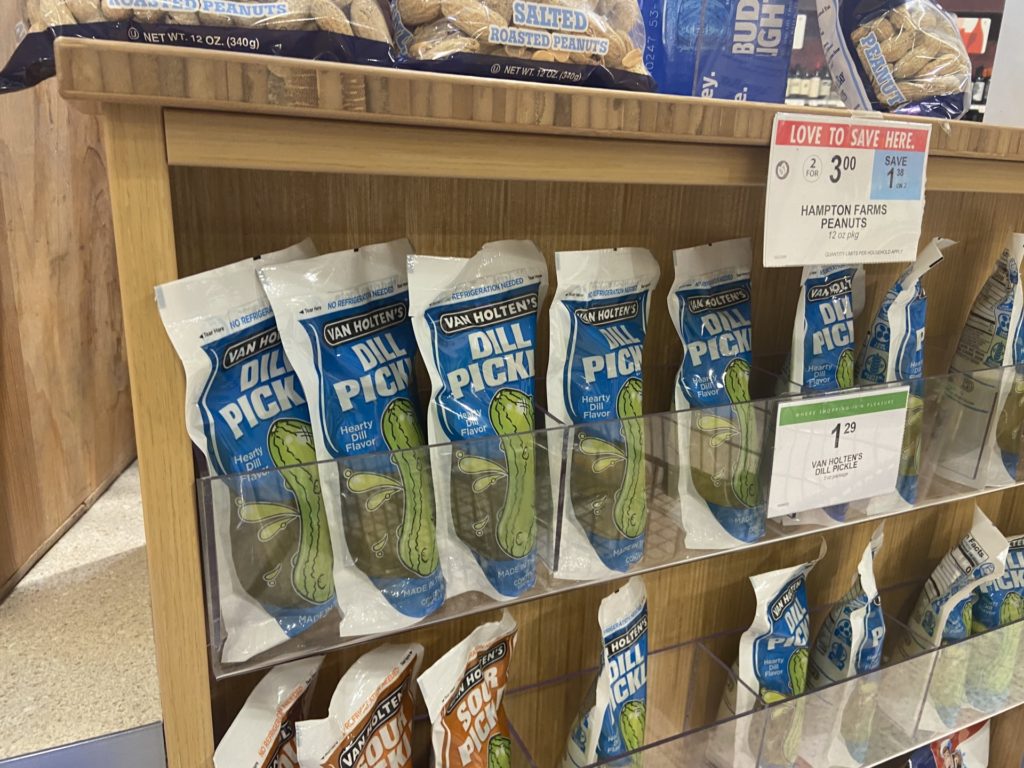 Find Out More
Pickle Packers International, Inc., 1620 I St., NW, Suite 925, Washington, D.C. 20006 or visit I Love Pickles