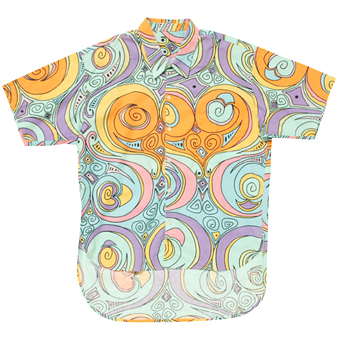 LAGUNA BEACH – For many of us fogies who grew up in the 1970s and 1980s, surf and skateboard brands that come to mind might be all about Quicksilver, Ocean Pacific, Sims and Birdwell's. If you are a boomer, the brand might be Hang Ten.
Yet it doesn't take long for a brand to become a classic, though the period around 20 years is a challenging time, as the brand has baggage from its recent past, yet it has a need to also stay fresh and new. Take Stussy; a vintage shirt is shown at right. We pulled a bit of history from their site:
In 1980, Shawn Stussy was a local cult surfboard shaper who took his scrawled signature logo from his foam masterpieces and applied it to tee shirts that he sold along with his boards around Laguna Beach, California.

As the clothing line expanded, its raw and modern aesthetic soon developed into the next generation of new wave beach culture. We grew during a time when epochal shifts which eternally framed contemporary popular culture were taking place.
On the fashion site HighSnobiety.com, a writer mulls this season:
I like some of them but is it me or Stussy became a dead brand around the world like LRG?
We can't tell whether Stussy is fresh or dead, and we are not sure it is an "epochal shift" but that Stussy made it 25 years and still engenders interest is a pretty good sign it is moving to some sort of classic.