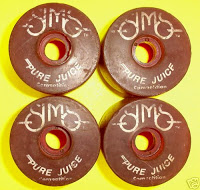 Wall Street may be all atwitter at the merger of Payless Shoe Source and Stride Rite.
And after all, the company now owns some great American brand names. Classic and priceless brand names like Keds, Pro-Keds, Sperry Top-Sider and Saucony. Actually, they are not EXACTLY priceless, as Payless, led by former Cole-Haan cobbler Matthew Rubel, reportedly bought the company for about $800 million.
But what didn't get discussed too much is that the company is going to be renamed after Collective Brands, a clever little Englewood, Colorado licensing company that knows street cred.
It would have to be a sharp-eyed company, after all, that could expect to keep cash coming in with a 70s brand like Sims. And a hint–they aren't licensing that computer game simulation family. It's Sims, the skateboard wheels company, and Collective Brands recently bought the rights to the name from Sims founder Tom Sims.
Curious about other skateboard brands that still have some punch? Check out the ebay offerings of Ebay seller Gord3457. He gives street cred a good name (profile calls him a real, old time skater), and had these ancien Sims wheels, seen above, for sale at the end of May. Curious about what the next brand that might be dredged up for ready production of licensing revenue? One would be good to look at the ebay site of any old time skater who offers up old Kryptonics without irony.
And speaking of irony, isn't it funny that Payless, a former unit of May Department Stores, has been buying up all sorts of underutilized American brands while its former parent, now called Federated Department Stores, seems to be jettisoning all of its great old brands, much loved household names like Marshall Field, Burdine's and Abraham & Straus.