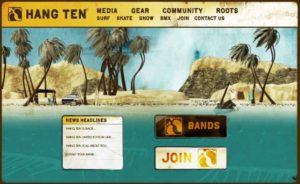 Hang Ten is back.
Hang Ten was founded in 1960 in Seal Beach, California by Doris Moore and Duke Boyd, as a maker of surfing apparel.
Through the 1970s, it was the original surf brand, a precursor to Ocean Pacific and Quicksilver, and other surf and skateboard fashion companies.
It branched into other sports apparel, and helped develop the action-sports apparel industry. The founders sold the company in 1970; it is now part of Li & Fung, who bought it in 2012.
Interestingly, there are a number of different Hang Ten companies, including a Philippines version, a Singapore version and an Australian version.