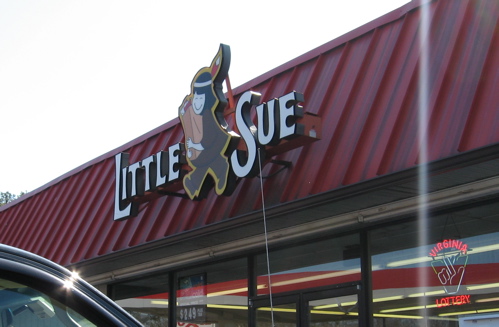 GLOUCESTER COURTHOUSE -Little Sue can't find her way to the store.
We were in Gloucester, Virginia a few weeks ago and happened upon one of the last Little Sue convenience stores. We went in the store, and the clerk said it was one of the last two remaining; it would soon be changed to 7-Eleven.
Little Sue was a brand of convenience stores that was unique to the Middle Peninsula, Peninsula and Northern Neck of Virginia. Like so many regional convenience store chains across the U.S., it has battled against 7-Eleven, won, and then lost.
The Little Sue logo is completely unchanged. Sue just carries that little bag of groceries and is she happy!
Many convenience stores were actually outgrowths of dairy stores, including brands like Cumberland Farms and Wawa. However, Little Sue was unique in that it was a post-7-Eleven brand of extremely limited geographic distribution. In fact, its brand strength was that it gave a local, Virginia spin to what was the increasing homogenization of retailing with the success of 7-Eleven. (In Norfolk the brand of stores that was the best was Tinee Giant, which was a spin off of the Giant Open Air grocery chain, a chain now called Farm Fresh.)
At its height in the late 1970s and early 1980s, it would locate stores directly across the street or on adjacent corners from 7-Eleven, and win on customers. The reason? While 7-Eleven offered Slurpees and a great national brand experience, Little Sue offered a regional approach. It was no coincidence that it thrived in areas of Virginia where the native influence of Virginia tribes (Mattaponi and Pamunkey) was still viable and well known. Not that it had a thing to do with them, just that its interpretation of Indian had a bit of a Virginia feel.
In addition, Little Sue offered things that were not sold at 7-Eleven. It had fantastic fried chicken, crispy and un-eggy. But basically, it was a convenience store, all made local by its branding.
It is a pity that the people who run the stores don't see the value in the brand. They are completely clueless in what they have.