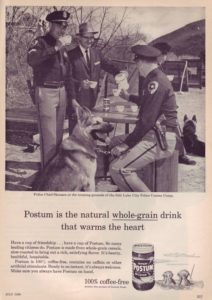 Kraft Foods and ConAgra Foods, like most mega-consumer products companies these days, have limited use for "niche" brands. These are brands with limited by loyal following, especially when tastes change over the years.
So it is sad to report that, despite years of survival as the "red-headed stepchild" of these companies' pantry of brands, we must say farewell to two of the quirkier ones:
Kraft discontinues Postum beverage
Postum, the original product from C.W. Post, whose cereal company would grow over most of the 20th century into the huge General Foods before eventually being swallowed by Kraft, is history. This caffeine-free "roasted grain beverage" had a devoted following, as witnessed by frantic "help, I can't find Postum anymore!" postings online (a sure sign that a product has been unceremoniously discontinued). Postum was discontinued in 2007, but its absence was not apparent to most until they ran out again. As proof that consumers feel ownership of brands, posts online express hurt and betrayal that "no notice was given" of its impending demise. Sort of like preparing for the death of an old friend?
Ironically, Kraft has given up on the surviving Post cereals, as well. They simply couldn't tolerate being Number 3 (after Kellogg's and General Mills) in such a competitive category, and threw in the towel by jettisoning the venerable brand to Ralcorp. Ralcorp, in another twist, is the shell of the once-proud Ralston-Purina. The pet foods now part of Nestle, and the cereals like Chex sold to General Mills, Ralcorp held on to the still lucrative store brand cereals – sort of the "Ralston" part of the business. Now, they have Post, a still strong brand. Expect the company to assume the more well-known Post name soon.
Goodbye to Derby Tamales
ConAgra answered a consumer's inquiry on February 13, 2009 thusly (found via a search for "Derby tamales"):
"We are . . . sorry to inform you that we no longer produce Derby® Beef Tamales. As consumers' preferences for products change, so do the varieties of our products. Only the products with the greatest consumer appeal remain on the store shelves over time. Unfortunately, this product did not have enough consumer interest for us to continue manufacturing it."
Derby tamales came in a jar, and I have to admit, did not seem all that appealing. But it was the namesake of a company, Derby Foods Inc., more famous for another product that continues to survive: Peter Pan peanut butter. Derby Foods was bought by Swift & Co., the famous meat packing company, then always went with whichever conglomerate bought its successor, Hunt-Wesson Foods. (Hunt-Wesson's owner, Norton Simon, merged with Swift's owner, Esmark, years ago, and took Derby Foods grocery lines under its name.)
That Derby tamales survived this long is probably a small miracle given today's companies' desire to only keep the Number 1 or Number 2 brands (MAYBE Number 3-except Kraft, see Postum above) in any given category-as long as the category is a big one.
Postum and Derby seemingly had their categories all to themselves, but with a category like "canned tamales" or "coffee substitute", their days were numbered. With their demise, these categories disappear, too.