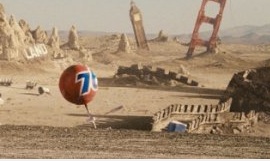 And to think it was only a few years ago that they wanted to get rid of them all, and tried their best?
But no, the Union 76 ball has resurfaced in the upcoming Will Farrell remake, Land of the Lost.
A bit about the film from IMdB:
On his latest expedition, Dr. Rick Marshall (Ferrell) is sucked into a space-time vortex alongside his research assistant (Friel) and a redneck survivalist (McBride). In this alternate universe, the trio make friends with a primate named Chaka (Taccone), their only ally in a world full of dinosaurs and other fantastic creatures. Can they all make it back to our world alive, and if so: Will Dr. Marshall can go from zero to hero with his discoveries?
Yes, this is one remake we'd love to see. Not that remakes aren't the whole idea of BrandlandUSA. We are remake all the time.
ConocoPhillips, the owner of the 76 brand, tried very hard to get rid of the balls, but an effort called Savethe76ball.com was created and a grass roots effort was won. The stations that wanted to keep the ball got to keep it. Many of the balls were donated to museums.
Those of us from the east coast only saw a few balls; they disappeared years ago, though some have been painted over and are still around (think Northhampton Boulevard, Route 13, in Norfolk, right near Lake Wright and The Norfolk Academy). They were great because they were not just associated with a gas station brand, but they were popular during the 1970s, and had a Bicentennial feel to them. Plus, the balls turned, round and round, and they transfixed many people stuck in traffic. A bit about the history from Save the Ball:
The 76 Ball was designed by Ray Pedersen, Union Oil's ad executive at Young and Rubicam Agency, for the 1962 World's Fair. It was a huge hit at the Fair, and soon was duplicated at every Union Oil station in the American West. In 1967, Union launched its popular antenna balls, giving away more than two million of the styrofoam spheres in a single year. In 2003, ConocoPhillips took over the 76 brand, and soon began removing 76 Balls, much to the dismay of consumers, designers, architectural historians and Ray Pedersen.
We do wish all the sign ordinances would allow signs to move. The world is so boring now!
But back to the subject. That this ball is hip is proof that consumers often know better about brands than the companies themselves. This has happened over and over, when a brand is destroyed by companies who do not know any better.
But the great thing is this. No company can destroy a great idea if consumers still want it. And no company will destroy a great brand if they can get some licensing mileage or goodwill out of it.
Long may the 76 ball twirl! ConocoPhillips, we are glad to see your gorgeous ball in a new hot Hollywood film. May it sell you tons of gas and snacks.