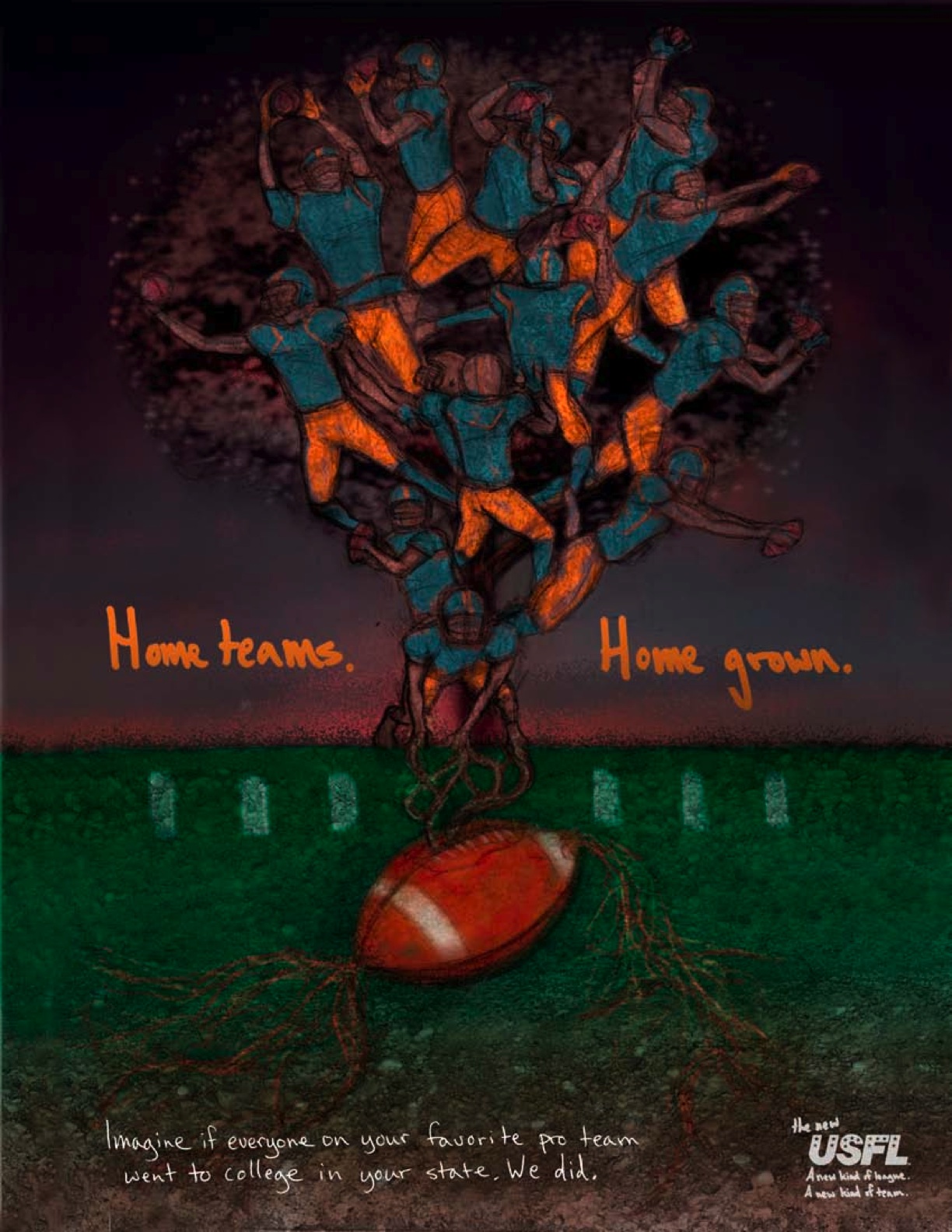 SAVANNAH– Winning entries for the BrandlandUSA and Savannah College of Art & Design Phoenix Contest are out.
In the contest, students from Prof. Sean Trapani's class at the Savannah College of Art & Design took a list of 30 or so brands from BrandlandUSA.com and decided which ones of the group they would like to try and revive. The students from a spring 2009 branding theory class then picked favorite old, dying or dead brands from the list, and came up with a new positioning statement for each.
The original list of brands surveyed by the SCAD students included such dead brands as Charles of the Ritz and older brands like Sears Roebuck; click here to see the first brands considered. The students then picked brands; click here to meet the teams, see which brands they selected and download hi-res pdfs of the entries.
The brands on the final revival list are Great Atlantic & Pacific Tea Co., Climax Ginger Ale, F. W. Woolworth, RadioShack, Mr. Donut, Hai Karate, El Marko and International Harvester Scout. Judges were BrandlandUSA editor Garland Pollard, CoreBrand CEO James R. Gregory and retired New York creative director Ruth Hartman. Prof. Trapani kept the students on track. The judges looked at the brands with a judging system that included first impression, brand solution, matching strategy to concept and originality. Here are the winning entries:
First place, USFL Home Team by Yuta Matthew Salzman
Brand Idea: Return of the USFL

Brand Problem: A dead brand that is only known to few people. The brand lacked the credentials of being a jester, which was their was their original brand strategy. The USFL was lost to its glitzier cousin, the NFL.

Brand Solution: Positioning the archetype of USFL from jester to innocent. Focusing the games more on teamwork and cooperating with each other to achieve their goal. We looked at the affinity of college teams as the model of this – and extended this idea to keep the entire team roster as graduates from in-state colleges. Also, the teamwork of each teams are stronger than ever because many of the players in the USFL team may be from the same college.

Tagline: "Imagine if everyone on your favorite pro team went to college in your state. We did. The "New" USFL. A new kind of league. A new kind of team."

Judges Comments: Judge Gregory thought it a fascinating solution and interesting visual, but would also want to know more about how the campaign would work. Judge Garland Pollard thought the geographic idea for the league was a great throwback, and would also help keep player salaries in check, though realistically would wonder how to enforce it. Hartman felt that the biggest challenge of the USFL was the advertising budget; going against the NFL would be expensive and you would have to time a campaign carefully and execute perfectly to get maximum punch.
Second place: Climax Ginger Ale by Callie Vinson
Brand Problem: Climax was a Richmond, Virginia-based ginger ale discontinued due to low sales. Modern primary research revealed that Climax had no perception in the mind of the consumers aged between 30-45. People who had never heard of Climax, however, liked the name.

Brand Solution: Utilize the name of the brand as their primary marketing strategy having Climax ginger ale as an edgy soda brand. Today's younger market would not be offended by the risqué brand name.

Judges Comments: All reacted strongly to the approach, though judge Ruth Hartman did not like it at all and thought the name would still not be a good one, because many consumers of soft drinks are pre-teens. Pollard, who grew up with the brand in Virginia, thought it catchy. Gregory thought that while the ad had a spoof quality, the claim of aphrodisiac would have to be changed, and instead would have to indicate that it was a joke.
Third Place: Mister Donut, Chef Inspired Donuts, by Nick Brower
Brand problem: Mister Donut was the largest competitor to Dunkin' Donuts, which was founded in 1950, before being acquired by Dunkin' Donuts' parent company, Allied-Lyons, in February 1990. The Brand no longer exists in the United States.

Brand solution: Create the perception that Mister Donut is "The Chef Inspired Pastry." Focus on being the gourmet doughnut that is inspired by chefs and made with fresh ingredients and rich taste, like the Kiwi and other whole ingredients.
Judges Comments: Our judges all liked the marketing of donuts by taste. This was a favorite of judge Jim Gregory, though he did think the kiwi taste might be a bit odd. Judge Ruth Hartman felt, however, that the students missed the central great selling point of reintroducing Mister Donut. Her thought would be to push the fact that Mister Donut had come back to America. Nevertheless, she did think that stressing different flavors was a winning approach for the brand, which she said still held up even after years of disuse.
The runner up was Radio Shack, and the team of Rodrigo Mitma and Josh Finkelstein. Both Pollard and Gregory liked the RadioShack concept, though judge Ruth Hartman felt that RadioShack's "We've Got Answers" was an excellent campaign, and the problems that RadioShack faced were not ones that advertising could fix. Gregory felt he would push the creative team to further develop the concept and position.
A bit about the judges
James R. Gregory, founder and CEO of CoreBrand, a global brand strategy and communications firm based in New York, New York, with offices in Minneapolis, Minnesota, and Los Angeles, California. With 30 years of experience in advertising and branding, Jim is a leading expert on brand management and is credited with developing strategies for measuring the power of brands and their impact on a corporation's potential financial performance. Most notable of the tools that Jim has developed is the Corporate Branding Index, a quantitative research vehicle that has continuously tracked since 1990 the reputations and financial performances of over 1,200 publicly traded companies in 49 industries. Jim is a brand council member for Bristol-Myers Squibb and is a frequent speaker on the topic of the financial benefits of communications and brand management. Jim has written four books on creating value with brands: Marketing Corporate Image, Leveraging the Corporate Brand, Branding Across Borders, and The Best of Branding. His latest white paper, Driving Brand Equity and Accountability, was sponsored by Barron's and published by the Association of National Advertisers.
Ruth Hartman is the former president and creative director of The Center for Marketing in Sarasota, which she owned and ran from 1967 to 1984. Hartman was the rare executive woman in the Mad Men era of advertising and worked beginning in 1950 at New York's Lennen & Newell, where she was a vice president and worked with clients including Colgate Palmolive and Lehn & Fink, the then-maker of Lysol. In 1956 she then moved onto Dancer Fitzgerald Sample, where she worked on accounts like P&G's White Cloud and Nestle and Carter Products (Arrid Roll On). She also held vice president positions at Kenyon & Eckhardt and Clairol, where she was director of advertising and publicity from 1964-65. At Cunningham & Walsh, she worked on developing the "Mountain Grown" idea for Folger's and product plans for Jergens.