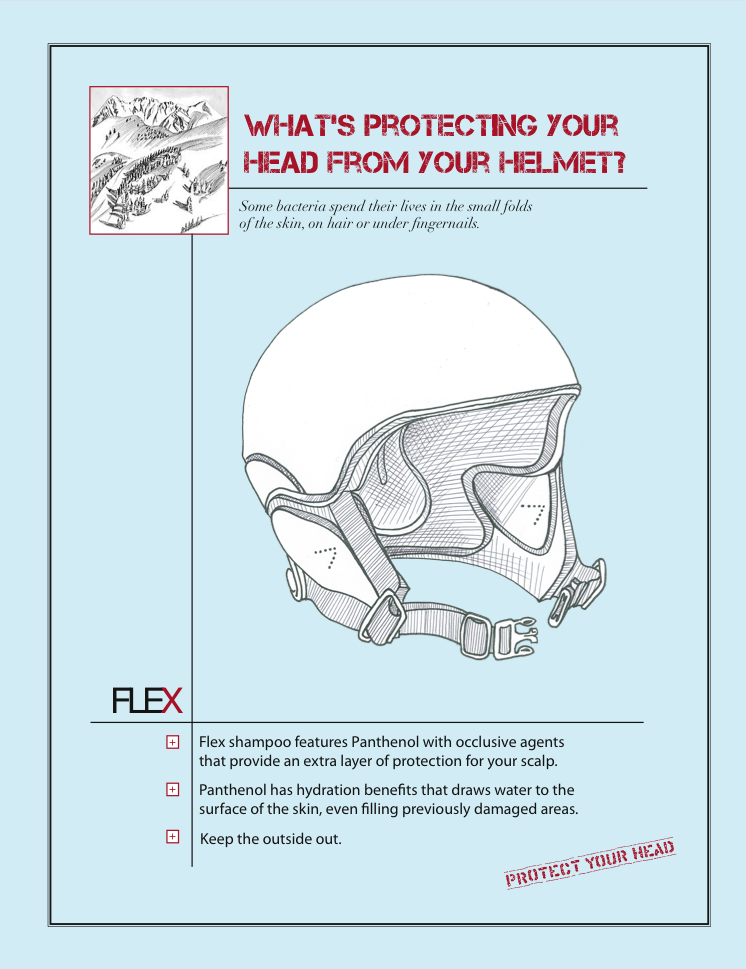 SAVANNAH – Students from the Savannah College of Art and Design are embarking on their end-of-year Phoenix Project. The Project has them taking older or dead brands and coming up with new marketing messages.
The project is an effort of the class of Prof. Sean Trapani, Professor Sean Trapani, a specialist in branding and copywriting.
In the past, students have taken on icons like Revlon's Flex Shampoo, and reformulated it as a bacteria killer.
Before: Revlon's Flex was a strong brand in the 80s, positioned as a glamour shampoo with models such as Cindy Crawford and Claudia Schiffer.

Reborn: While many shampoos still try to position themselves as the "glam" brand, SCAD student Alexandra Savitt discovered an opportunity to position Flex based on health and usage. Here, she has repositioned Flex as a niche shampoo for outdoor sports enthusiasts.
BrandlandUSA gave them a selection of 26 brand names, and Trapani and the students picked nine that they will create ads for this month. Here are our nine categories; click on the brand names for more info on the history of the companies or products:
Radio Shack: The students Josh Finkelstein and Rodrigo Mitma will try to reposition the retail chain RadioShack (NYSE: RSH), which has struggled to find an identity in the shadow of category leader Best Buy. Mitma, born and raised in Lima, Peru, came to America to experience a new culture. He has seen the world of advertising in many Spanish speaking countries. After graduation, he wishes to continue learning more about American advertising by working in the industry. Finkelstein, after he graduates, will be continuing to work at MSHC Partners as an in interactive creative and designer. "If I had any place I would truly want to work it would be Wieden+Kennedy," says Finkelstein.
A&P: The nation's first grocery store chain is about to have its 150th anniversary. Students Burton Runyan & Stephen Cyr will take on ideas for the future of The Great Atlantic and Pacific Tea Company. A&P (NYSE: GAP) was once the dominant grocery chain in the U.S., but has come a regional grocery chain, mostly in the northeast. Runyan, who by the way wants to be a copywriter, would like to work at the Charlotte agency Boone Oakley.
Hai Karate: The former Pfizer/Leeming scent Hai Karate will be repositioned by students Joaneda Kadija Nobime and Will Stearns. Hai Karate gained fame for its commercials, which showed a nerdy guy who had to fight off girls after he wore the scent Hai Karate. Stearns is interested in becoming an art director. "Typography is very important to me," says Stearns. "I also would like to do broadcast work. Hopefully some day I will work for Weiden + Kennedy but for now I would be content in just breaking into the industry any way that I can." Nobeme is hoping to work for an agency like Saatchi and Saatchi. "I love their 'Lovemarks' idea, their approach to brands promotion and their sustainability concept. I feel that Saatchi and Saatchi shows that ads shouldn't just be about brand awareness but much more about brand relationship: a brand should be consumers' BFF."
F. W. Woolworth: This brand is one of the top searches for old brands on BrandlandUSA, and Joseph Amodio and Michael H. Miano will come up with new ideas for what was the nation's first national discount retailer. Joseph Amodio would like to be a brand manager or art director and work Outside the United States; Miano would like to work in print as an art or creative director at Condé Nast's magazines or Forbes.
Climax Ginger Ale. The Richmond, Virginia ginger ale brand Climax died years ago but students Eric Bubash and Callie Vinson will try to figure a way to make it relevant again. Bubash, who would like to work in graphic design or art direction in Pittsburgh., will team up with Orlando-born Vinson, who "fully intends on getting a job working as a copywriter for an ad agency somewhere in the north east or Atlanta, where I also want to explore my hobby as a professional photographer."
International Harvester Scout: The International Harvester company was founded by reaper inventor Cyrus McCormick; one of its most interesting products of the 20th century was the SUV Scout. Students Sheena Kocher and Trish Cobb will take on the revival of this iconic car, which was a Jeep or Land Rover for the American farm and forest.
Mr. Donut: This doughnut chain still lives on in Japan, but died in the U.S. Students Tamara Miller and Nic Brower will see how to make the brand cooler than Dunkin Donuts and Krispy Kreme. Miller, by the way, would like to work for a small advertising firm as a creative and work her way up to larger firms. "My goal is to eventually work for Leo Burnett," says Miller.
El Marko Indelible Markers: These markers were the 1970s rivals to the Sharpie, and lost. Students R.J. Wilson and Maria Guilger will figure a way to return them to prominence. By the way, Maria Toledo Guilger wants to be an art director and work in Boston or New York.

United States Football League:  The students Arynn Nease and Matt Salzman will take on the repositioning of the USFL, which came and went in the 1980s. Tokyo-born Yuta Matthew Salzman got the ad bug in Japan: "When I was a junior there, we had a career day where many graduates from that high school came to tell the students what they do. One graduate who caught my attention was a person who works at a Japanese advertising agency name Dentsu Inc. He influenced me a lot on that day and I told myself that I wanted to be like him one day."