As celebrity culture has become more trashy, so has the risk for the consumer and luxury brands associated with those stars. The most recent example? The Hennessy cognac brand owned by Paris-based LVMH Group.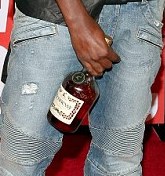 Think of this. Your historic brand, the leading cognac brand in the world, is associated with the drunken rampage of a man who verbally assaults a 19-year-old singer. And it isn't just that he happened to be drinking it. West's name has shown up in press releases for Hennessy-sponsored music events that are on the Hennessy website, so they are the same thing.
A recent press release speaks about another press event where West is mentioned.
Says Hennessy SVP Andy Glaser: "Our vision is for each event to be a blend of musical, artistic, and cultural experiences that give our brand's fans a once in a lifetime experience — a memorable legacy that will remain synonymous with Hennessy."
I wrote about Courvosier and Busta Rhymes in 2002, and how the drinks industry has courted the young, inner city drinker. It is not a pretty scene. The reality is that while you have to be 21 to buy liquor, these artists are obviously heroes to teens, and liquor companies are exploiting that to market to them.
The drinks industry has a long history of this sort of targeted marketing, and it has not always been welcomed by African-American leaders. Neighborhood groups often try to restrict the sales of fortified wines, as they are associated with alcoholism and other social problems. Thunderbird, Mad Dog and Schlitz Malt Liquor are all product brands associated with this inner city market. Remember: in the L.A. riots, it was liquor stores that were targeted.
We admit that alcohol companies have a predicament over the years. They don't want to be seen to be targeting cigarettes and alcohol to the population is not served well by it, to say the least. Yet, they will be criticized if they do not advertise in many publications that are enjoyed by African Americans. Furthermore, it is insulting to say that because some in a population misuse a product, others shouldn't enjoy it in moderation. So what's a brand manager to do?
With a notable, historic brand, it is very hard to ruin it, however, so it can survive associations, as long as the original perceptions remain. So this sort of thing won't kill the brand. It's just putting it into the fray, where it does not need to be.
With luxury brands is that ultimately, you are selling them as the evidence of a premium lifestyle, and the rap lifestyle is not premium. It's base. If the only people who want to associate themselves with your brand are inner city 21-year-old men who listen to rap music, then you have a problem.
But then again, it sells.