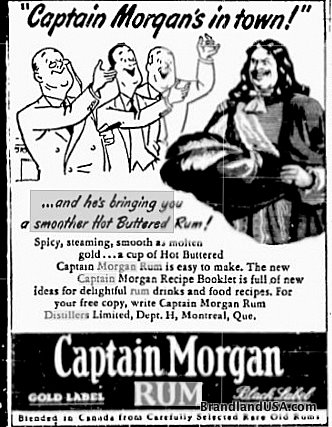 There is a parallel going on in Scotland and Puerto Rico. The Diageo brands Captain Morgan and Johnnie Walker are both in the throes of being moved, and both are against the will of locals.
Captain Morgan is an interesting case; critics have pounced on the fact that it is being moved directly because of a clause hidden in the much-hated TARP bailout. The idea that the government is subsidizing Diageo has Puerto Ricans rightly outraged.
In a press release just issued, Puerto Ricans by the National Puerto Rican Coalition surveyed said it was "wrong" of the USVI to lure the British-owned producer of Captain Morgan rum from Puerto Rico to the USVI with a federal bailout of nearly $3 billion in U.S. tax subsidies. The USVI offered London-based Diageo — the largest spirits company in the world — 50 percent of all tax subsidies as opposed to 10 percent from Puerto Rico.
Meanwhile in Scotland, Diageo decided to move production of the Scotch from its historic birthplace of Kilmarnock to other locations. This outraged locals, who see it as a badge of local pride.
Both situations, decided in the executive suite, make for a branding problem. Previously, these brands were not generally associated with controversy, especially controversy about jobs and politics. Problems created:
Captain Morgan is now a potentially tainted brand, not just with Puerto Ricans, who probably have enough rum anyway, but now with the American public. Captain Morgan has now been positioned by politics as TARP junkie, associated with politicians like Dirty Harry Reid. The American reaction against TARP is widespread, and now not just with folks on the left and right, but in American's Commonwealths like Puerto Rico. Diageo is going to need to do some clever politics and backpedaling to fix. See the Bloomberg story Bailout Gives British Company $2.7 Billion Benefit. (An interesting mention in the story is Jay Rockefeller, who apparently interceded, along with the Secretary of the Interior. Rockefellers and Interior have a long association with the USVI because of the efforts of Laurance Rockefeller. While nothing sneaky about it, it shows how cultural issues and personal relationships within families and institutions endure to this day).
Johnnie Walker is now not associated with its birthplace hometown, which creates authenticity problems for the brand. Brands that have linked their history to their birthplace, such as Johnnie Walker, risk being diminished when the factory turns out just to be a commodity, not something unique. Even though the formula might be exactly the same, something important is lost. The company says this issue is settled, but for a long time forward, there will be animus in Kilmarnock. By the way, the folks in Kilmarnock, Virginia were enlisted in the cause of keeping Johnnie Walker in Kilmarnock, Scotland. These sorts of things are not quickly forgotten.
No one should infer by this criticism that these two things can do giant harm to the brand immediately. And their market power makes it hard to really hurt them. What it does do is open up the brands to competitors who might position their respective Scotch and Rum brands as more authentic than Johnnie Walker and Captain Morgan, who now don't know where they live. That's a long term issue.
In addition, Puerto Ricoboosters are urging a boycott of Diageo products. This is a problem, as these issues don't usually result in giant immediate sales drops, but instead fester and create long term ill will and headaches for brands.