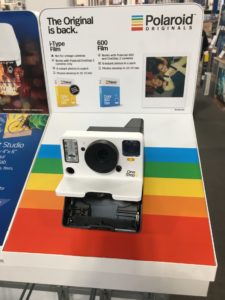 MINNEAPOLIS –It may not be the ideal way for a great brand to come back from the dead, but it works.
Polaroid, founded in 1937 and one of the great 20th century brands, has been reinvented. The company went bankrupt in 2001, and exited the production of its instant film in 2008, though the brand lived on with licensing. Artists and Polaroid fans grieved, and purchased the remaining stock from places like hip Urban Outfitters. Many others around the world continued to buy Polaroid-branded products, completely unaware of what was happening. (Yours truly just kept his old camera, seen at right.)
As lawyers battled over the intellectual property, thankfully a group called The Impossible Project decided to restart production of the actual film at a factory in the Enschede, Amsterdam, in a feat called The Impossible Project. Not only did they have to restart production, but find original equipment, employees and business methods. The "impossible" came from a quote from Edwin Land himself, who said, "Don't undertake a project unless it is manifestly important and nearly impossible."
The Impossible Project announced that the Impossible has happened. Dates from Marlene Kelnreiter, p.r. person:
February 2010: monochrome integral film for Vintage Polaroid Cameras (SX70 and 600 models) by The Impossible Project
Summer 2010: colour integral film for Vintage Polaroid Cameras (SX70 and 600 models) by The Impossible Project
Summer 2010: Polaroid One Step Camera + film by Polaroid / The Summit Global Group
End of 2010: image film for spectra cameras by The Impossible Project
End of 2010: new instant camera by The Impossible Project (This camera will be a homage to the high quality photographic cameras of the golden Polaroid years, transformed to the new analog customers of present times)
While selling the movie rights to the story will probably be more profitable than the actual production, it is one of the more important business stories of our time, showing the connection between art, capitalism, technology, history and overall goodwill. Furthermore, it holds lessons for thousands of other brands that have ditched their original products and shut down. The idea is as follows:
Turn your main product into a niche brand, license and develop your brand in house and with partners, and reinvent your brand for a new era. If necessary, license your original product to enthusiasts who love it, and enjoy the goodwill that flows back to the overall brand. It's what GM could be doing with Pontiac and Oldsmobile, and what Macy's could be doing with Marshall Field's.

Furthermore, seek out the "stars" in the revival, namely the original people who worked on the brand. Unite the staff with fans, and you have magic.
Meanwhile, PLR IP Holdings, LLC, owners of Polaroid, this week said in a release that they signed six licensing agreements for new Polaroid branded products for imaging-related and consumer electronics products and services that they expect to contribute to the estimated $600 million in retail sales for the Polaroid brand in 2010.
Consumers will see the following new Polaroid branded consumer electronics products and services:
Polaroid Studio, at www.polaroidstudio.com, the online photo sharing service from MyPhotoAlbum Inc. creates unique, highly customizable online photo albums and photo keepsakes. Under the terms of the exclusive licensing agreement, MyPhotoAlbum will combine its online photo services technology with the Polaroid brand to administer the Polaroid Studio website, focused on photo sharing and related merchandising in the North American market.
Camera lenses, filters and close-up lenses, lens hoods and caps, flashes, battery grips, batteries and chargers, camera bags, binoculars and a host of other camera accessories from C&A Marketing Inc., a global source of camera-related products.
Entertainment, mobile, computer and gaming peripherals will come from jWIN Electronics Corporation. Based in Port Washington, NY, jWIN Electronics Corporation is a leading consumer electronics company, bringing uniquely styled brand-name quality products to consumers worldwide.
Famous Trails, a leader in outdoor gear and equipment for camping and outdoor adventure enthusiasts since 1970, will bring to market unique night vision units, range finders and digital camera binoculars.
Personal notebook accessories including USB speakers and DVD ROM drives from Matsunichi Digital Holdings Limited, a Hong Kong-based company which specializes in R&D, manufacture and sales of digital consumer electronics and IT products.
A complete line of precision-cut screen protectors and durable, optically clear protective films for a wide variety of mobile devices by Panaglobal Distribution Inc.
"Polaroid has had an immense global appeal for more than 70 years, and our new licensees directly speak to our core brand competencies," said Scott W. Hardy, president of PLR IP Holdings, LLC, in a press release. "We continue to take great measures to ensure Polaroid products meet our quality standards, while expanding on our offering with new trend setting, clever and fun solutions to fit our customers' digital lifestyle."
What's sad about it is that Polaroid could have done this on its own, before it went bankrupt, but past is past.
Polaroid is part of a portfolio of iconic brands jointly owned and managed by Gordon Brothers Brands (www.gordonbrothers.com) and Hilco Consumer Capital (www.hilcocc.com), Polaroid is extending into a full-scale global licensing and marketing company. Polaroid is a registered trademark of PLR IP Holdings, LLC. (www.polaroid.com) Consumers will be able to purchase these exciting new Polaroid products in the first half of 2010 at major retail outlets as well as through www.polaroid.com.