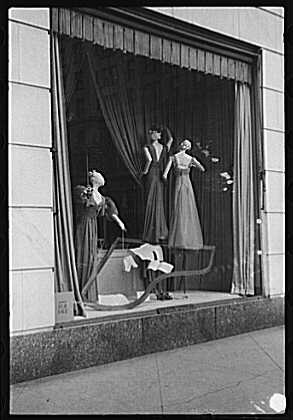 NEW YORK A few weeks ago, Peggy Noonan wrote in her weekly Wall Street Journal column about the importance of seeing Bergdorf Goodman, and how it cheered her.
We should definitely thank ourselves for making it through the year. And we should be thankful that Bergdorf's is still there. (Above, an old Office of War Information photo of a window display from the American Memory project of the Library of Congress.)
I looked up and suddenly saw, looming in the darkness to my right, the white-gray marble and huge windows of the Bergdorf Goodman building—tall, stately, mansard-roofed. Its windows were covered, but some lights were on, and there seemed to be people inside. They were preparing its Christmas windows. Something about the sight of it caught me—proud Bergdorf's, anchor of midtown commerce. It looked exactly as it looked 10 years ago, 20, only better. Because it's there. New York has been so damaged by the crash, and last year at this time small shops, the ones with the smallest margin for error, were closing. And now I see more that are opening, and Bergdorf's is preparing its Christmas windows. The sight of it came like an affirmation. We're still here. I am so grateful.
Thanks for that little burst of happiness. And especially good for Bergdorfs, as for decades it remained the last independent department store at 754 Fifth Avenue.
The luxury department stores are struggling, and will likely have to move down market, but of course in a sensible, practical, luxury but old school way. According to most recent figures, Bergdorf and sister company Neiman-Marcus, all part of private equity owned Neiman-Marcus group, had revenue decreases in their stores of 12.7 percent, though direct merchandise revenues increased 18.1 percent.
In addition, the Company reported that they had no borrowings outstanding under its $600 million asset-based revolving credit facility. Cash on hand, the key factor everyone in the nation worries about, is better, now $335 million compared to $175 million in the prior year.
If you like department stores, we are updating our list of still existing stores. Please take a peek at our story on Surviving Downtown Department Stores and see if there are any we missed.