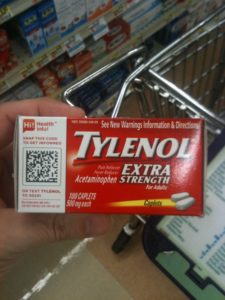 CHATTANOOGA – Many of America's best known consumer healthcare brands were caught up in a "voluntary" recall of contaminated products. Johnson & Johnson announced the recall late Friday, January 15th.
The Food and Drug Administration issued a formal warning to J&J after an audit of the company's Puerto Rican plant. When J&J failed to react and withheld information from FDA for well over a year, millions of consumers were exposed to a little-known chemical contaminant. In a guarded and carefully worded press release Friday, J&J chose not to identify the brand names affected either in the text or the title of its press release; instead they resorted to a lengthy separate pdf attachment. That 14-page attachment, and an enforcement letter, testifies to the extent and complexity of the recall.
In fact, consumers had to work through the fine print to get the information they need. As it turns out, 53 million bottles of pills are being recalled; one bottle for every five adult consumers in the U.S. The recall affects iconic brands such as Tylenol, Rolaids, Benedryl and Motrin. Over the last two years J&J, P&G and Chattem (Sanofi) have received warning letters concerning serious quality failures causing injury to consumers buying OTC branded products. If iconic brand names no longer provide an assurance of safety, why take a chance with Tylenol, or any OTC brand, when cheaper store brands are widely available?
It used to be that buying a branded product implied an assurance of safety while store brands were suspect. Now, the reserve seems true. Store brands have had few if any formal FDA actions against their products while companies such as J&J, P&G and Chattem (Sanofi) have had serious safety incidents resulting in warning letters, side effects and sometimes personal injury. These incidents seem driven by failures in the attention given to quality assurance, to product designs that ignore consumer safety, and to efforts to "contain" self-inflicted behaviors or cost.
The brands affected include Tylenol Children's, Extra Strength, Regular, 8hr, Arthritis, and PM; Motrin Children's and IB; Rolaids; Benedryl; Simply Sleep; and St Joseph Aspirin. Although the final distribution points of these contaminated lots is unknown to us, this must be considered nationwide and transnational in scope.
In December 2009 J&J initiated a single product recall of certain lots of Tylenol Arthritis EZ Cap manufactured at this plant. At the time my OTC Product News had suggested this recall resulted from a plant-wide contamination, not simply a single product contamination. Apparently we were correct as it now appears that all products made in this plant have been recalled after the FDA conducted an audit of the plant. The working assumption by FDA is that a fungicide on shipping pallets is responsible. I contend that two factors might have contributed to this incident: 1) wooden pallets were favored compared to the higher cost plastic pallets; and 2) sanitation and cleaning procedures with bleach further degraded the fungicide to produce the contaminant.
Exacerbating these failures in the quality and manufacturing systems at the plant is management's failure to react to the situation in an proactive and responsible manner, according to FDA. The original observations of the contamination date back to early 2008. Their behavior in managing the initial incident and its repeated failure to react to consumer complaints of injury is at best irresponsible. Deborah Autor at FDA is quoted to have said: "When something smells bad, literally and figuratively, companies must aggressively investigate".
Unlike their famed handling of the 1982 Tylenol tampering incident (recently in the news again) J&J has moved surreptitiously to report and resolve the initial contamination. The formal FDA warning letter cited J&J for failures in its handling and follow up of this contamination which began as early as the spring of 2008. In addition to the likely contents of the 483 report of specific violations in the plant the FDA's warning letter of 15 January cited them for: 1) failure to investigate the root cause; 2) failure in the quality control system; 3) repeated failure to notify FDA. In addition FDA cited senior management as responsible for these failures and that the investigation is far from closed.
In contrast to the insouciant attitude of branded manufacturers, the track record for store brands, such as Perrigo's Equate (Walmart), has been relatively free of product failures. The price/value proposition of store brands in a recessionary economy offers an attractive entry point for consumers who seek safe and effective products.