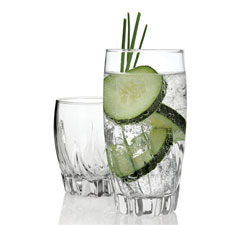 Today's New York Times talks glass, namely the glass that is going into the World Trade Center. It's Chinese.
It does not have to be this way. The story of Anchor Hocking:
And from two factories in the Ohio Valley, operating 24/7, the Anchor Hocking Company churns out baking dishes, drinking glasses, glass canisters, glass candleholders and glass meter covers, counting on customer service, like just-in-time delivery to Wal-Mart, to stave off imports. Anchor Hocking has no factories abroad.
Here, one of the products from Anchor Hocking, namely their Central Park glassware. Simple design, good taste.
A bit about Anchor-Hocking's manufacturing. Anchor Hocking Plant No. 1, Lancaster, Ohio, is situated on the site of the original plant, the "Black Cat," which was destroyed by fire in 1924. They report that more than 1,550 associates contribute a vast range of talents and skills to Anchor Hocking Glass in Lancaster, Ohio, where the company has a major manufacturing facility and over 1.3 million square foot distribution center. They recently went through a leveraged buyout that is quite painful to recount and has many annoying points.
Glassware is the perfect thing to buy American. Much of the production can be automated, and just-in-time demands can make American manufacture more competitive. In addition, good glassware is something that is used over and over, right in front of consumers, and so a "Made in USA" label is something that sticks out every time you put a glass in the dishwasher. We also have plenty of sand.
Anchor Hocking is available at retailers across the U.S., even Big Lots. One reason to head into Walmart.