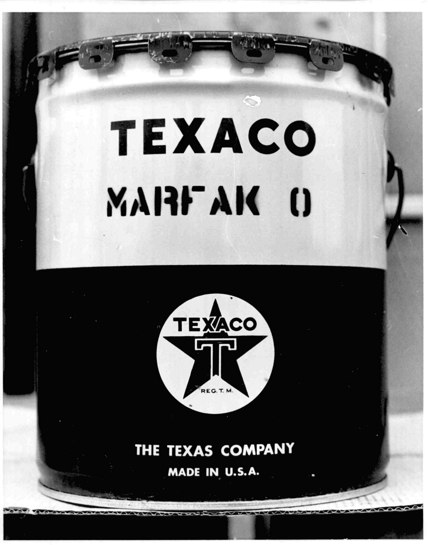 One of the more forgotten sub-brands of a major oil company is Marfak Lubrication. Marfak was the lube brand of Texaco and Caltex. If Havoline was the actual oil, Marfak was the process. I can't say it was actually used much as a verb, as I never heard the word used; I only saw it above station bays. But the slogan was "Let Us Marfak Your Car."
Us folks of a certain age know Marfak from its appearance above the service bays on classic white porcelain clad Texaco stations, of which there were a significant number as late as the 1980s.
The classic Texaco station was designed by Walter Dorwin Teague, the great industrial designer. Teague took something supposedly dirty and messy, a service station, and turned it into the white, sparkling image of a hospital. Many stations remain, though most were reclad and have new identities. (Note to readers: please start a list of extant Teague stations after this article.) I also believe Marfak was on CalTex stations across the world.
My assumption is that the brand declined within Texaco because as automotive technology increased, less and less lubrication was needed. No other new use surfaced.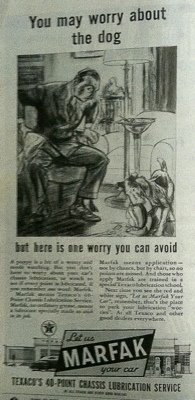 The Teague Texaco station design (seen here on an ad) was simple and could be configured a number of ways depending on the space available. In all versions, the outside was white, porcelain-clad metal, which defied rust and sparkled with only a quick wash. The inside of the station was completely visible to outsiders, with glass auto bays and a large glass window on the front.
I happened to have close experience with one station that still stands in Irvington, Virginia. It was right next to the Irvington Country Store, which my father ran. It had a number of characters who visited and resided there, including a certain Harcum (Mr. Harcum?), who exposed me to the unseemly Southern habit of putting Lance peanuts in 6 1/2 oz. bottles of Coke, which he drank on the hour. And he needed to drink plenty, as he seemed to use the wooden Coke carton holders as something to sit on out front of the station.
But back to Texaco and Marfak. The ability for drivers and passers by to see inside the station conveyed a strong message that Texaco dealers knew cars. It would be interesting to see if oil companies would go back to selling service, rather than Coke and cigarettes.
It always struck me as silly that oil companies would see nothing weird in owning a convenience store brand, but would largely ignore the car repair market. Perhaps Marfak could be used again in this manner? ExpressLube is a brand that does the same services as Marfak; perhaps there are other needs for a repair brand.
The USPTO registration for Marfak said its first use was in April of 1924; Chevron Intellectual Property keeps the brand alive, still. In the trademark file is the use of the name with a product called Marfak Heavy Duty 2, which is a lithium soap grease. This is smart IP management for companies, namely keeping a sub-brand alive through using its name on a few products, which keeps the brand alive and associated with the company. If the brand is ever needed again, it is ready, protected and has some measure of brand value, even if minor.