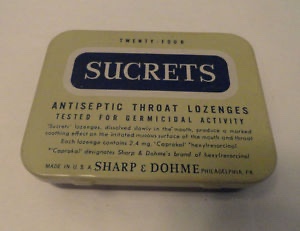 TARRYTOWN, N.Y. – Of the many cold and sore throat remedies, there is one brand, Sucrets, that has a mystery and lore about it larger than its original use. Not only are Sucret lozenges valued as a relief for sore throats, the tins well outlast the original product, and are kept for storing small items in desk drawers, sewing kits and workbenches.
Sucrets date from 1932. The Baltimore firm Sharp & Dohme of Baltimore filed for a trademark for them August 23, 1932, with first sales earlier that year. The brand was one of those perfectly named products, a play on the word "secret" and yet a fanciful name that was easy to remember, yet short.
Before, Sucrets, cough drop brands were sold in little box packages. As used today, cough drops are both a demulcent to remove swelling, and often include a mild oral anesthetic. Sucrets, however, had an original antiseptic marketing angle, which the makers dropped after pressure.
The Sucret brand has a second life, however. The tins are used for storage. Sucrets are of course not the only lozenge sold in small lidded tins, which particularly good at housing office supplies, coins, jewelry and small hardware, a heretofore forgotten category of household items called "notions."
Altoids, made famous by Callard & Bowser, date from 1790. Altoids have a similar halo around the sale of the product in a tin box, as well as a collector market. The Altoid tin, being a much bigger selling product than Sucrets worldwide, is also used worldwide for collecting small items, including guitar picks. They are also part of prepper culture, referred to as "BOATS", an acroynm for Bug-Out Altoids Tins. The Associated Press reported in 1994 that the tins were used by the jeweler in London for the Crown Jewels, as temporary storage.
U.S. Cough Drop History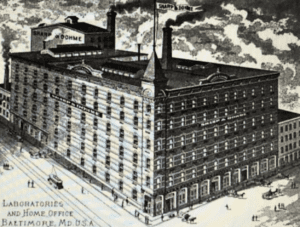 The first U.S. cough drop was Smith Brothers, which dates from 1852, and brothers William Wallace and Andrew Smith. Smith Brothers were first sold individually, and then in 1872 in small boxes. Luden's, owned by Prestige subsidiary Medtech, dates from 1879, when William H. Luden started giving them away to railroad workers, or so says the legend.
Hall's Mentho-Lyptus cough drops date from 1927 in Great Britain, and came to the U.S. in the 1950s. Their origins are from the Hall candy company, which always sold them in a package, like candy lozenges. Their origin is not medicine, but the natural properties of the eucalyptus plant, the origin of menthol. Menthol is the key ingredient in Vicks, which is not only a brand of cough drop but the uber-brand for an entire line of cold fixes.
The Baltimore company that created Sucrets, Sharp & Dohme, dates from 1860, when Alpheus P. Sharp opened a retail pharmacy in Baltimore at Howard and Pratt Streets. Sharp later teamed up with Louis Dohme, and brother Charles Dohme, to develop a large catalog of pharmaceuticals. Soon the company grew into a nationwide pharmaceutical firm.
The company created Sucrets in 1932. During World War II, because of the shortage of metal, the lozenges were sold in cardboard. The tins came back in 1947, when Southeastern Drug Journal reported that because war shortages were over, the brand could again sell the tablets in their trademark tin boxes. The company sold other brands in tin boxes, including Acetidine, which was a headache reliever made of aspirin and caffeine. The Smithsonian has a sample package of the brand.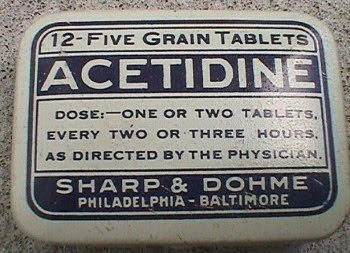 In 1953 Sharp & Dome merged with Merck. In 1977, the brand became a product of Beecham, of Clifton, N.J., later Smithkline Beecham. In 2000, they became a product of Insight Pharmaceutical. They are now part of the Medtech subsidiary of Prestige Consumer Healthcare (NYSE: PBH), a publicly traded company with an assortment of well-known and venerable pharmacy brands, including Tagamet, Dramamine, Chloraseptic, BC, Stanback, Goody's, Compound W, Monistat and Summer's Eve. They also make Fleet Enema, in a factory in Lynchburg, Va.
While consumers do not see the Sharp & Dohme brand today, the name Merck Sharp & Dohme LLC is the registrar LLC for a dozen or so miscellaneus oncology medicine names. Using a historic name like this is a wise strategy for any company with a large portfolio of brands. Even if the product brand is sold off, like Sucrets, a company like Merck can use the older company name for new purposes.
Tins Went Away, Returned
The brand shifted in 1994 to a plastic container. The Associated Press reported then that after 450 milion tins, the company said it was going to plastic. The idea was that you could have a window so consumers could see the product. It was also cheaper.
″The word icon is overused, but it is part of Americana,″ said brand manager Paul Lindsay, in the AP story. The story reported that between "a fifth and a third of the boxes manufactured since 1932 were kept for other uses" after the lozenges were consumed during at least "two billion 'bouts with sore throats."
It was a mistake. The dropping of the tins indicated to customers that the product was cheapening. The company also lost a potent bit of advertising, as every time a consumer pulls out a box of buttons or coins in a Sucrets tin, they remind the consumer of the value of the product.
What added to the ease of using a Sucrets tin was also that the product inside was wrapped. Ergo, the consumer did not have to clean out the tin before they started using to keep small items.
The company wisely brought back the tins in 2011.
The product is in a line of products where the packaging is a key part of the brand, analagous to Log Cabin syrup sold in log cabins. The brand is also in the category of branded packaging that has a second use by consumers. Other famous second use packaging brands include Clorox bottles as boat bailers, Welch's jelly jars as juice glasses (often with cartoons on the outside), coffee cans as paintbrush holders, Armour Dried Beef jars as drinking glasses and metal Kodak 35mm film containers as coin holders.
Sucrets in Literature
The Sucrets brand is used frequently in literature, often in detective stories as a place where things are hidden. Author Jeff Gomez mentions them repeatedly in his 1996 book Our Noise: A Novel. "Eileen fishes the old tin Sucrets box out of the glove compartment of her yellow VW bug."
The Stephen King book It goes through a long list of home pharmacy remedies the book. The author King lists a number of items on protagonist Eddie Kaspbrak's shelf, including the "utility infielders of the patent-medicine world." Kaspbrak has brands like Ex-Lax, Carter's Little Pills, Kaopectate, Pepto Bismol, and Preparation H. In the book, Kaspbrak is pictured as a "fragile individual who was a hypochondriac" and also keeps around Anacin, Cortaid, Excedrin, Contac, Gelusil, Vivarin, Serutan, Phillip's Milk of Magnesia, Rolaids, Tums, Di-Gel. There is also Formula 44, Cepacol, Cepastat and Listerine, evidence of his bronchitis.
Writes King, "Eddie dropped the Sucrets box containing the 'ludes into the bag."
Writer John Sandford's 1994 book Night Prey has the tins as used in a home workbench, to store items. Lee Martin's The Bright Forever, 2005, has it as a drug carrier:
"He reached into his shirt pocket and took out a tin of Sucrets throat lozenges, but when he opened it I could tell that it wasn't Sucrets that he had inside. They were pills, some of them purple and some of them yellow."

Lee Martin, The Bright Forever
Product Marketing Evolved
The brand had wide television exposure after World War II; Sucrets ads usually showed a situation with a cold or a symptom of a cold, and the person opening up the little tin, to show the neatly arrayed cough drops.
Below, a 1976 commercial. This came after the brand was forced to pull back from its claims that the antiseptic properties of Sucrets helped with a cold. Instead, the company promoted a regime of aspirin and Sucrets.