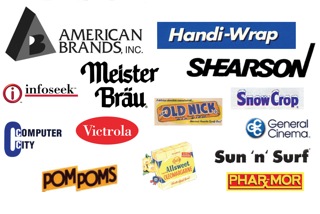 NEW YORK – Searching for an old Victrola? Why not buy the brand instead?
A private equity firm will auction a portfolio of 150 older U.S. consumer and retail brand names.
The auction will be held live in New York City and online on December 8th at 10 a.m. at the historic Waldorf=Astoria in Midtown Manhattan. Thirty percent of the trademarks will be sold without reserve.
"In recent years, there has been a renewed interest around the world in branding that evokes nostalgia, making this auction of classic trademarks a rare opportunity for investors and forward thinking companies looking to capitalize on the authenticity that they provide in the global marketplace" said John Cuticelli of Racebrook, in a press release. "The brands that are available for purchase have significant brand equity."
Brands on the extensive list include American Brands, Inc., Handi-Wrap, Meister Brau, Shearson, Victrola, Lucky Whip, Phar-Mor, Braniff International, Bowery Savings Bank, Snow Crop and Allied Signal. Some of the brands were part of the 200 Kelsey Associates "Brandvault" trademark portfolio assembled in 2007.
Racebrook owns Sheldon Good & Company, a real estate auction company. Registration will begin at 9 a.m. and the auction will start at 10 a.m. See www.trademarkauctioninfo.com or call 800-374-4881.
There are numerous great old brands on the list in every business segment.
FINANCIAL SERVICES
Bowery
Continental Illinois
Shearson
Girard Bank
Kuhn Loeb
CANDY TRADEMARKS
Kool Shake
Old Nick
Pom Poms
Rocky Rounds
FOOD TRADEMARKS
American Brands
Breakfast Mates
Cheez Kisses
Cocomalt
Crustquick
Lucky Whip (Topping)
Snack Mate
Snow Crop
Squeeze A Snack
Stir 'N Frost
BEVERAGE TRADEMARKS
National Premium
Old Soda Shoppe
Meister Brau (formerly a Miller discount brand)
OIL AND ENERGY
Sky Chief
American Petrofina
HAIR CARE
Everynight
Kindness
Long & Silky
Lustre Crème
Permastrate
Short & Sassy
SUN TAN
Bronze Lustre
Sudden Tan
Sun 'N Surf
BATH TRADEMARKS
COSMETICS
Futurama
Jacqueline Cochran
Lip Kissers
Nail Slickers
DEODORANTS
Mum
Stopette (remembered from sponsorship of old game shows)
Nudit (hair removal)
SHAVING TRADEMARKS
MAGAZINE TRADEMARKS
Changing Times
Collier's
Punch
Saturday Review
APPAREL TRADEMARKS
Bobby Socks
H.I.S.
London Britches
Anna Karenina
Knickerbockers
Discowear
Mister John
Paris Elegant
Annie Hall
Edwardian
Hippy
Mondrian
Poiret
Page Boy
Patchwork
Fair Isle
Paquin
Lazy Bones
Jonathan Logan
Jacqueline Cochran
HOUSEHOLD PRODUCTS
Handi Wrap (Plastic Wrap)
Rain Barrel (Detergent; Fabric Softener)
Finito (Pesticide; Insect Repellent)
Party Tyme (Cocktail Shakers)
RESTAURANT TRADEMARK
AIRLINE TRADEMARKS
PET PRODUCTS
TECHNOLOGY TRADEMARKS
Victrola (Audio/Video, Computers, Telephones)
Phonola (Audio/Video, Telephones)
Intelligent Electronics (Audio/Video, Telephones)
Allied Signal (Computers, Telephones)
Infoseek (Search Engine)
Control Data (Audio/Video, Telephones)
General Instrument (Audio/Video, Telephones)
MOVIE THEATER