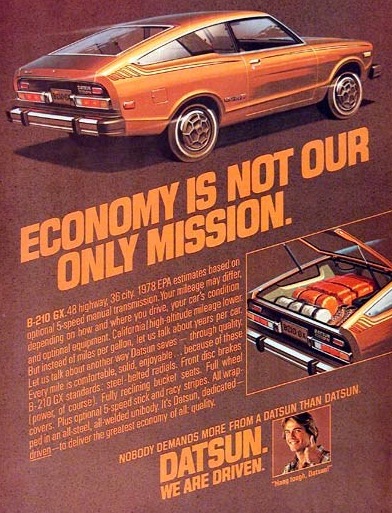 While nostalgia can be a reason to bring an old brand back, strategy is the best reason.
And so we hear that Nissan might just bring back the Datsun brand. And it's not because Generation X remembers that The Bionic Woman, Jaime Sommers, used to drive a 280Z, and still wants one.
Not sure why they switched brands to Nissan in the first place. The Datsun brand was very well-crafted; the cars were completely understandable. The King Cab was a bigger little pickup; the 280Z a sports machine and the B-210 a zippy little econobox. I really don't recall anyone ever complaining about a Datsun. In fact the opposite was true; like a Honda they just go and go and go til they rust out or get wrecked.
Datsun Saves! Nobody demands more from a Datsun than Datsun. We are driven.
The Datsun brand will come back to market in the Third World (guess that term doesn't apply anymore). Let's write that sentence again. Reports say that Datsun will return to emerging markets such as Indonesia, India and Russia as an entry-level brand. Nissan wants to go further upmarket, and this is a way to snag the low end. A true economy car.
The return of the brand is proof that companies should not throw old brands aside. Instead, they very well may have a use for them a few decades down the line.