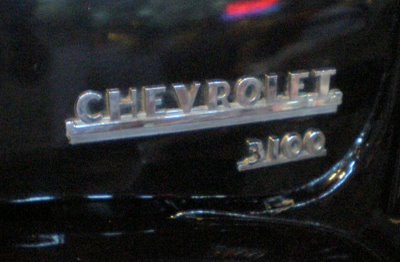 Pickup collecting is gaining favor as 1970s muscle car prices have gone too high for new collectors. The Wall Street Journal has profiled the top 25 collectible pickup trucks, though any older pickup is now hot, including, at right, the Chevrolet 3100.
Brands include the early British Morris Minor pickups, any Willy's Jeep pickups, any Studebaker pickup, any International pickup, 1963 Volkswagen Transporter, 1977 Datsun King Cab, 1966, 1978 Chevrolet C-10, 1978 Subaru Brat, 1981 Jeep Honcho, 1966 Chevy C10, 1957 Chevy, 1960 Morris Minor, 1964 Dodge D200 Crew Cab, 1965 Dodge A100, 1951 Ford F100, 1967 Ford F100, 1970 Dodge Adventurer, 1973 Ford Ranchero (really a cut-up Torino!) and 1978 Chevrolet C-10. One amusing pickup they missed was the VW Rabbit pickup (early 1980s) and the Chevy Luv.
A few other items recently in the news:
MCM Return: The German company MCM, which used to stand for Michael Cromer Munich, has been revived as Mode Creation Munich. Sung Joo Kim, a Korean entrepreneur, is reviving the brand for which she purchased in 2005.
Canvas Tent Return: Like so many other analog things, canvas tents are back. Brands like Davis Tent and Springbar are some of the brands, and websites like ArmyTents.com sell surplus.
Independent Marriott: Marriott is relaxing brand visual standards in idiosyncratic ways with its new Autograph Collection brand. The brand will attract a variety of international hotels that did not want to be full Marriott hotels, but wanted the advantages of Marriott's reservation system. This is a smart idea that allows for hotels to keep part of their original identity but join up with a chain. None of the quality standards are relaxed, though. This move has the exciting possibility of helping to shore up the bookings of independent hotels with long brand identities. While there is a target of only 25 hotels, it is easy to see many other properties that might fit the "Autograph" bill.