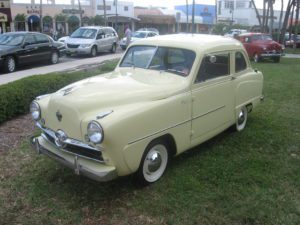 One of the most venerable names in American inventing and entrepreneurship is Powel Crosley (1886-1961), an innovator who is credited with the first economy car, the first fax machine and the first lighted baseball field.
Pictured here is the Crosley car, seen at an auto show on St. Armand's Circle in Sarasota.
Crosley was one of those amazing men who seemed to do and try everything, and much of it worked. Owner of the Cincinnati Reds, he also sold his own marque of car, radio and all manner of other invented items, mostly home appliances. The way he looked at business life was rather like an Asian corporate mogul, selling all manner of disparate items all under the same Crosley banner. He served the mid-market, and continued innovating to give his customers more useful goods.
Today, the Crosley brand is associated with reviving another antique idea, vinyl records.
The Crosley legacy lives on though:
A line of electronics, totally retro in design. Interesting they have gone from totally retro to sort of Deco-hip. The brand was defunct, and revived.
In Bradenton, just south of the Sarasota-Bradenton airport, there is the Powel Crosley Estate. It sits on Sarasota Bay, right near the sumptuous estate of George and Mable Ringling. It is open for events and run by Manatee County.
In Cincinnati, the radio station WLW, The Big One.
In Cincinnati, the Pinecroft Estate was the home of Crosley.