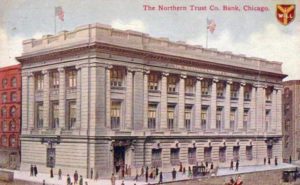 Last week, I was in a Wells Fargo branch, looking at a beautifully produced booket and story of the company. It included an explanation of how it ran stagecoaches and ran money to the West, and detailed many of the innovations of the hundreds of banks that made up what is now Wells Fargo. Inside the leaf was a double spread of all of the banks that were merged to make Wells Fargo; it seemed to be a very complete list.
The message? What a company with history, and a sense of itself, and its past. Wells Fargo is known for its archives, and they have put them to good use in their branches.
But all the goodwill was undone today with the launch of Abbot Downing, a trust company for high net worth folks who bank with Wells Fargo. The Abbot Downing name apparently comes from the carriage makers that made Wells Fargo's carriages oh so long ago. The two names have nothing to do with banking, nothing more than a marketing name. Perhaps there are worse things (such as one of those contrived names), and this name has a good chance of succeeding because Wells Fargo has so many customers that it can market to.
In a Marketwatch story, division president James Steiner said that Abbot Downing would do lots of things for its clients, not just investments. "The firm is trying to differentiate itself by offering broad services that cover both soft (doing family histories) and hard skills (creating very complex investment portfolios)."
But it missed something. Authenticity. Banks are different from soft drink companies and fashion lines. They are companies that you trust with your most important possession, your money.
The move is reminiscent of SunTrust, and its odd experiment with a brand called Alexander Key (See 2002 Inside Business story.) SunTrust in 2002 created the Alexander Key brand for its investment subsidiary. Like Abbot Downing, it was cooked up, apparently taken from an old president of the company, and in turn, the Alexander Key brand was cooked in a few years. Now SunTrust uses the Robertson Humphrey sub-brand for its investments, just as BB&T uses the Scott & Stringfellow brokerage name.
It reminds me of department stores that come up with WASPy sounding names for their store brands, in the hope that people will think that the brand is something old.
Abbot Downing will have to produce incredible results in its trust services department to compete with the other older, established banking brand names that have been trusted over generations. And across the U.S., there are dozens of small, family run trust companies that have devoted followings. For instance, Burke & Herbert (1852) of Alexandria has its own trust department. And there are hundreds of these across the nation.
Some of the biggest names include (with their year of founding) :
1853: U.S. Trust, the trust company founded in the 1850s that is now part of Bank of America.
1907: Bessemer Trust is an invented name, a nod to Bessemer, the steel innovator, but that name had some integrity as Henry Phipps was working with Andrew Carnegie's money when he established the firm at the turn of the century.
1899: Northern Trust founded in Chicago.
1903: M&T owns Wilmington Trust, with roots in Delaware and T. Coleman duPont.
1931: Fiduciary Trust, now part of Franklin Templeton.
1935: The Whittier family of California establishes Whittier Trust (oil $$).
Surely the name tested well, though I am not sure how many ultra rich folks would switch to a bank name that was created to "sound" rich and "historic." Furthermore, you don't want the word "down" in any brand that has to do with investments. It has bad juju, kind of like when American Idol contestants sing songs about "going home."
This is but another annoyance for those of us who hate the constant churning of our bank names. Can we have a bank that is not a manufactured "brand" but derived from the names of bankers or places?
Or maybe the company could go back into the old names that made up Wells Fargo, and dredge something fun up.
Perhaps Crocker Bank and Trust? Connotes old California, as well as Patty Hearst! An old nightclub is apparently using the Crocker name for a nightspot. My cousin's husband used to work for Crocker, and its a funny old name, but it might be a bit more authentic.
Bank of North America, though probably used by someone else, was a predecessor company of Wells Fargo, and among the first federal banks in the U.S.
A.G. Edwards and Wheat, predecessor investment companies of Wells Fargo and Wachovia, could be better names.
Question: Will the Abbot and Costello brand work, or will they need to do something else in a few years? Leave comments below.