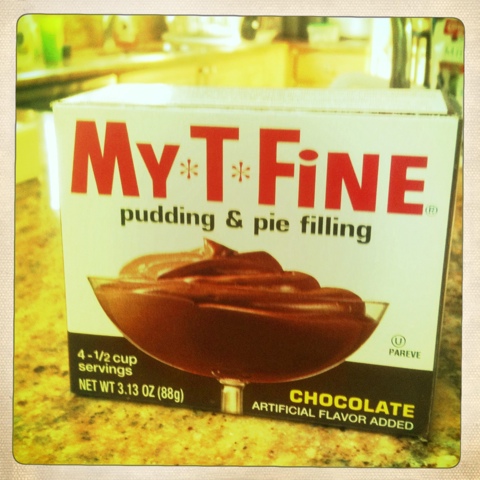 CHICAGO – There are some companies that not only own brands that are classics, but are also classic companies in themselves. Companies like Chelsea Milling (maker of Jiffy mixes), C.F. Sauer (maker of Duke's mayo and Sauer spices) and Gold Pure (horseradish) sell basic, straightforward things, execute them without deception or marketing trickery, and offer them up to consumers of all income groups.
One other company that continues to produce these sorts of brands is Jel-Sert, the Chicago-based maker of gelatine, freezer pops and drink mixes. The company has strong brands, including Otter Pops, Wyler's, Mr. Freeze and Kool Pops. Their most interesting product is My * T * Fine. As reported in trademark filings, it was only first used in commerce in 2001, but the package looks timeless, and the company website reports it has been a family tradition for "90 years" beginning in 1918. The brand is sister to Royal, which has been a pudding and gelatine brand since 1925.Jel Sert prices their products fairly, and doesn't waste time with annoying coupon programs or lots of "brand positioning" or tiring product extensions and product reformulations and redesigns that confuse customers. They are the anti-Kraft, and for that, consumers should be grateful.
Jel-Sert started making gelatine in 1926, and continues on to this day, still family owned by the Charles Wegner family. It is an extremely focused company, but has expanded on its sugary niche by working with pharmaceutical products useful with healthcare. (See the history here.)
Today, many brands are changing their classic appearance. Each time the consumer goes into the store, the product packaging is modified or changed. Brands like MY-T-Fine are the opposite. They are consistent:
Each time you go in and see the product on the shelves,  you see the same thing.
The pricing is modest, so everyone can afford it.
There is no micro-marketing or market targeting. It speaks to all, and thus does not make a poorer person feel "less" by buying it. In constrast, the wealthy consumer feels she is getting good value from the brand. While certain market segments might buy the product, anyone who goes into a store would buy My-T-Fine, as you can use it for a simple pudding, a more sophisticated pie, or as an ingredient for other dishes.
They make a joke of the assertion that candy companies need to move all their business to Central America to save on costs. Jel Sert produces sugar filled stuff, and still manages to make it in the U.S. While I am sure it is tempting to move production, it has not happened. It's funny that the overhead created by marketing and executives is never "outsourced" but  the lesser cost of raw materials and labor is frequently  shipped abroad.
The product is made in the U.S., in a factory that has been in the same location since its inception.
Marketing overhead is lower when your product turns into a classic.
The brand consistency at Jel Sert, a family-run company, is in direct contrast to the discordant marketing of most publicly traded consumer products companies, companies that buy and sell brands willy nilly, and shift production and employees from place to place. Not only have these companies given capitalism a bad name, but they destroy brand value in their endless schemes and plots. Companies like Jel-Sert, that go about their business quietly, employing hundreds in U.S. cities, need to be looked at more carefully.
What are some other family owned companies like Jel Sert?