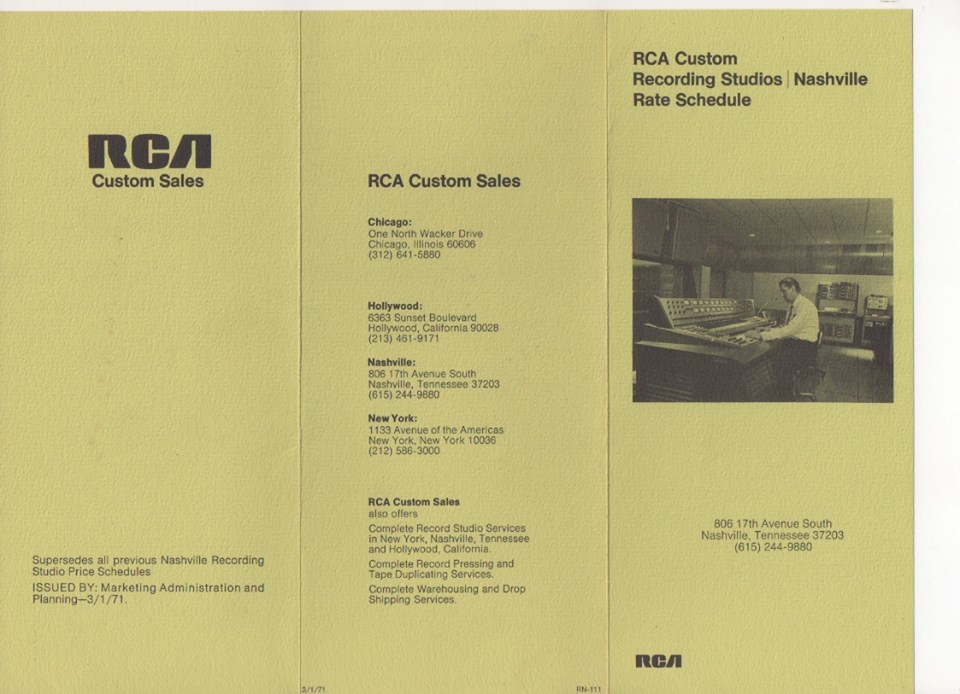 NASHVILLE – RCA's Studio A, an important legacy in American country music history, is under the threat of demolition for a condo project. However, the music industry (and the National Trust) is taking note, hoping this great artifact can be saved, and in turn becoming a keystone in the music industry's efforts in preserving Nashville's Music Row.
The studio, developed by Chet Atkins, was built in the early 1960s, and was part of a new generation of Nashville music that had a smoother, more polished sound. It is large enough for a symphony orchestra; indeed Ben Folds, who is fighting to save it, uses it for a large number of different recordings. Folds is best known for that elegant-but-haunting piano ballad of the late 90s, "Brick," recorded by his group Ben Folds Five.
A bit from Folds' website and studio, Grand Victor Sound:
Grand Victor Sound Nashville is home to one of the largest and most historic recording spaces in Nashville. The studio, built at the request of Chet Atkins, first opened its doors in 1965 and was known as RCA Victor Nashville Sound Studios, part of the RCA record label's Nashville division. The studio's client list, past and present, reads as a "Who's Who" of music legends. The Monkees, Joe Cocker, Leon Russell, Waylon Jennings, Dolly Parton, Tony Bennett, George Strait, The Beach Boys, Amanda Palmer, William Shatner, George Jones, Brian Setzer, Hunter Hayes, Kacey Musgraves, Jewel and Willie Nelson are just a few of the many talented artists who have recorded in this room over the years. After almost a decade of dedicated private use, Grand Victor Sound Nashville has re-opened to the recording community for commercial sessions.
The music industry is what has given Nashville a reason to be something on the world stage, and something other than yet another Southern town. It would be tragic if this resource were lost to future generations, particularly now that it is a working studio with so much life.
In his letter, Folds writes, "Take a moment to stand in the silence between the grand walls of RCA Studio A and feel the history and the echoes of the Nashville that changed the world."
Visit the Music Industry Coalition to find out more.